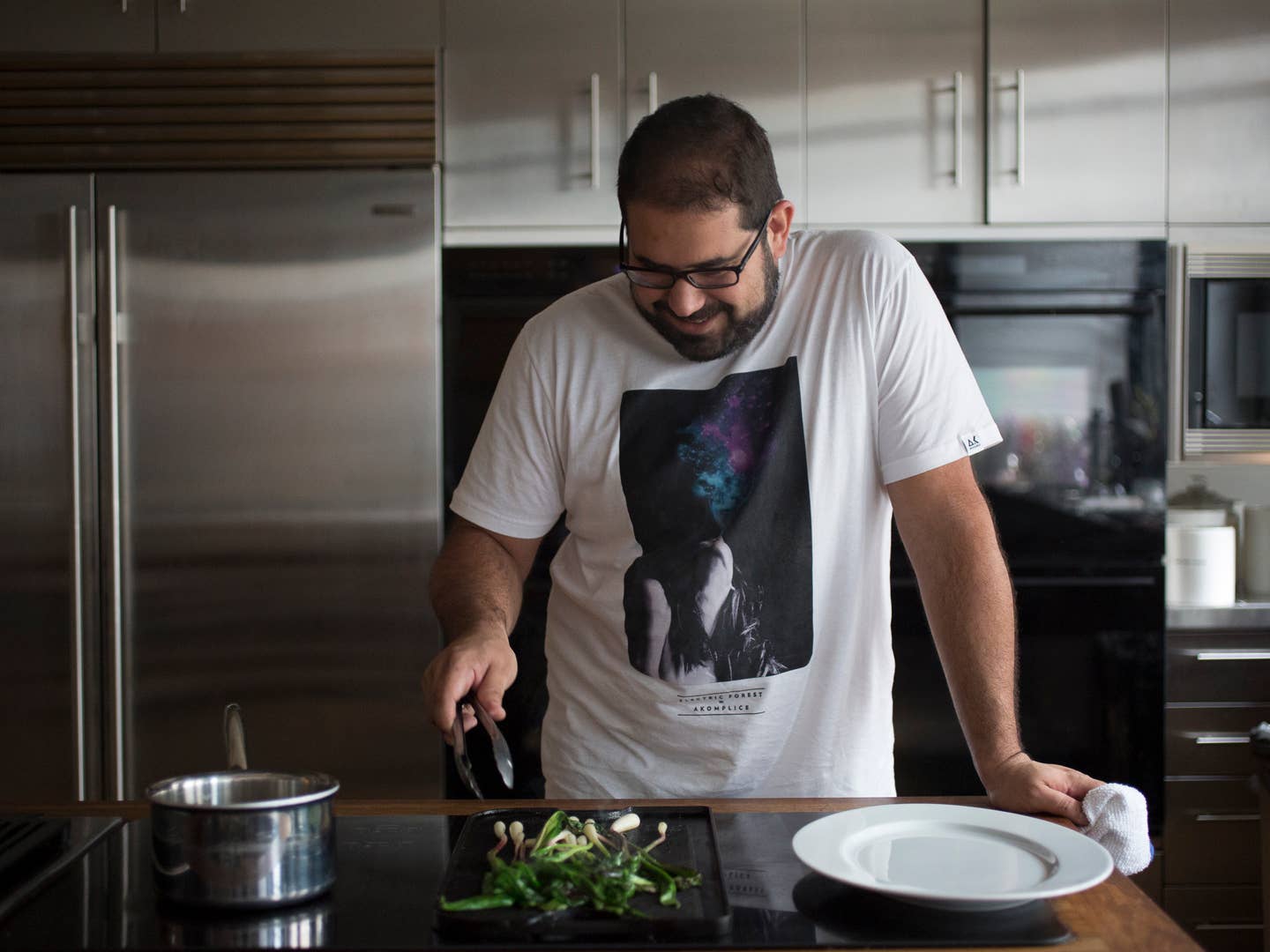 Recipes
Ramps, Puerto Rican-Style
Chef Jose Enrique's favorite way to prepare ramps: grilled, then dressed in a simple escabeche
When the masses first pack away their wool sweaters and start eyeing their summer swimwear, you know that somewhere in a yet-unforaged field, ramps are pushing their littlest green leaves up out of the soil.
A species of wild onion that grows rampant (pun definitely intended) across North America, ramps are a much-loved springtime ingredient. Their white, narrow bulbs ombré their way into a vibrant pinkish violet before unfolding into a pair of rabbit-ear leaves. Entirely edible from root to tip, they taste like earthy, delicate garlic and find their way into menus pickled, grilled, sautéed, even battered and fried.
Puerto Rican restaurateur Jose Enrique (Miel, Capital, Jose Enrique) stopped by our test kitchen recently to provide a new twist on America's favorite allium. He reminisces fondly on the breaded and fried rounds of king fish in escabeche in his native Puerto Rico while he chars the ramps on the grill pan. Escabeche refers to both the dish itself as well as its vinaigrette-like sauce made from vinegar, oil, and a sweet element like sugar or honey. This preparation, usually reserved for chicken or fish, may seem a surprising choice for preparing ramps, but Enrique ensures us otherwise: The vinegar in the sauce gives the ramps a gentle pickling, meaning they can survive in the fridge well past the end of their brief season.
Enrique's escabeche uses rice vinegar for its base, and is sweetened with honey and rounded out with olive oil. He grills the ramps over high heat to give them a good char without overcooking them, which can cause their delicate flavor to fade. You can grill them, dress them, and serve them right away, or preserve their garlicky goodness for later: Combine grilled ramps and escabeche in a large glass jar, seal, and store in the fridge. It'll keep for 2 months.