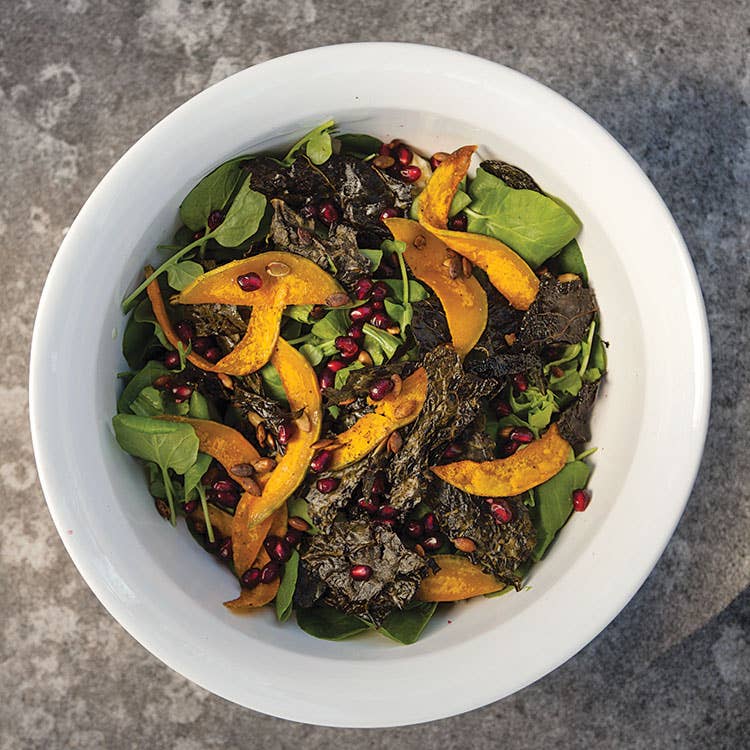 Recipes
A Simple Fall Salad For When You Don't Feel Like Cooking
Roasted butternut squash, kale chips, and bright pomegranate seeds make a quick and hearty dinner or side
If you're feeling like you need a bit of a break from all the rich foods that the holidays bring, look no further than this fall salad. When you're sick of eating all those Christmas cookies you've been baking around the clock and feel like you need to reserve your cooking skills for the holiday frenzy, a toss-together salad is the perfect solution.
Crispy baked kale, sweet roasted squash, and peppery arugula make this salad a hearty option for the cold weather. Bright pomegranate seeds and pumpkin seeds lend a bit of crunch to this colorful dish. The vinaigrette is a quickly whisked-together mix of oil, Pecorino Romano, lemon juice, Dijon mustard, and maple syrup. Safe the leftover dressing for another salad directly following the holidays, when you'll be craving something fresh and easy.
This salad also works as a side along with your other holiday dishes, keeping things a bit lighter on the roast vegetable front. If you need a few last-minute ideas for holiday sides, check out our complete holiday guide.