Recipes
Korean Spicy Cold Noodles (Bibim Guksu)
Serves

serves 2 as an appetizer

Cook

1 day 30 minutes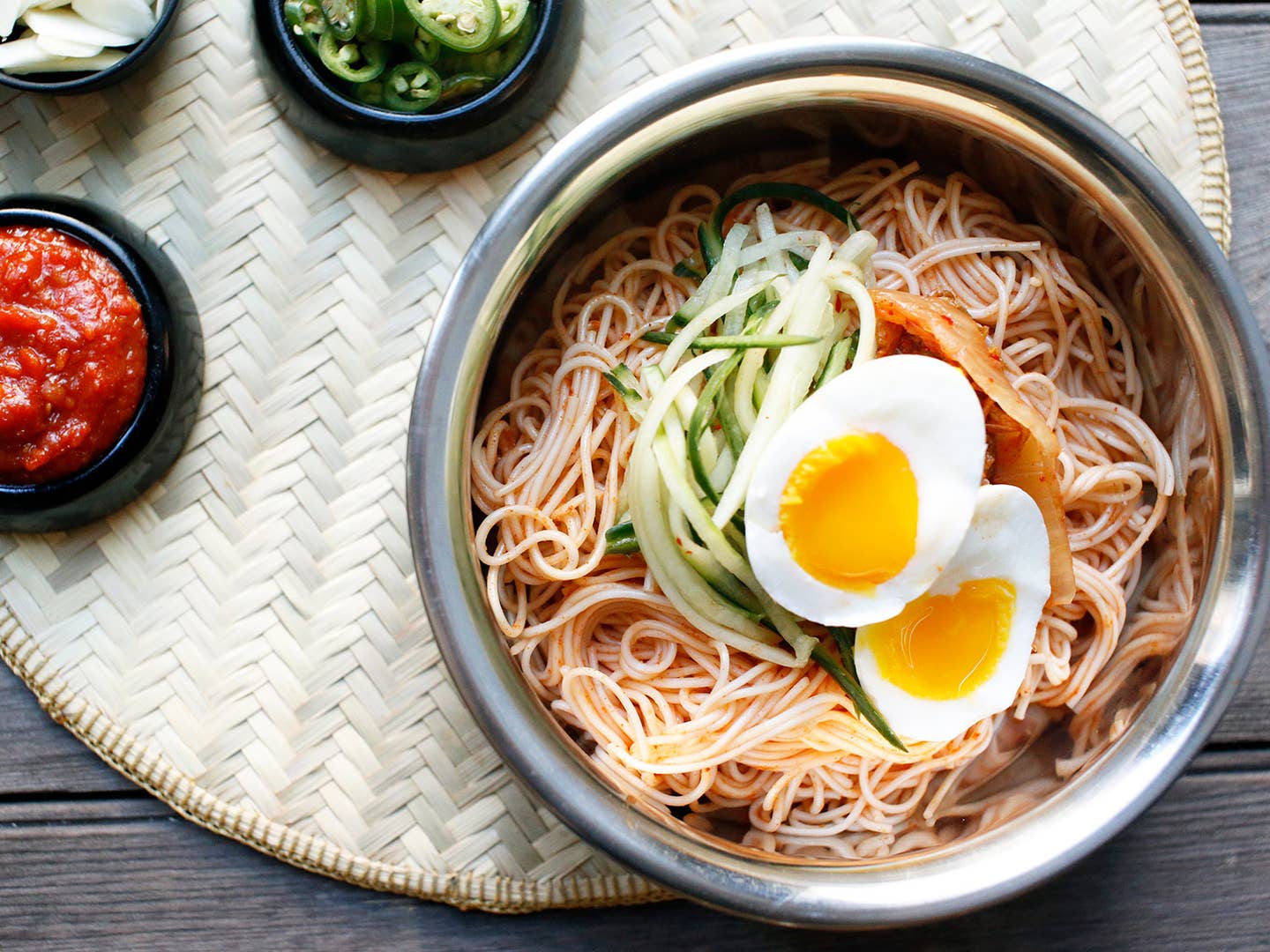 Ingredients
2 strips (2 inches each) kombu (3 g)
½ cup (5 g) katsuobushi (dried bonito flakes)
3 medium garlic cloves, coarsely chopped (1 Tbsp.)
½ medium Asian pear, seeded and cored (2½ oz.)
½ cup thinly sliced shallots (1½ oz.)
½ cup gochujang (Korean red chile paste)
2 Tbsp. toasted sesame oil
1 Tbsp. plus 1½ tsp. sugar
1½ tsp. soy sauce
1½ tsp. rice vinegar
3 oz. somyeon (thin Korean wheat flour noodles), cooked according to package instructions and rinsed in cold water
¼ English cucumber, cut into thin matchsticks (1/3 cup)
2 Tbsp. thinly sliced store-bought or homemade kimchi
1 soft-boiled egg, halved
Instructions
Step 1
In a small pot, add the kombu and ⅔ cup cold water. Bring to a boil, then stir in the katsuobushi and immediately turn off the heat. Set the dashi stock aside for 15 minutes.
Step 2
Set a fine-mesh strainer over a liquid-measuring cup. Strain the dashi, pressing on the solids with the back of a spoon. Measure ½ cup dashi and reserve any remaining for another use.
Step 3
Purée the dashi, garlic, pear, and shallots in a blender until smooth. Add the gochujang, sesame oil, sugar, soy sauce, and rice vinegar, and pulse until combined. Transfer the sauce to an airtight container and refrigerate at least 2 days before using.
Step 4
In a medium bowl, add the noodles and 3 tablespoons sauce, or more to taste. Reserve remaining sauce for another use. Using tongs or a gloved hand, toss well to coat. Transfer to a serving bowl and top with the cucumber, kimchi, and egg. Serve immediately.