Recipes
Lemon-Infused Spaghetti with Provolone
This pretty weeknight pasta shines with a hit of bright citrus.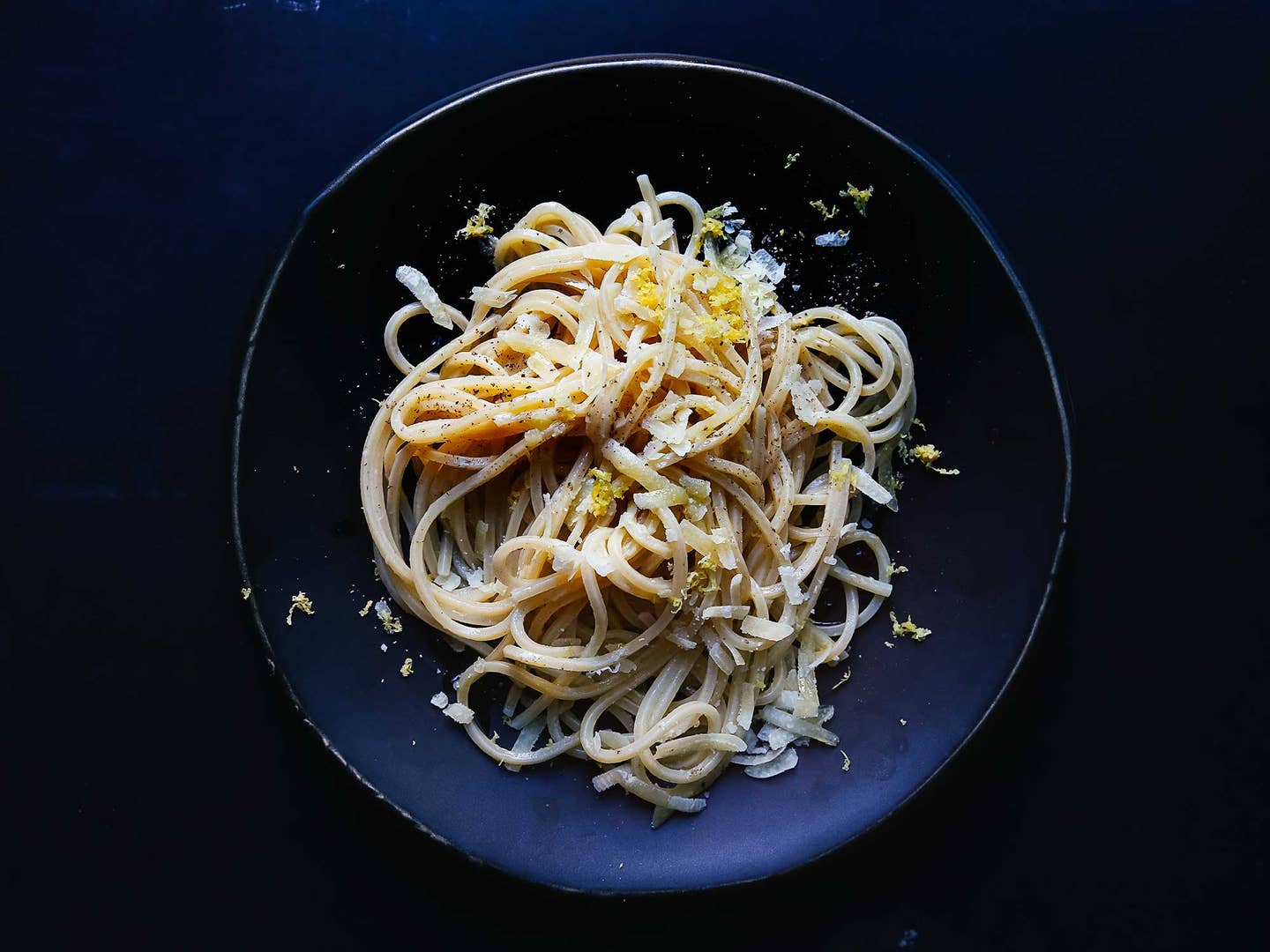 You'll hear the "simple is better" mantra used by chefs all over Italy, and Peppe Guida of Antica Osteria Nonna Rosa in Vico Equense is no exception. One of his best-known dishes, spaghettini con acqua di limone, transforms basic ingredients into something sublime. The secret: infusing water with lemon peels overnight, then using the flavored water to cook the pasta. Check out 47 of our essential pasta recipes.
Ingredients
3 whole whole medium lemons, scrubbed
1 lb. thin spaghetti
Kosher salt
1⁄2 cup grated provolone
1⁄4 cup extra-virgin olive oil
Freshly ground black pepper
Instructions
Step 1
Using a vegetable peeler or paring knife, remove the peels from the lemons and reserve (save the fruit for another use). In a large, high-sided skillet, combine the peels and 2 cups water. Bring to a low simmer, then turn off the heat and set aside to steep at room temperature for 12 hours.
Step 2
Bring a large pot of salted water to a boil. Add the spaghetti and cook, stirring occasionally, until the pasta is flexible but still somewhat crunchy at the center, 4–5 minutes. Drain the spaghetti, rinse under cold running water, and set aside.
Step 3
Remove the lemon peels from the skillet, then bring the lemon water to a boil over high heat. Add the reserved spaghetti and finish cooking, tossing constantly with tongs, until al dente, 5–6 minutes. (The lemon water should be mostly or fully absorbed.) Transfer the spaghetti to a large bowl, toss with the provolone, olive oil, and pepper, and serve immediately.
Twirl your way to greatness with our best pasta recipes—from linguini to tortellini and lasagna.