Recipes
Little Gem Lettuces with Marinated Anchovies and Bottarga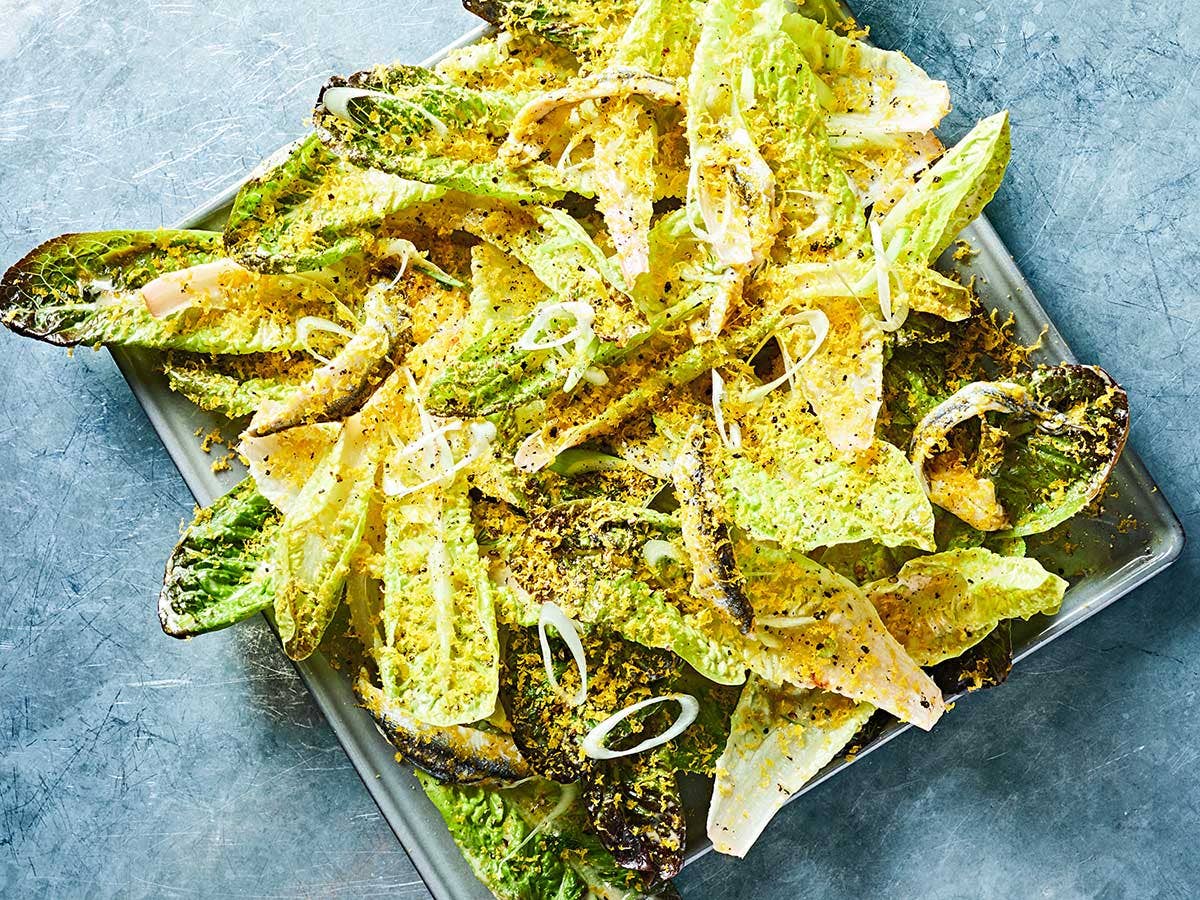 "This is sort of our dressed-up version of the Caesar," says chef Katie Jackson of Hart's restaurant in Brooklyn. "It has anchovies two ways as well as bottarga, a cured mullet roe that we shave over the whole salad." You can find bottarga at specialty stores or order it online. It has a rich, umami-like flavor not unlike an aged cheese.
Ingredients
2 tbsp. white wine vinegar
4 oil-cured or salt-cured brown anchovy fillets
2 tbsp. Dijon mustard
1 small garlic clove, grated or minced
1 pinch salt
1 pinch sugar
2 cups canola oil
5 heads little gem lettuces (or any petite crunchy lettuce, like baby romaine), trimmed and separated into leaves
Fresh lemon juice, for drizzling
Extra-virgin olive oil, for drizzling
About 10 marinated white anchovies such as boquerones, for garnish (optional)
Finely grated bottarga (cured mullet roe), for garnish
Thinly sliced spring onion, for garnish (optional)
Freshly ground black pepper
Instructions
Step 1
Make the dressing: In a high-powered blender, add the vinegar, brown anchovies, dijon, garlic, salt, and sugar. Blend on high speed until smooth. Turn the speed to low and slowly stream in the canola oil until the mixture is emulsified and creamy. (If it's too thick, you can thin it out with a splash of water.)
Step 2
In a large bowl, dress the salad leaves with a light drizzle each of lemon juice and olive oil. Drizzle a small amount of the anchovy dressing over the leaves and toss, adding more as needed, until every leaf is dressed.
Step 3
Arrange the leaves on a large serving platter and top with the marinated anchovies if using, a generous amount of bottarga (about 1 tablespoon) grated on a Microplane, a few pieces of thinly sliced spring onion if desired, and lots of black pepper. Serve immediately.