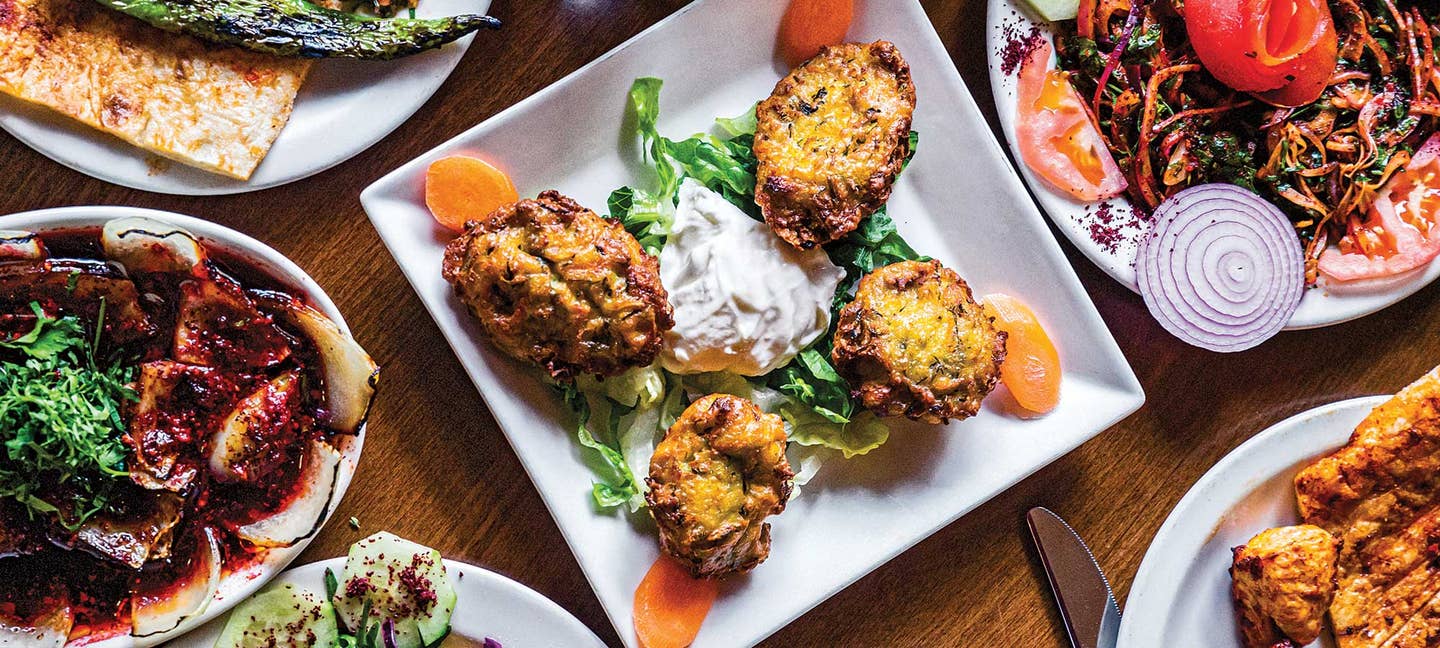 Travel
The Unifying Power of London's Turkish Grill Houses
With kebabs, stuffed eggplants, and zucchini fritters, the ocakbaşı restaurants of Little Istanbul bring people together
Turkish London stretches through the boroughs of Hackney and Harringay, in the northeast of the city. There are Turkish barber shops and bakeries, lahmacun cafes and baklava stores, and an Ottoman-style mosque with a butcher's shop beneath it. Greengrocers stock grape molasses and halloumi; fishmongers specialize in Aegean sea bream and Black Sea anchovies. Dozens of Turkish, Kurdish, and Cypriot social clubs are open to members only, their smoke-filled rooms a mystery to outsiders.
What unites this community is the collective love of food and, above all, the mangal—the Turkish word for a grill. Long before chefs like Yotam Ottolenghi helped bring pomegranate molasses, tahini, and sumac further into the culinary mainstream, the neighborhood's grill houses were serving smoky eggplant dips, citrus-­drenched bulgur salads, and cigarillos of chewy vine leaves alongside smokily grilled cuts of lamb and skewers of chicken. This area is always my first stop whenever friends are visiting London from out of town.
I recently gathered with a group traveling from New York at an ocakbaşı, or fireside, restaurant called Testi. Anatolian pop music blared through the speakers as smoke and the smell of searing meat wafted out from the enormous hooded charcoal grill at the restaurant's entrance. Next to the grill stood a sturdy middle-aged man, dressed all in white, his thick fingers deftly turning skewers of juicy lamb chops, their fat sizzling and sputtering onto the hot charcoal. Next to him, another cook sat threading quartered tomatoes and long green peppers onto separate metal skewers before placing them over the flames to cook until soft and charred.
Before long, our table groaned with colorful mezze: crispy zucchini fritters called mücver with dill; thick yogurt flecked with grated cucumber and garlic; charred flatbreads smothered in lamb drippings; grilled white onions bathed in a pomegranate-and-pickled-turnip-juice dressing; and deep bowls filled with tarama, a silky spread made with cured fish roe. A waiter unveiled a bottle of raki—that fiery Eastern Mediterranean spirit twice-distilled from grapes and flavored with anise. We sat silently as he ceremoniously poured the liquor—also known as lion's milk to the Turkish—into narrow glasses, then added cold water, turning the drink a cloudy white.
To our right sat a group of young men of South Asian descent, their beards dark and trimmed, their heads covered with white taqiyah skull caps. It was Ramadan, and the men were breaking their fast with plump medjool dates and small glasses of black tea as we wished them "Ramadan Mubarak." There aren't many places in the world where such diverse diners sit side by side, enjoying the food rituals of their culture in quite this way. In a United Kingdom where attacks on multiculturalism have dominated the political landscape in the three years since the Brexit referendum, London's Little Istanbul stands out as one of the most culturally harmonious places in the country—­Britain at its best.
"Having the mangal up front means we're not hiding anything," says Testi's manager, Hussain Ezum, of the meat displayed in a glass counter. "Everyone can see what we're doing and the quality of the meat." He points to the grill master, who is turning over a chicken shish and rubbing flatbreads over the grill to soak up the meat juices. "This food isn't easy to cook." Ezum, just 24 years old, took over the restaurant from his father a few years ago. Like many in this part of London, he is deeply connected to the neighborhood. "Four restaurants in this area are run by my cousins and uncles—my dad was the last one of his family to come over from Maraş [a region in southeast Turkey]," he says. "We brought our passion for grilled meats to London with us."
It is a similar story to so many of Britain's most popular foods. The neighborhood curry house was a byproduct of the huge waves of Indian, Pakistani, and Bangladeshi immigration in the 1950s, and fish and chips, the most iconic of all British dishes, came here with Jewish refugees from Eastern Europe in the mid-1800s. Kebabs truly are one of the U.K.'s most popular foods—1.3 million of them are sold in more than 20,000 restaurants and shops every day.
Ferhat Dirrik, the manager of Mangal II in Dalston, believes that the interest in Middle Eastern grilled meats simply reflects a wider social shift in the U.K. Large-scale Turkish migration to London began with Turkish-Cypriots who arrived from Cyprus, a former British colony, in the 1930s. Larger numbers arrived after the Turkish invasion of Cyprus in 1974, and they were joined by immigrants from mainland Turkey in the 1970s and '80s, many of whom emigrated after political and economic instability following the coups d'etat of 1971 and 1980.
Ferhat's father, Ali Dirrik, was one of the pioneers of the Turkish food scene in London. Originally from the town of Kivas in central Turkey, he opened the restaurant almost 30 years ago. These days Mangal II is generally packed with both regulars from the neighborhood and visitors. "Hackney is a place you can be anyone," Ferhat says. "An older gay couple walking hand-in-hand, a woman in a hijab with her kids, a tall, skinny punk with bleached white hair. That's what you see."
The diversity of the menu reflects Ferhat's own mixed heritage, which includes Turkish, Alevi, Kurdish, and Armenian roots. The ocakbaşı classics at Mangal II, such as iskender kebab (a lamb steak doner) and the ali nazik (grilled ground lamb set on a bed of puréed eggplant and yogurt) are some of the best outside Istanbul. But the restaurant also specializes in grilled sweetbreads, kidneys, and liver, and has an extensive mezze menu, with spicy sujuk sausages, creamy hummus, and imam bayıldı—eggplants stuffed with onions and peppers. "It just shows how broad an identity a 'Turkish' person can have," Ferhat says. "No one has a single identity these days. We're all mixed, and that's a good thing. But anyway, I always identify as a Londoner first and foremost."
Ferhat has achieved a degree of notoriety online, with posts railing against the failings of the Tory government, rallying against racism, mocking hipster culture and bemoaning gentrification, and playfully arguing about which is the best grill house in London (his, of course). All of that talk would be for nothing if the food didn't back it up. In Ferhat's eyes, ocakbaşı restaurants have achieved such popularity in London simply because they employ the best way to cook meat. "The meat fat drips on the charcoal, then the charcoal produces a vapor, which then rises up and perfumes the meat," he says. All of this moisture results in more-tender shish kebabs. "You can't pan-fry meat to this flavor, you can't bake it to this flavor. It's all about the mangal."