Recipes
Oyster Pie with Buttermilk Biscuits
Serves

serves 12-16

Cook

2 hours 20 minutes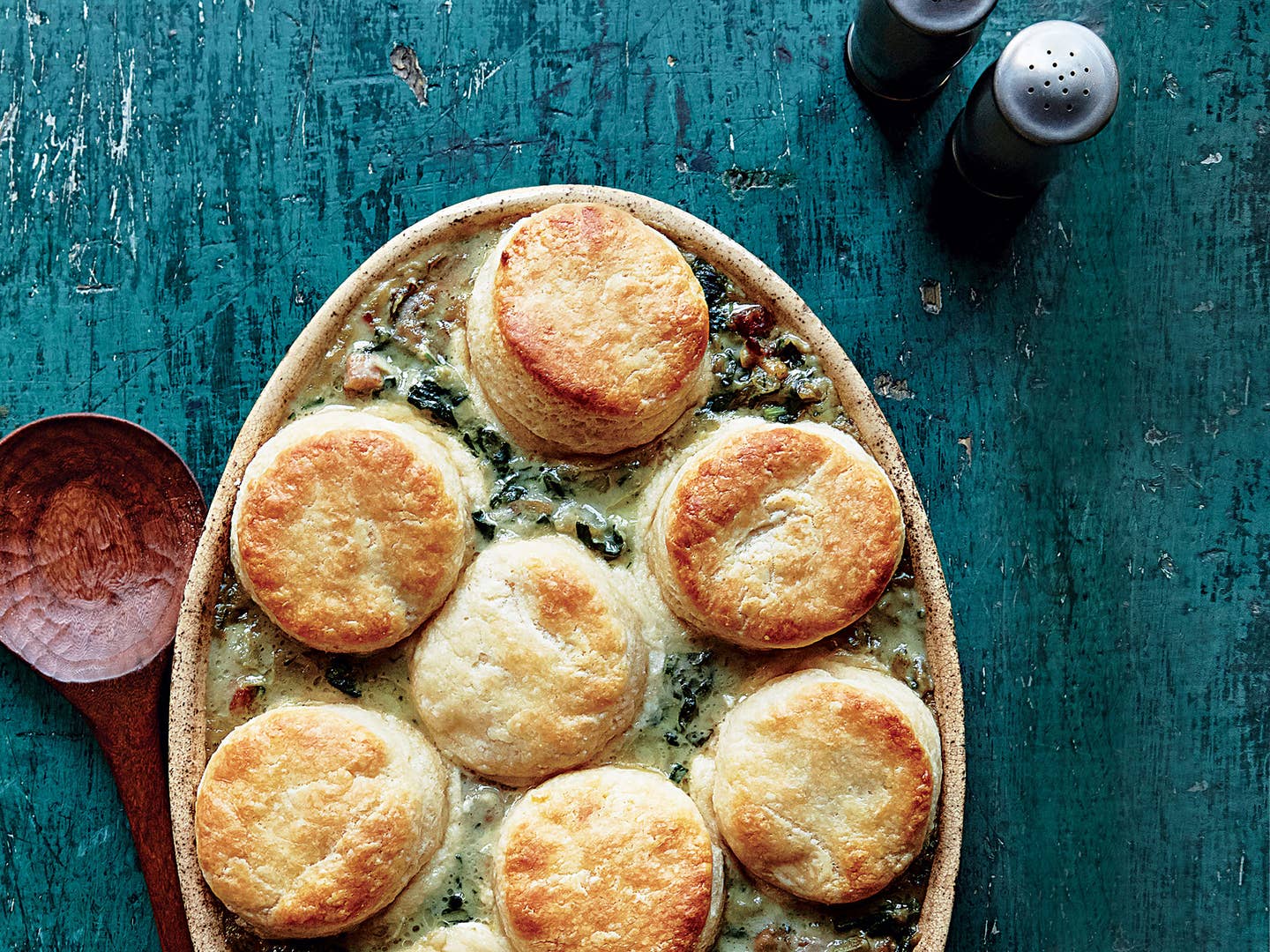 This classic oyster stew from Justin Devillier, the chef of La Petite Grocery in New Orleans, is packed full of Swiss chard and flavored with smoky ham and absinthe, which perfumes each steaming bite with an enticing note of licorice. The buttermilk biscuits on top are just as delicious cooked separately and slathered with butter and honey.
Ingredients
For the Biscuits
3 cups (13 1/2 oz.) all-purpose flour, plus more for dusting
2 tsp. baking powder
1 1⁄2 tsp. kosher salt
1⁄4 tsp. baking soda
3 sticks chilled unsalted butter, cut into 1/2-inch cubes
1 1⁄4 cups buttermilk, chilled
For the Oyster Filling
2 tbsp. olive oil
10 oz. smoked country ham, finely diced
2 stalks celery, finely chopped
2 bulbs fennel, finely chopped
1 large yellow onion, finely chopped
Kosher salt and freshly ground black pepper
4 cloves garlic, finely chopped
1 cup (4 1/2 oz.) all-purpose flour
4 cups whole milk
2 bunches Swiss chard, or spinach leaves, stems removed, roughly chopped
7 oz. shucked oysters (2 dozen)
1⁄2 cup finely chopped chives
1⁄4 cup absinthe or Pernod
1 tbsp. finely chopped flat-leaf parsley
Instructions
Step 1
Make the biscuits: In a large bowl, whisk the flour with the baking powder, salt, and baking soda until evenly combined. Add the butter and, using your fingers, rub the butter with the flour until pea-size crumbles form. Add the buttermilk and stir until a dough forms. Scrape the dough onto a lightly floured work surface and knead until it forms a ball. Using a rolling pin, flatten the dough until 3⁄4 inch thick, and then fold in thirds like a letter. Repeat rolling and folding twice more, and then flatten the dough until 1⁄2 inch thick. Using a 2 1⁄2-inch round cutter, cut out biscuits, rerolling scraps as needed, to get 20 total. Place the biscuits on a baking sheet and freeze until ready to use, up to 1 week.
Step 2
Make the oyster filling: Heat the oven to 450°. In a large saucepan, heat the olive oil over medium-high. Add the ham and cook, stirring, until browned and crisp, 6 to 8 minutes. Stir in the celery, fennel, and onion. Season with salt and pepper and cook, stirring, until the vegetables soften, about 8 minutes. Add the garlic and cook for 1 minute. Sprinkle the flour over the vegetables and cook, stirring constantly, until lightly toasted, about 2 minutes. Slowly pour the milk into the pan and stir until it comes to a boil. Add the Swiss chard, reduce the heat to medium, and cook, stirring, until the Swiss chard wilts down, about 8 minutes.
Step 3
Remove the pan from the heat and stir in the oysters, chives, absinthe, and parsley. Season with salt and pepper and divide the oyster filling between two 1 1⁄2-qt. oval baking dishes. Arrange the biscuits evenly over the filling in both dishes and place the dishes on a foil-lined baking sheet.
Step 4
Bake the oyster pies until the fillings are bubbling in the center and the biscuits are golden brown, about 1 hour. Transfer the pies to a rack and let cool for 10 minutes before serving.