Recipes
Grilled Oysters with Pecorino and Shaved Bottarga
Serves

serves 8-10

Cook

30 minutes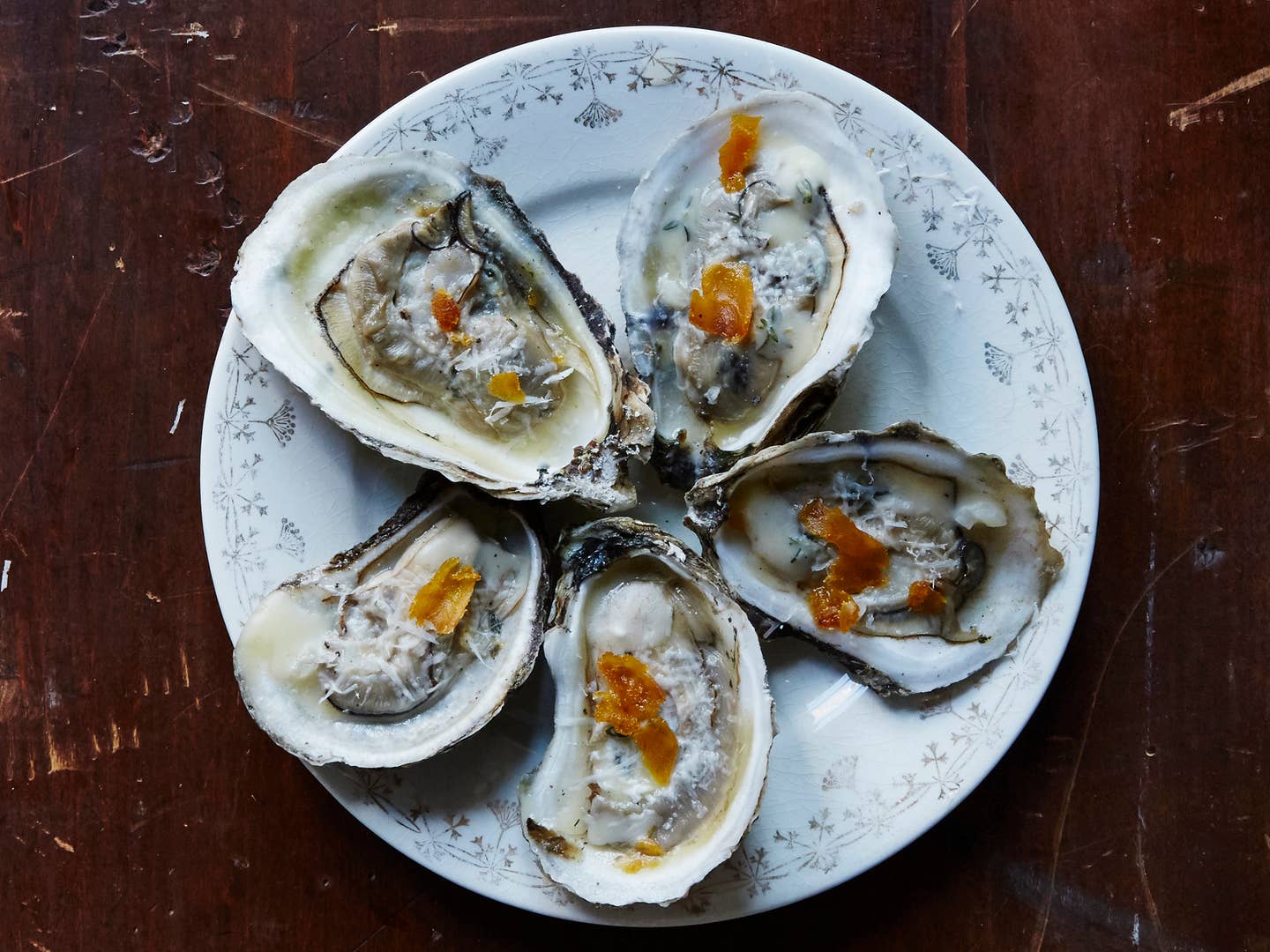 Chef Justin Devillier of La Petite Grocery in New Orleans likes to start Thanksgiving by shucking oysters on his back porch with a bottle of Champagne nearby. Some he eats raw; others go in his oyster pie. The rest go on the grill for this appetizer. Large Gulf oysters are ideal; their shells are the perfect vessels for poaching the meat.
Ingredients
2 sticks unsalted butter, softened
2 tbsp. fresh lemon juice
1 1⁄2 tsp. minced garlic
1 1⁄2 tsp. minced thyme leaves
Kosher salt and freshly ground black pepper
2 dozen large oysters, such as bluepoint or Gulf
Aged Pecorino Romano and mullet bottarga, for serving
Instructions
Step 1
Light a grill. In a large bowl, stir the butter with the lemon juice, garlic, and thyme and season with salt and pepper. Shuck the oysters, keeping their meat and juices in the concave shell, and dollop a teaspoon of the compound butter on each oyster.
Step 2
Arrange the oyster halves on the grill, shell side down, and cook until their juices begin to bubble and the oyster meat just begins to curl at the edges, about 5 minutes. Remove the oysters from the grill and transfer to a serving platter. Using a Microplane, grate some pecorino over each oyster. With a truffle shaver or vegetable peeler, shave a sliver of bottarga over each oyster and serve immediately.