Recipes
Marinated Artichokes with Prawns and Fino Sherry (Alcachofas Salteadas con Langostinos y Fino)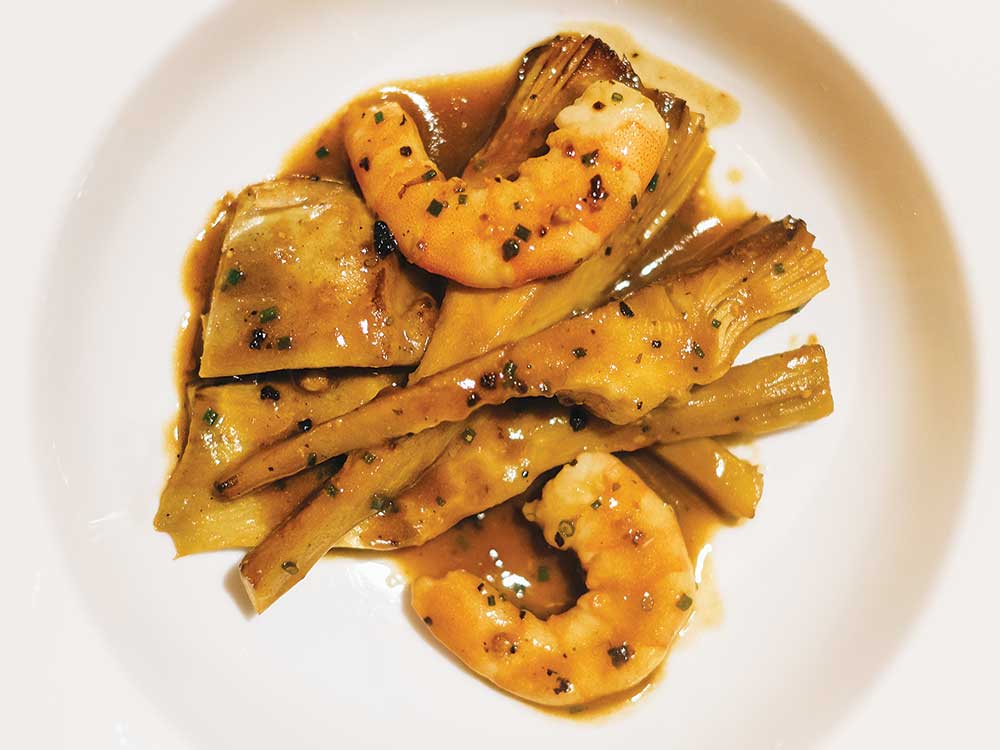 While this marriage of artichokes and Sanlúcar prawns (called langostinos locally) in a fino sauce tastes like a timeless classic from the Sherry Triangle, it was created recently by young chef Javier Munoz at La Carboná, the restaurant owned by his parents in Jerez de la Frontera. The restaurant's motto is "Cocina con Jerez" (cooking with sherry), and Munoz, who worked previously at El Celler de Can Roca, concocted this appetizer as the ideal accompaniment to briny, nutty amontillado.
In Jerez, a sherry maker and a criminologist have embarked on a quest to find the oldest, most potent casks of amontillado (and discover why it just makes food taste better).
Ingredients
8 jarred, oil-marinated long-stem artichoke hearts (1 lb. 2 oz.), plus 3 Tbsp. oil from the jar
1 garlic clove, minced
1 tbsp. extra-virgin olive oil
1 tbsp. all-purpose flour
1 cup fino sherry
1 tbsp. soy sauce
6 jumbo shrimp or medium prawns, shelled (about 6 oz.)
1 tbsp. minced chives
Instructions
Step 1
Heat a dry 12-inch skillet over very high heat. Once hot, add all 8 artichokes in an even layer, along with 3 tablespoons of oil from the jar. Fry, turning once, until each side is slightly golden and crisp, about 30 seconds per side. Add the garlic and 1 tablespoon olive oil and sprinkle the flour evenly over the pan; cook, stirring constantly with a wooden spoon, until the flour mixture is lightly toasted, about 20 seconds. Add the sherry, soy sauce, and 2 tablespoons water and stir to combine. Add the shrimp and reduce to a simmer. Let cook, turning the shrimp once or twice, until pink and cooked through, 3–4 minutes.
Step 2
Spoon the artichoke hearts and shrimp onto a platter. Stir the chives into the sauce, and spoon the sauce over the dish to serve.