Marinated and Grilled Shiitakes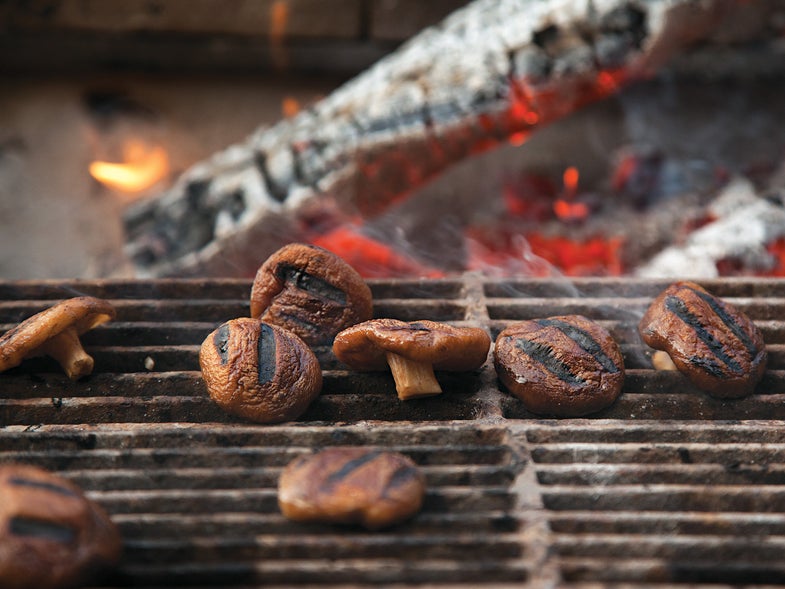 In this simple treatment, chef Blaine Wetzel of The Willows Inn uses a marinade of dried shiitake mushrooms and leftover stems to reinforce the flavor of their fresh counterpart. Cooking note: Please allow 2 hours for marinating
Featured in: The American Archipelago
Marinated and Grilled Shiitakes
This simple grilled side dish uses a marinade of dried shiitake mushrooms and leftover stems to reinforce the flavor of their fresh counterpart.
Time: 1 hour, 15 minutes
Ingredients
1⁄4 cup plus 2 tbsp. vegetable oil
1 lb. shiitake mushrooms, cleaned, stems reserved
3⁄4 cup dried shiitake mushrooms (3/4 oz.)
Flaky sea salt, to taste
Freshly ground black pepper, to taste
Instructions
Heat 1⁄4 cup oil in a 4-qt. saucepan over high. Add stems and cook, stirring, until lightly browned, 2–3 minutes. Add dried shiitakes and 1 cup water and bring to a boil. Reduce heat to medium-low, cover, and simmer for 1 hour.
Pour broth through a fine sieve into a bowl and let cool; discard solids. Stir in remaining 2 tbsp. oil and mushroom caps. Cover and marinate at room temperature for 2 hours.
Build a medium-heat fire in a charcoal grill, or heat a gas grill to medium. (Alternatively, heat a cast-iron grill pan over medium.) Remove mushroom caps from the marinade and grill, top-side down, until they begin to char, 6 minutes. Flip and grill until tender, 1–2 minutes.