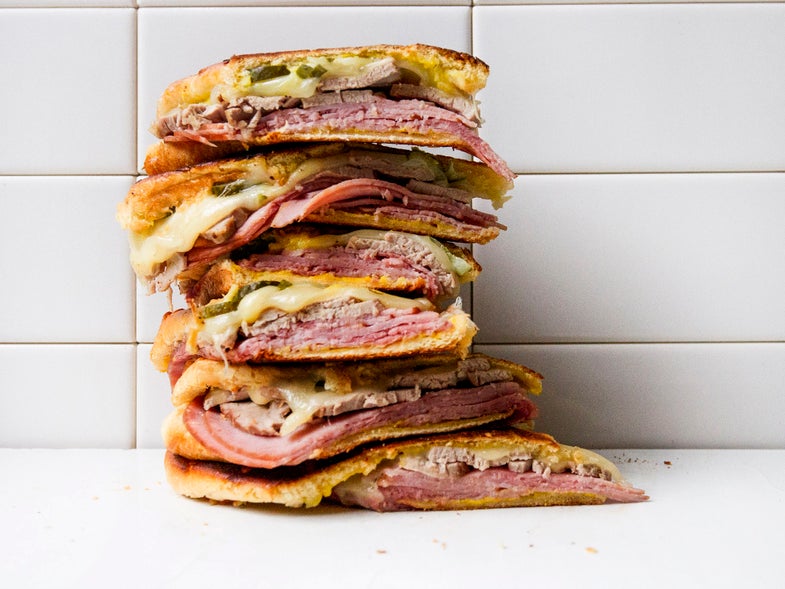 A medianoche (literally "middle of the night") is the kind of sandwich you eat after hours of partying in Miami's Cuban dance clubs. With roast pork, ham, Swiss cheese, and pickles, it's almost identical to a Cuban sandwich, save for the bread, a sweet egg loaf that's similar to challah. The extra richness settles the stomach just a bit more, and it develops a wonderful crust when you toast it.
Featured in Bring Miami's Party Sandwich Home for Dinner
Medianoche
A cousin to the Cuban sandwich, the medianoche is commonly enjoyed at midnight, when the clubs have let out and you're hungry from an evening of dancing. It differs from the Cuban in that a sweet bread is used.
Time: 1 hour
Ingredients
1 lb. pork loin
Kosher salt and freshly ground black pepper
2 tbsp. olive oil
4 medianoche bread, or challah
1⁄2 cup yellow mustard
1 lb. sliced deli ham, halved
8 slices swiss cheese, halved
4 dill pickles
4 tbsp. unsalted butter, softened
Instructions
Heat oven to 400°. Season pork with salt and pepper and drizzle with olive oil. Place on a roasting tray and roast until a thermometer inserted reads 160°, about 45 minutes. Remove from oven and transfer to a cutting board to rest, about 15 minutes. Thinly slice the pork.
Halve the bread lengthwise and spread the insides of each roll with 1 tablespoon mustard. Divide the ham, pork, cheese, and pickles evenly among sandwiches.
Heat half the butter in a 12-inch skillet over medium. Working in batches, cook two sandwiches, pressing down on the top with a 10-inch cast iron skillet, until golden on the bottom, about 3 minutes. Flip the sandwiches over, press with the skillet, and continue cooking until the other side is golden brown and the cheese has melted, about 3 minutes more. Transfer to a cutting board and cut in half on the diagonal to serve.