11 Beautiful Kitchen Tools to Bring Back From Your Trip to Oaxaca
How to outfit your kitchen and dining room with the best from the culinary capital of Mexico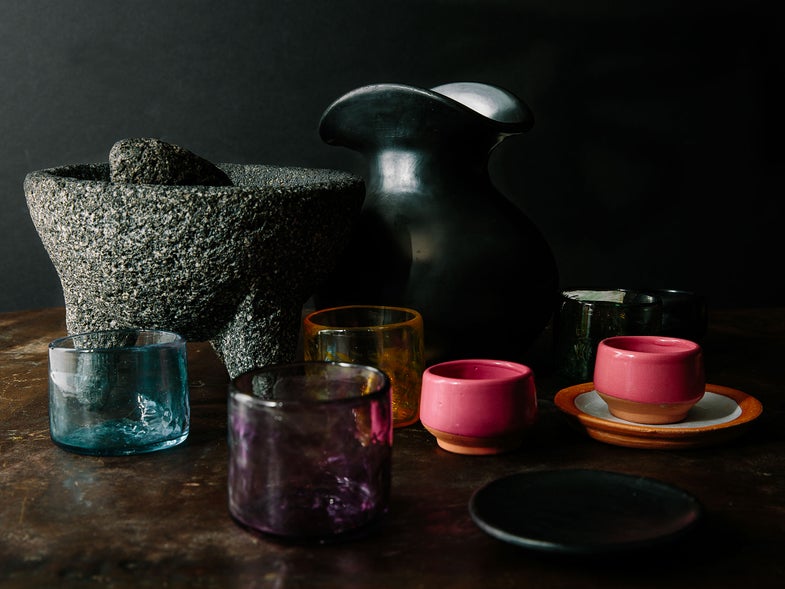 We may earn revenue from the products available on this page and participate in affiliate programs.
Lush, biodiverse, and steeped in pre-Hispanic culture, Oaxaca is without a doubt the culinary capital of Mexico. Once you wander through its markets, taste its tetelas, and sniff out its moles, it's easy to see why. Agriculture is everything here, from the tiny local chiles to the towering agave plants. And for urban and rural populations that still hold tight to their indigenous roots, cooking is a daily form of cultural expression. There's food in Oaxaca you won't find anywhere else; the same goes for an astonishing array of home crafts.
In Oaxaca City, where tourism directly and indirectly accounts for about 75% of the economic activity, you'll see plenty of those crafts on display. Not just the barro negro pottery for which the region is justly famous, but also technicolor textiles, painted wood sculptures, rust-hued clay cooking vessels, elaborate glassworks, and innovative plastic designs.
My best advice: Buy it all. Particularly from a few of the artists and artisans below who, like a growing group of mezcal producers, are using colectivo business models to funnel greater percentages of earnings directly to the people making these pieces of art. These are traditions well worth supporting, and worth weaving into your own.
Studio Xaquixe is a glassworks studio a few kilometers out from the city center, and while you can certainly drive out there to visit, you can also hit up the Christian Thornton gallery in town to see some of their stunning glasswork on display. Weighty and textured, these cups (also blown into 12-ounce water glasses) suggest clay as much as glassware, and they're even prettier when you fill them with mezcal margaritas.
Xaquixe doesn't have an e-commerce site per se, but their catalogue is available on their website. Place orders for shipping by phone or email.
Colectivo 1050 is the commercial arm of Innovando la Tradición, a project founded by Kythzia Barrera to support, preserve, and advance Oaxaca's 35 distinct pottery traditions. In a Oaxaca City storefront and online, 1050 sells a range of pieces made by their artisan partners, including this stunning wood-fired water jug polished with quartz on the exterior to develop a rich, almost metallic sheen. Its swooping curves, shaped by potter Silvia García, won over the curators at the MoMA Design Store, and it's beautiful enough to keep on the table as a centerpiece.
Oaxaca means masa, including an array of snacks that go way beyond the tacos and quesadillas you may be used to. All these tortilla-like foods cook best on a wide clay comal like this, which heats slowly but evenly and retains that heat well for long griddle sessions. As with cast iron cookware, you have to season your comal with use, but it'll eventually develop a carbonized patina that'll add a subtle extra earthy char to your tlayudas.
The molcajete is the Mexican version of one of my favorite cooking tools: the mortar and pestle. It's the single easiest improvement you can make to all your guacamole, salsa, and pounded sauces: you'll get a better, more toothsome texture with this than any blender or food processor. And like most of these items, it's an impressive statement piece.
Another must from Colectivo 1050 is this deep unglazed clay pot, ideal for making Mexican-style beans. Not only does clay just feel right for cooking beans, but its exceptional heat retention makes it perfect for keeping a stew on a low-and-slow bare simmer.
Unglazed clay like this is porous, so don't go overboard on the soap as you clean it. Over time, it'll absorb the flavors of what you cook in it, and help bring those background notes to future batches of beans.
In Oaxaca, mezcal is first and foremost for sipping, not shooting or mixing, and you'll most commonly get it served to you in mass-produced two-ounce fluted glasses with crosses on the bottom. One bartender joked with me, "you know it's time to stop drinking when you can't see the cross through your glass anymore."
Those glasses are cute, but I'm all about these clay cups, which are unglazed and porous, and thus capable of interacting with the mezcal you pour into them. Compared to neutral glass, the clay can smooth out a spirit's rough edges while supporting its earthy, herbal qualities and thickening its texture. Which is not to say everything's improved by drinking it in clay, or that your favorite mezcal would even benefit from such a treatment. But it's a neat experiment to try at home with your Xaquixe glasses as a control.
So remember how I said Oaxaca is all about masa? That's because everyone, even tiny street operations, makes their own. Yes, it's worth making your own masa, and while it is a time commitment, it's not that hard. Step one: Buy a lot of corn and one of these grinders, called molinos de masa.
Once you get a molino, the next (optional) step is to pick up a metate, a stone hand grinder for further processing the masa into a fine mash without blitzing it to a one-dimensional paste. It'll make your tortillas and tamales all the better, and it's also useful for grinding nuts and seeds into pastes, a popular technique for thickening sauces in the region.
You saw this coming. Making your own masa for tortillas? Then you'll need one of these. Cast iron is the most durable material for your press and its weight will help you flatten your masa into even discs.
Okay, not really a tool at all. But it is a noteworthy work by Omar Hernández, one of the city's most forward-thinking ceramic artists who also supplies dishware to top restaurants like Pitiona. Hernández, who principally sells his work at his gallery in the city center, uses clay to make beautiful (and sometimes beautifully macabre) meditations on Mexican life. His oversized vases in particular are worth looking at for your home.
Like many Oaxacan artists, Hernández doesn't really have an e-commerce site yet, or even really a website of his own. But his Facebook page is updated with new work regularly, and staff speak some English. Call for orders and shipping details.
Zapotecs are one of the major indigenous groups that call Oaxaca home, and their intricate textile work is nothing short of stunning. So yes, another not-tool, but too good not to mention. Whether you use them as rugs or wall tapestries, they'll bring incredible color and texture to whatever room they're in.