Recipes
Grilled Octopus with Green Lentils and Romesco
Serves

serves 4-6

Cook

2 hours 30 minutes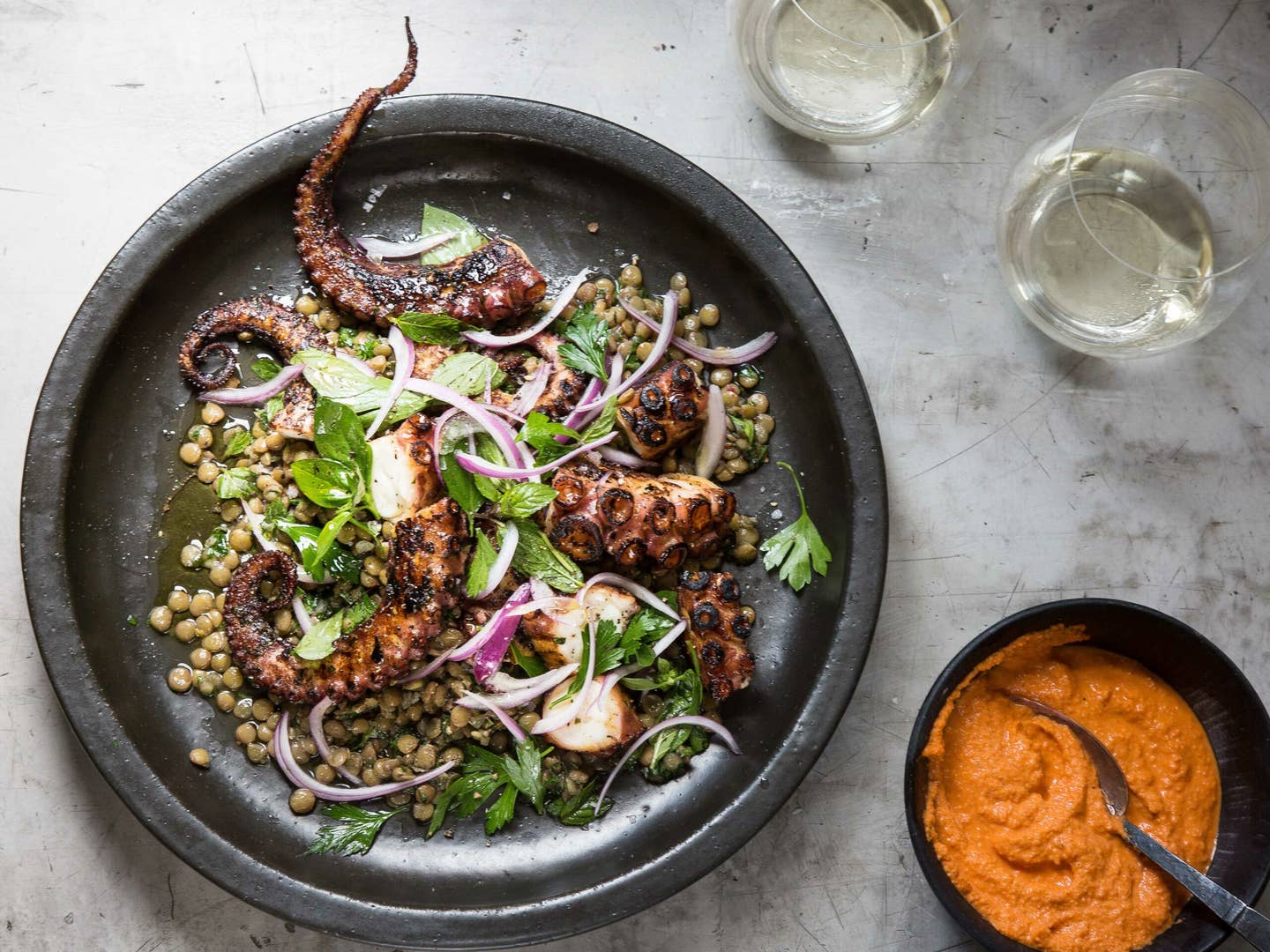 Smoky romesco sauce brightens burnished, crispy octopus, which is marinated in an herb-packed vinaigrette, in this recipe adapted from chef Dan Moss of Terroir Auburn restaurant in Clare Valley, Australia.
Ingredients
For the Octopus and Lentils
2 lb. fresh or frozen octopus tentacles
1 1⁄2 cup packed flat-leaf parsley leaves (1 cup finely chopped, 1/2 cup torn in half)
1 cup packed cilantro leaves, finely chopped
2 Tbsp. packed oregano leaves, finely chopped
½ cup extra-virgin olive oil
1 Tbsp. red wine vinegar
¼ tsp. crushed red chile flakes
1 clove garlic, minced
Finely grated zest and juice of 1 lime
3 1⁄2 cup chicken stock
1 shallot, halved lengthwise
1 fresh bay leaf
1 cup dried green lentils
kosher salt
1⁄2 cup basil leaves, preferably Thai, torn into bite-size pieces
1⁄2 cup loosely packed mint leaves, torn in half
1⁄2 cup small red onion, thinly sliced lengthwise
For the Romesco Sauce
2 large bell peppers
3 large cloves garlic cloves
1 cup blanched white almonds
2 Tbsp. extra-virgin olive oil
2 Tbsp. tomato paste
1 Tbsp. red wine vinegar
1⁄4 tsp. crushed red chile flakes
1⁄4 tsp. smoked paprika
Instructions
Step 1
For the octopus: Bring a large pot of water to a boil, add the octopus, and cook until tender, about 45 minutes. Meanwhile, in a large bowl, stir the finely chopped parsley with the cilantro, oregano, olive oil, vinegar, chile flakes, garlic, and lime zest and juice; you should have 1 cup chimichurri. Scoop out 1⁄3 cup of the chimichurri and transfer to a small bowl. When the octopus is tender, drain and transfer it to the bowl with the remaining 2⁄3 cup chimichurri and toss to coat. Cover with plastic wrap and let marinate for at least 4 hours.
Step 2
Meanwhile, in a medium saucepan, bring the stock, shallot, and bay leaf to a boil. Add the lentils, and then reduce the heat to maintain a simmer and cook the lentils, stirring occasionally, until just tender, about 20 minutes. Remove from the heat and season with salt. Scrape into a large bowl and let cool completely. Once cool, stir the reserved 1⁄3 cup chimichurri into the lentils.
Step 3
For the romesco: Heat the broiler. Place the bell peppers and garlic on a foil-lined baking sheet and broil, turning as needed, until blistered all over, 6 to 8 minutes for the garlic, 15 minutes for the peppers. Transfer the peppers and garlic to a bowl, cover with plastic wrap, and let stand for 20 minutes to steam. Uncover and then peel the peppers and garlic, discarding the peppers' seeds and stems as well. Place the pepper flesh and garlic in a blender along with the almonds, olive oil, tomato paste, vinegar, chile flakes, paprika, and 1⁄2 cup water, and purée until smooth. Scrape into a bowl, season with salt and pepper, and refrigerate until ready to use.
Step 4
To serve, light a grill or heat a cast-iron grill pan over high. Lift the octopus tentacles from the marinade and place on the grill. Cook the tentacles, turning once, until charred and crisp, 8 to 10 minutes. Transfer the octopus to a cutting board and let stand for 5 minutes. Spoon the lentils onto a serving platter and then cut the octopus into 2-inch pieces and place over the lentils. In a bowl, toss the torn parsley with the basil, mint, and onion, and scatter over the octopus. Serve with the romesco sauce on the side.