Pasta Salad with Buttermilk Dressing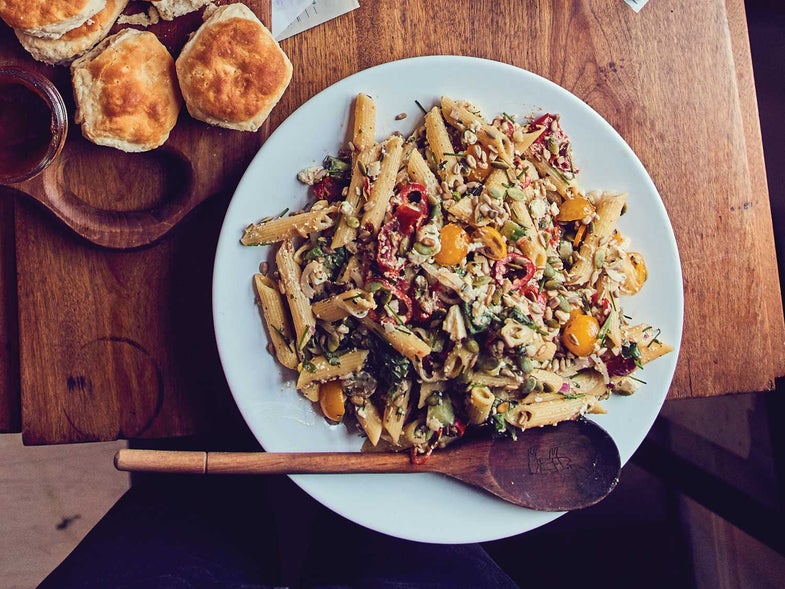 Pasta salad is a Virginia country-store staple, to which Mason Hereford applies his signature culinary move: elevating humble dishes without sacrificing their essence. Al dente penne gets decked out with lemony buttermilk dressing, sweet peppers, and crunchy seeds.
Featured in: Virginia's Roadside Country Stores Inspired This Soulful Chef »
What You Will Need
Pasta Salad with Buttermilk Dressing
Mason Hereford's "fancy" pasta salad is loaded with homemade buttermilk dressing, feta, and crunchy seeds for an elevated take on the humble gas station classic.
Yield:
makes About 3 Quarts
Time: 30 minutes
Ingredients
Kosher salt
1 lb. dry penne pasta
2 cups fresh basil leaves, torn
1 cup (7 oz.) cherry tomatoes, halved
1 cup (5 oz.) diced cucumber
1⁄2 cup chives, cut into half-inch pieces
1⁄2 cup (3 oz.) diced red onion
1⁄3 cup (½ oz.) mini sweet peppers, thinly sliced
1⁄3 cup (1¾ oz.) roasted, salted sunflower seeds
1⁄4 cup (1½ oz.) roasted, salted pepitas
1 cup (6 oz.) crumbled feta cheese
1⁄2 cup buttermilk
1⁄4 cup mayonnaise
1 tbsp. fresh lemon juice, plus more to taste
1 1⁄4 tsp. finely grated lemon zest
1 tbsp. Louisiana-style hot sauce, such as Crystal brand
1 tsp. finely chopped fresh garlic
1 tsp. chile flakes
Freshly ground black pepper
Instructions
Fill a large pot with salted water, and bring it to a boil. Add the penne, and cook until just al dente, about 10 minutes (the pasta will further soften as it soaks up some of the dressing). Drain, discarding the cooking liquid, and rinse the pasta well under cold running water. Drain well.
Transfer the penne to a large serving bowl, and add the basil, cherry tomatoes, cucumber, chives, red onion, peppers, sunflower seeds, and pepitas. Toss well and set aside.
In a medium bowl, add the feta, buttermilk, mayonnaise, lemon juice and zest, hot sauce, garlic, and chile flakes; mix well. Add the dressing to the pasta, and toss to coat. Season with kosher salt and a generous amount of black pepper. If desired, squeeze a little more fresh lemon juice over the top of the pasta salad, then serve immediately.