Recipes
Piquillo Pepper and Almond Morning Buns
Serves

makes 18-20

Cook

15 hours 50 minutes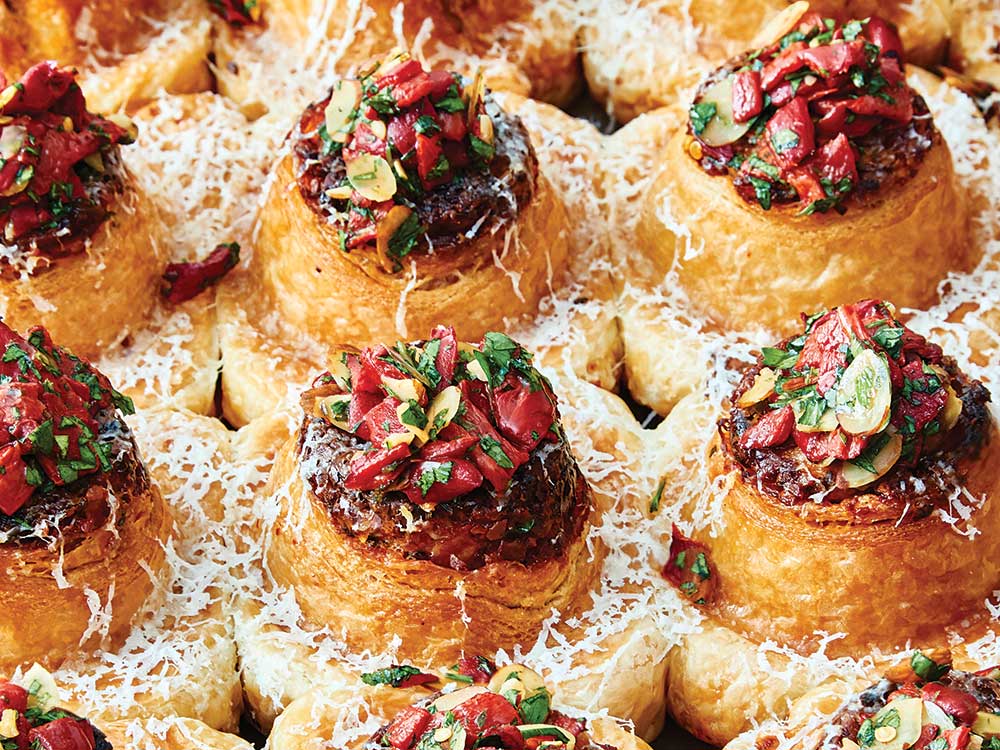 Tartine's sweet morning bun has been the darling of San Francisco pastry lovers for years. Lead viennoisier Fausto Eche­verria's savory version trades the bun's sugary cinnamon-orange streusel filling for a piquillo pepper and almond mixture inspired by Catalan romesco sauce. The kitchen team at Tartine roasts and preserves their own fresh piquillo peppers, but a good-quality jarred version is a fine substitute. After baking, sprinkle the warm buns with finely shredded Manchego.
Fermented and layered with loads of butter, Tartine's signature croissant dough is the building block for so many more flaky twists, buns, and danishes.
Ingredients
8 oz. canned roasted piquillo peppers, drained and coarsely chopped (about 2 cups)
1⁄4 cup roasted almonds, coarsely chopped
Leaves from 1 bunch Italian parsley
2 garlic cloves, chopped
1⁄2 tsp. kosher salt
1⁄2 tsp. freshly ground black pepper
2 tbsp. extra-virgin olive oil, plus more for brushing and garnishing
1 large egg yolk
2 tsp. heavy cream
1 batch Tartine's Croissants dough (pg. 28), prepared through Step 7
Bread flour, for dusting
1 cup shredded Manchego cheese
Instructions
Step 1
In a small bowl, reserve 2 tablespoons of the peppers, 1 tablespoon of almonds, a large pinch of parsley, and a small pinch of garlic for garnish. Season with a pinch each of the salt and pepper and set aside.
Step 2
In a food processor, add the remaining piquillo peppers, almonds, parsley, garlic, salt, black pepper, and 2 tablespoons oil; process until a homogenous paste forms. Set aside while you sheet out the dough.
Step 3
In a small bowl, beat the egg yolk and heavy cream and set aside. Three hours before you are ready to serve, remove the thawed dough from the refrigerator. Lightly flour a large work surface and place the dough on top; roll it into a 13x34-inch rectangle about 1⁄8 inch thick. Use a straight edge and a paring knife or pizza cutter to trim about 1 inch from all 4 sides so that you have an even, 11-inch-wide piece of dough. With one of the long sides facing you, lightly brush a 1-inch strip along the side farthest from you with the egg wash. Then use an offset spatula to spread the pepper filling evenly over the rest of the dough. Roll the dough up away from you like a jelly roll, pressing gently on the seam to seal. Cut the log in half, wrap in plastic, and transfer to the freezer to chill before slicing, 15–20 minutes.
Step 4
Generously grease the tops and sides of 2 standard 12-cup muffin tins with olive oil or nonstick baking spray. Place 2 oven racks at least 5 inches apart in the center of the oven, and preheat to 325°. Set a large baking dish filled with water on the floor of the oven. Remove the dough from the freezer and slice into eighteen to twenty 1¾-inch disks. Set the slices into the prepared muffin tins, then place the tins in a warm, preferably humid spot. Let rise until puffed, very gassy, and risen about ¾ inch above the rim of the pan, 40–60 minutes.
Step 5
Once risen, brush the tops of the buns lightly with the egg wash. Bake until evenly golden and firm in the center, 1¾–2 hours.
Step 6
While hot, immediately invert the pans to unmold the buns (they will have baked together; keep them connected if possible). Top generously with shredded Manchego, the piquillo garnish, and a drizzle of olive oil, and serve immediately.