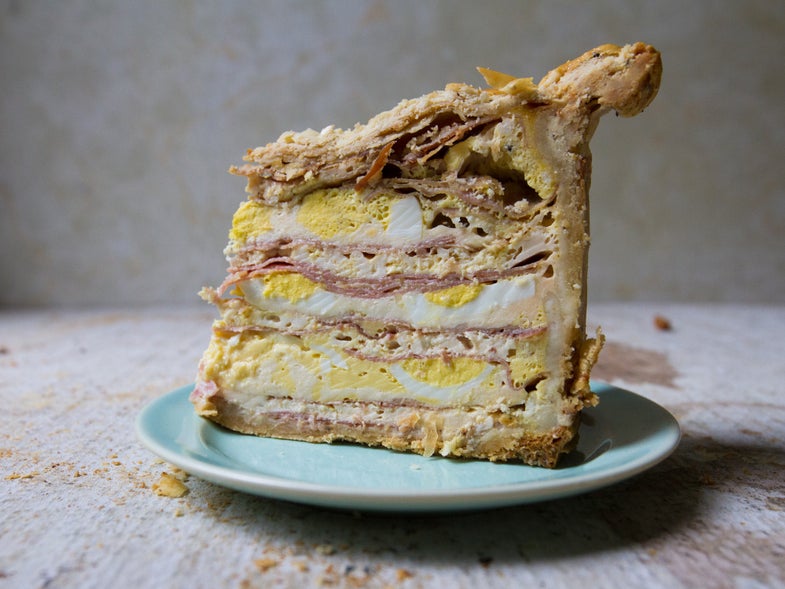 This Neapolitan savory pie, a traditional Easter Day treat filled with meat, cheese, and eggs, comes from Mary Mazzacco of Tinton Falls, New Jersey. Featured in: A Special Kind of Pizza Pie, For Easter
Pizza Chiena
This Neapolitan savory pie, a traditional Easter Day treat filled with meat, cheese, and eggs, comes from Mary Mazzacco of Tinton Falls, New Jersey.
Ingredients
6 cups flour, plus more for dusting
1 1⁄4 cups parmesan cheese
2 tbsp. freshly ground black pepper, plus more to taste
1⁄4 tsp. kosher salt, plus more to taste
1 lb. lard
14 eggs, beaten
3⁄4 cup ice water
1 1⁄2 lb. Genoa salami, thinly sliced
2 (14 oz.) basket cheese, thinly sliced
1 1⁄2 lb. prosciutto, thinly sliced
1 1⁄2 lb. mozzarella, thinly sliced
12 hard boiled eggs, thinly sliced
Instructions
Whisk flour, 1⁄4 cup parmesan, 2 tbsp. pepper, and 1⁄4 tsp. salt in a bowl. Using a dough blender, two forks, or your fingers, cut lard into flour mixture, forming pea-size crumbles. Add 1 egg, and knead until smooth. Add water; work dough until smooth. (Alternatively, pulse ingredients in a food processor.) Divide into 2 uneven balls: two-thirds for the bottom crust and one-third for the top. Pat each into a disk and wrap in plastic wrap; chill 1 hour before using.
Heat oven to 425°. Beat 1 egg with 1 tbsp. water and set egg wash aside. On a lightly floured surface, roll larger dough disk into a 22″ circle, about 1⁄8" thick; fit into an extra-deep (about 4″) 9″ spring-form pan, allowing about 1″ to hang over the edge. Place a layer of salami completely covering the bottom of the pan, then a layer of basket cheese, a layer of prosciutto, a layer of mozzarella, and a layer of hard-boiled eggs, until you reach the top of the pan. Beat remaining eggs with remaining parmesan cheese, salt, and pepper and pour on top of ingredients. Roll remaining dough into a 13″ circle and place on top of pie. Crimp edges, cut an X in the center and several more vents in top, and brush with egg wash. Bake 30 minutes, then reduce temperature to 325° and bake 2 1⁄2 hours more, or until the pastry is cooked and golden. Let cool before serving.