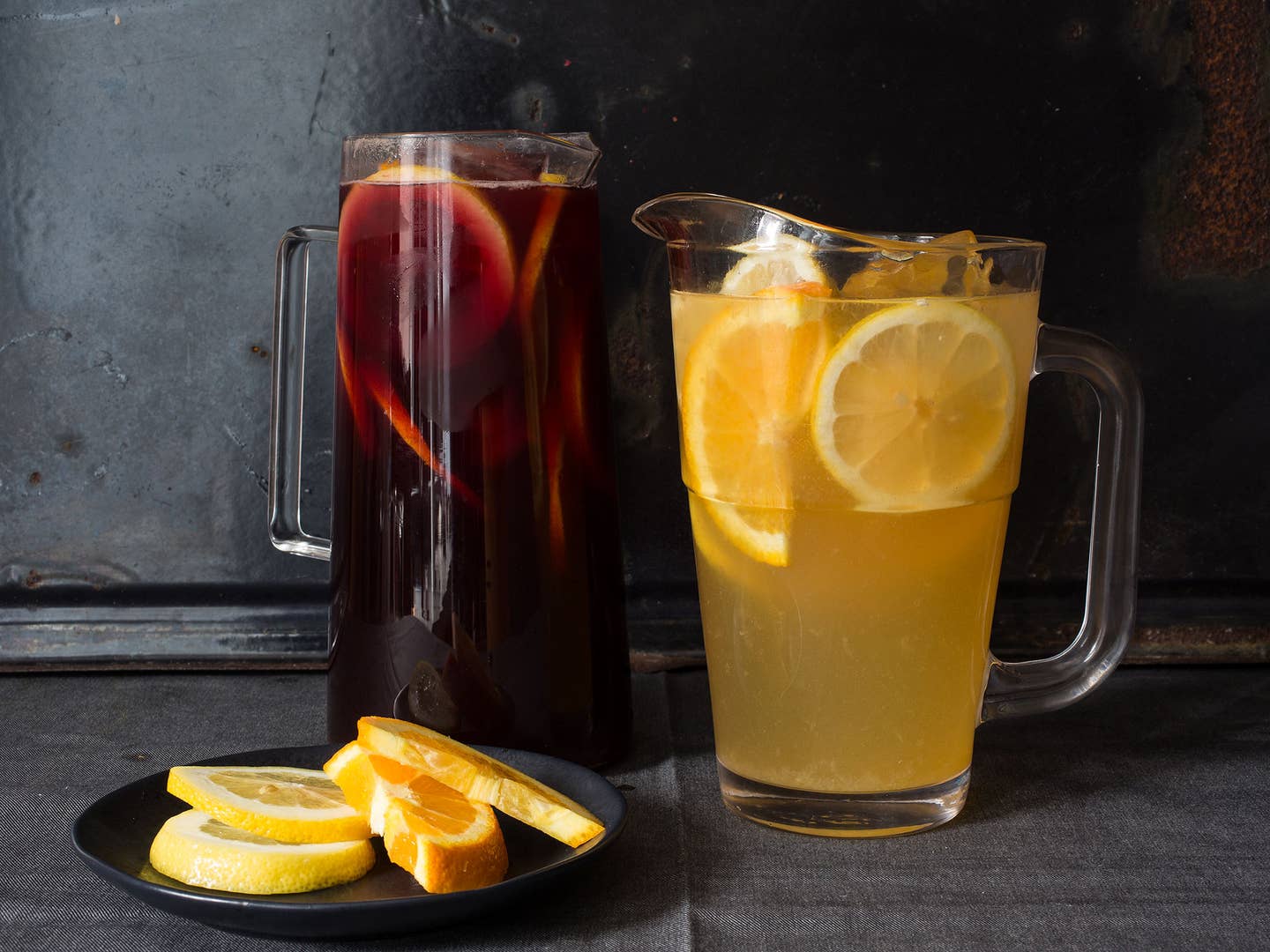 Drinks
The Pour: The Sangria Edition of Cocktail Rehab
Bartender Jon Santer updates the wine-based party drink
Until a couple days ago, I couldn't remember the last time I had sangria. Or, for that matter, even thought about it. Apparently, I'm not alone. A few years ago, when Jon Santer—an alum of San Francisco's standard-bearing speakeasy, Bourbon & Branch—opened the laid-back watering hole Prizefighter in Emeryville, California, he put several kinds of large-format drinks, including sangria, on the menu. But his customers would only order punch. "I don't understand why," says Santer. "The sangria is really good, but I guess it's not cool." Punch has been in vogue for some time now, at least in part because of David Wondrich's delightful ode, Punch: The Delights (and Dangers) of the Flowing Bowl (Perigee Books 2010). The gorgeous vintage glassware that it's traditionally served in probably didn't hurt either. Sangria, on the other hand, has had no such revival. Clunky pitchers filled with cheap, sweetened wine and booze-logged hunks of Granny Smith apples—it's the kind of stuff a group of your aunts might drink on the back deck alongside a pasta salad mixed with sun-dried tomatoes. It is the white zin of the cocktail world. But now with mom jeans—and, well, white zinfandels—making a comeback, it's time for sangria to find its cool again too. That time is this Memorial Day weekend.
The first known mention of a chilled fruit-filled wine beverage goes all the way back to 300 B.C. when Romans were living in Andalusia. Some etymologists believe the name is derived from the Urdu word for "sugared wine," sakkari, while most others link it to the Spanish word for blood, sangre. In either case, sangria found its way to the U.S. during the colonial period via the Caribbean, where it had been drunk since the 17th century. Traditionally made with red wine, sangria in the white-wine form is a relatively contemporary variation.
Santer's sangria, just updated with a few accent spirits, is quite simple. The most important and most obvious step is not using terrible wine. It needn't be expensive or particularly complex: Santer likes to use light to medium-bodied reds (nothing too big and tannic) and high-acid, low-oak whites—summer-weight wines that play well with other ingredients. For his red sangria, he mixes in Lillet Rouge, brandy, Grand Marnier, and homemade grenadine for a bit of body, sweetness, and extra flavor. Lillet Blanc, brandy, and elderflower liqueur play a similar role in his white sangria. Both are lightened with orange juice and soda water, and garnished with lemon and orange wheels for a fresh citrus bite. He uses a Spanish brandy, Lustau, but you could certainly swap in another high-quality bottle. The quick homemade grenadine, however, is non-negotiable. Most commercial grenadines are just high-fructose corn syrup and food coloring—no real pomegranate flavor and not something you want in your drink. Take the extra five minutes to boil down pomegranate juice with sugar and an orange; it's worth the faint effort.
Sangria falls into a category Santer calls "patio drinks"—easy, batchable beverages you can sip outside for hours on a nice summery day. Light, tasty, and casually festive, it's just the kind of drink we want on Memorial Day to put out on a big table with platters of burgers and ribs, bowls of chips, and fruit pies. Just lose the old fat-bottomed pitcher. Hippy and schlumpy might work for mom jeans, but for sangria to scream, "I'm back and I'm better," sleek, modern glassware is in order.