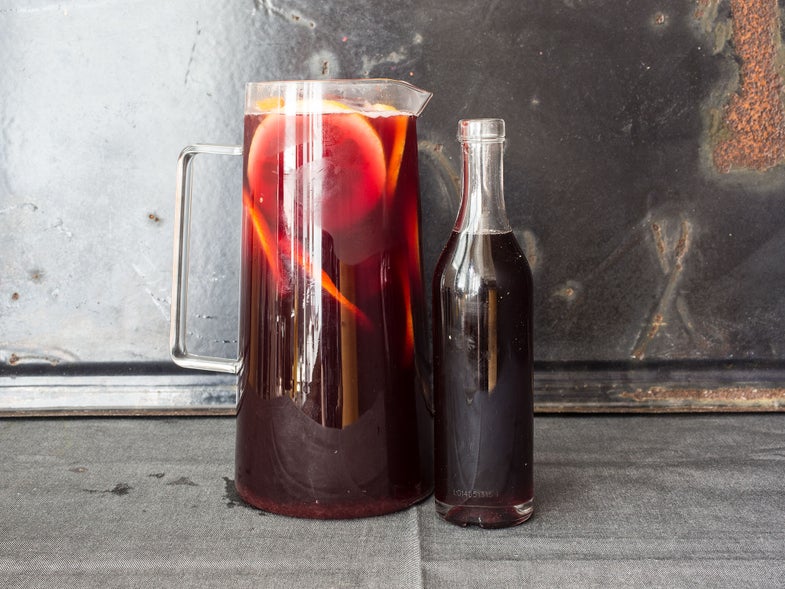 For his riff on the classic Spanish wine-based drink, Jon Santer of Prizefighter in Emeryville, California, layers on more fruity flavors with French apéritif Lillet Rouge and the orange cognac-based liqueur Grand Marnier. Don't skip the homemade grenadine—it's easy to make and adds another dimension to the sangria with real pomegranate flavor, which commercial grenadines, most of which are just red-colored high fructose corn syrup, can't provide.
Red Sangria
Jon Santer of Prizefighter in Emeryville, California makes this riff on classic red sangria with homemade grenadine.
For the grenadine
1 cup pomegranate juice
1 cup turbinado sugar, such as Sugar in the Raw
1⁄2 orange
Instructions
1. Using a vegetable peeler, remove the zest in strips from the orange. In a small saucepan, combine the orange peels with the pomegranate juice and sugar and bring to a boil over high heat. Cook, stirring, until the sugar dissolves and the syrup is slightly reduced, about 5 minutes.
2. Remove from the heat and let cool to room temperature. Remove and discard the orange peels and pour the grenadine into an airtight container. Refrigerate for up to 1 month.
---
For the cocktail
12 oz. light-bodied red wine
8 oz. Lillet Rouge
2 oz. Grand Marnier liqueur
2 oz. Lustau brandy
2 oz. fresh orange juice
1 oz. homemade grenadine
3 1⁄2 cups seltzer water
1⁄2 orange, cut crosswise into thin half-rounds
1 lemon, cut crosswise into thin rounds
Instructions
In a pitcher, stir the red wine with the Lillet Rouge, Grand Marnier, brandy, orange juice, and grenadine. Top with the seltzer and then stir in the orange and lemon wheels. Fill the pitcher with ice, and stir until chilled before serving.