Recipes
Poutine (French Fries with Gravy and Cheese Curds)
This recipe for poutine, a.k.a. Canadian French fries, delivers a cheesy, deep-fried, gravy-laden taste of Quebec.
Serves

serves 4-6

Cook

3 hours 45 minutes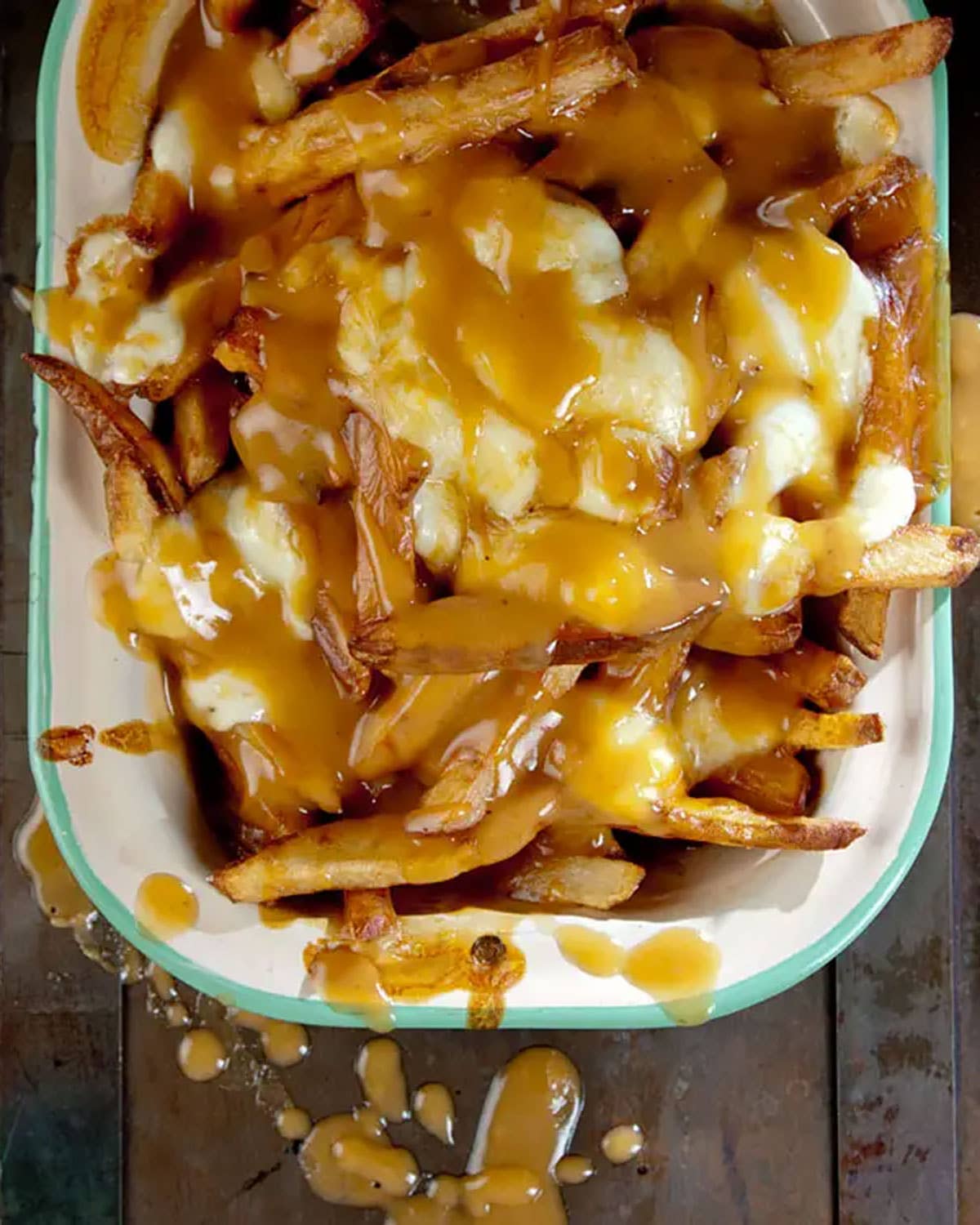 Montreal's gastronomic achievements may have reached dizzying heights, but the province of Quebec will forever be known as the place where poutine fries began. An unabashedly hearty mixture of French-fried potatoes, beef gravy, and squeaky-fresh cheese curds, this Canadian french fries dish (similar to New Jersey's "disco fries") is the ultimate late-night party snack.
Our poutine recipe comes from former Saveur Test Kitchen assistant, and Toronto native, Anne-Marie White, whose addition of green peppercorns and Worcestershire sauce brings a layer of spicy depth to the gravy.
Ingredients
4 lb. russet potatoes, skin-on, washed and dried
4 Tbsp. unsalted butter
1⁄4 cup flour
1 shallot, minced
1 clove garlic, minced
4 cups beef stock
2 Tbsp. ketchup
1 Tbsp. cider vinegar
1 Tbsp. whole green peppercorns
1⁄2 tsp. Worcestershire sauce
Kosher salt and freshly ground black pepper
Canola oil, for frying
2 cups cheddar cheese curds
Instructions
Step 1
Cut potatoes into lengths of about 1⁄4" x 1⁄4" x 4". Place in a large bowl, cover with cold water, and refrigerate for about 2 hours.
Step 2
Meanwhile, heat butter in a 2-qt. saucepan over medium-high heat. Add flour, and cook, stirring, until smooth, about 2 minutes. Add shallot and garlic, and cook, until soft, about 2 minutes. Add stock, ketchup, vinegar, peppercorns, Worcestershire, and salt and pepper, and bring to a boil; cook, stirring, until thickened, about 6 minutes. Remove from heat, and keep gravy warm.
Step 3
Pour oil to a depth of 3" in a 6-qt. Dutch oven, and heat over medium heat until a deep-fry thermometer reads 325°. Drain potatoes, and dry thoroughly with paper towels. Working in small batches, add potatoes and fry, tossing occasionally, until tender and slightly crisp, about 4 minutes.
Step 4
Drain on paper towels, and let cool for 20 minutes. Increase temperature to medium-high, and heat oil until it reads 375°. Working in small batches, return potatoes to oil, and fry, tossing occasionally, until crisp and golden brown, about 2 minutes. Transfer fries to paper towels to drain briefly, and then divide among serving bowls. Pour gravy over each serving of fries, and top with cheese curds; serve immediately.