Recipes
Albóndigas a la Jardinera (Stewed Spanish Meatballs with Vegetables)
Tender meatballs come with a side of fried potatoes so not a drop of gravy goes to waste.
Serves

4

Cook

1 hour 10 minutes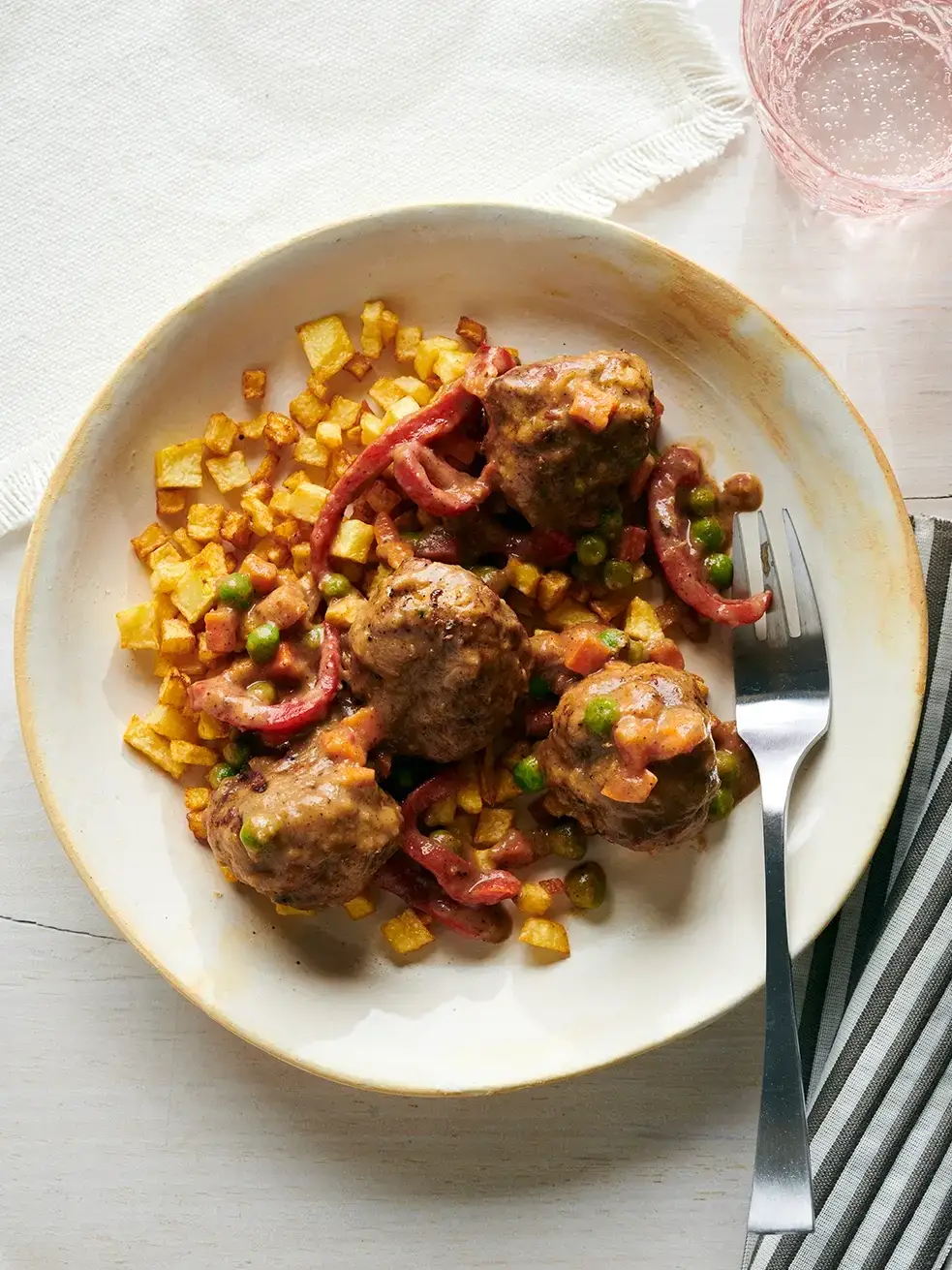 Meatballs in Spain are often made with veal, gently browned, and finished in a light gravy, making for supremely tender and juicy morsels. This albóndigas recipe for "Gardener's Meatballs" from SAVEUR's managing editor Laura Sampedro works well with ground veal, pork, or a combination of the two.
Ingredients
For the meatballs:
⅓ cup panko, or two slices fluffy white bread, crusts removed and torn into small pieces
⅓ cup whole milk
1 lb. ground veal
5 garlic cloves, finely chopped, divided
2 Tbsp. finely chopped parsley leaves
1 large egg, beaten
1 tsp. kosher salt, plus more
2 tsp. all-purpose flour, plus more for coating
Extra-virgin olive oil
1 small onion, finely chopped (¾ cup)
Pinch of crushed red pepper flakes
½ cup dry white wine
2 bay leaves
⅓ cup frozen peas
⅓ cup frozen diced carrots
½ cup roasted red peppers, thinly sliced
For the fried potatoes:
3 large Yukon gold potatoes, peeled and finely chopped
Extra-virgin olive oil
Kosher salt
Instructions
Step 1
Make the meatballs: In a small bowl, stir together the panko and milk and set aside to soak until the milk is fully absorbed, about 5 minutes.
Step 2
Line a plate with parchment paper and set aside. To a medium bowl, add the veal, half of the garlic, the parsley, egg, breadcrumb mixture, and salt, then stir together until well combined. To a shallow bowl, add enough flour for dredging. Divide the meatball mixture into twenty-four 2-tablespoon portions and roll into 1-inch meatballs. Lightly dredge each meatball in the flour and set on the lined plate until ready to cook.
Step 3
To a large nonstick skillet over medium heat, add just enough olive oil to just coat the bottom. Set a clean plate by the stove. When the oil is hot, add the meatballs and cook, turning occasionally, until lightly golden all over (but not yet cooked through), about 5–7 minutes. Transfer the meatballs to the plate and set aside.
Step 4
Pour off any accumulated excess oil from the pan (keep the browned drippings) so the pan remains lightly coated in a layer of oil. Return the skillet to medium heat, add the onions, and cook, stirring occasionally, until they begin to brown around the edges, about 3 minutes. Add the red pepper flakes and the remaining garlic and cook until the onions are soft and the garlic is golden brown, about 2 minutes. Turn the heat to low and sprinkle 2 teaspoons of flour over the onion mixture. Continue cooking, stirring occasionally, until the flour is no longer raw, about 2 minutes. Slowly add the white wine, a bit at a time, stirring to incorporate, until it has all been added. Bring to a boil and cook for another minute, then slowly stir in 1 cup water. Continue cooking, stirring occasionally, until the liquid thickens to a smooth gravy, 5–6 minutes. Remove from the heat and set aside to cool slightly.
Step 5
To a blender or food mill, transfer the sauce and process until smooth. Return the sauce to the skillet along with the reserved meatballs, bay leaves, peas, and carrots. Stir to coat, and season with salt to taste. Cover the skillet, set over low heat, and cook, stirring occasionally, until the meatballs are cooked through and very tender, 5–7 minutes. (If the sauce is too thick, stir in ¼ cup water at a time to thin as needed.) Remove from the heat, uncover, and stir in the roasted red peppers just before serving.
Step 6
Meanwhile, fry the potatoes: To a heavy-bottomed skillet over medium-high heat, add olive oil to a depth of 2 inches. When the oil is hot, add the potatoes and cook, stirring occasionally, until they are golden and crisp on the outside and soft in the center, 10–15 minutes. Using a slotted spoon, transfer the potatoes to a platter and season with a generous pinch of salt. Top with meatballs and a generous helping of sauce and serve.