Recipes
Custardy French Toast
Grilled on the stovetop and finished in the oven, Brockton Villa's French toast is as crisp on the outside as it is pillowy on the inside.
Serves

3—6

Cook

1 hour 25 minutes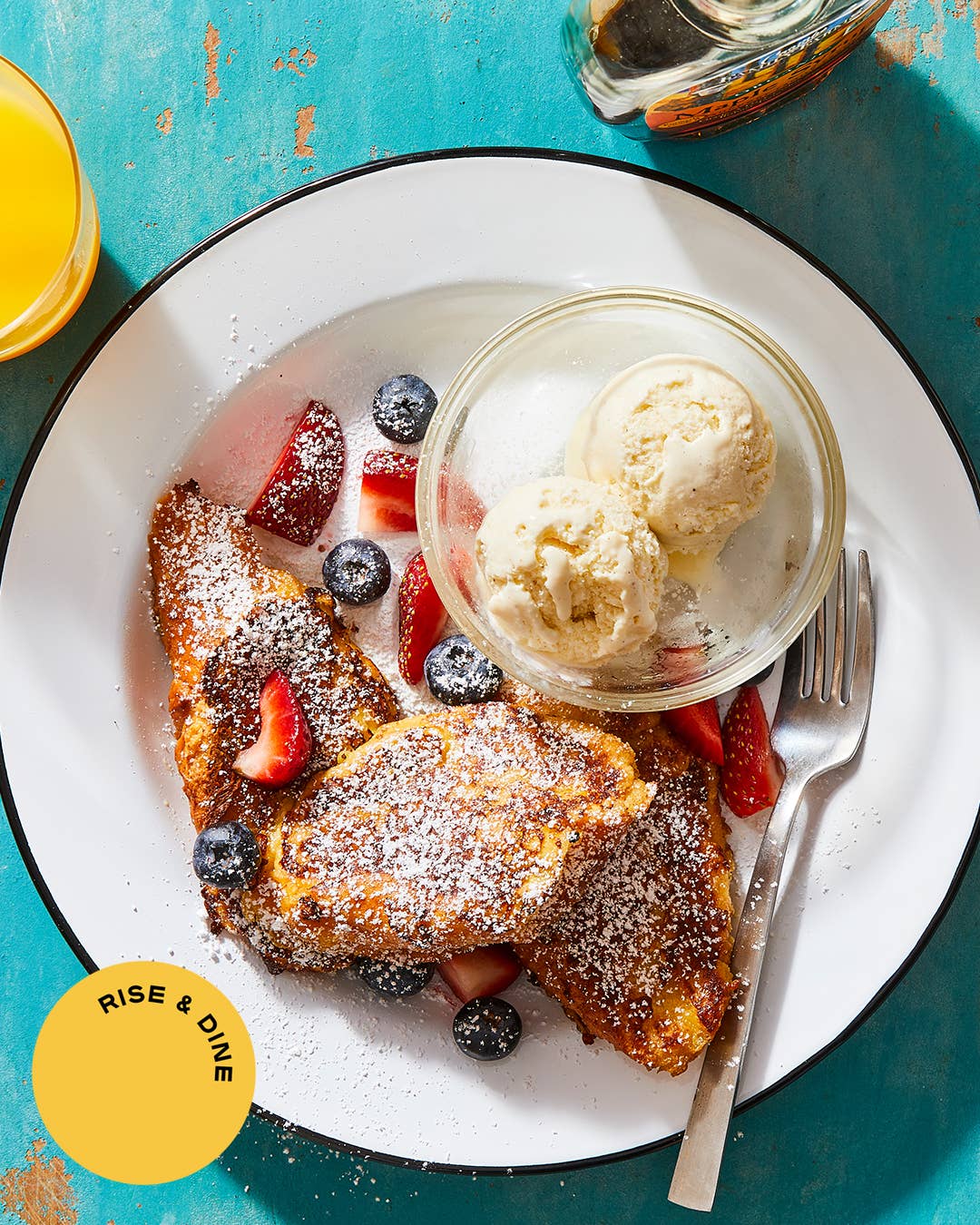 Shortly after Brockton Villa Restaurant opened its doors along the shores of La Jolla, California, the eatery's French toast became its bestselling menu item. Brockton Villa's Coast Toast recipe is a famously pillowy, custardy take on the classic dish that calls for grilling the bread first in order to brown it, then placing it in the oven so the egg-and-cream-soaked toast swells up like a soufflé. Orange juice and orange curaçao (look for the liqueur at a liquor store, or online) infuse the bread with a subtle, delightful citrusy aroma.
Owner Megan Heine named the recipe (and trademarked the moniker) as a nod to the restaurant's waterfront location overlooking the Pacific. As customers enjoy their brunch on the balcony of the renovated beach bungalow, they have a front-row seat to waves crashing on the golden sands below, and sea lions sunbathing in La Jolla Cove. Can you think of any better way to spend a morning in Southern California?—Megan Zhang
Ingredients
5 large eggs
2 cups heavy cream
¼ cup plus 2 Tbsp. orange juice
¼ cup sugar
1 Tbsp. vanilla extract
1 Tbsp. orange curaçao
Pinch of kosher salt
½ loaf soft French bread, sliced on the bias into six 1½-in.-thick slices
3 Tbsp. unsalted butter, divided
Powdered sugar, for garnish
Ice cream, strawberries, jam, and/or maple syrup, for serving (optional)
Instructions
Step 1
In a large bowl, whisk together the eggs, cream, orange juice, sugar, vanilla, curaçao, and salt. Add the bread, toss to coat, cover and refrigerate for one hour. 
Step 2
Preheat the oven to 450°F. Line a baking sheet with parchment paper and set it by the stove.
Step 3
In a large skillet or flat grill pan over medium-high heat, melt 1 tablespoon of the butter. When the foam begins to subside, place 2 slices of custard-soaked bread in the skillet and cook until the bottom turns golden-brown, 2–3 minutes; flip and continue cooking until the slices are golden-brown on the other side, 2–3 minutes more. Transfer to the lined baking sheet, and set aside as you continue searing the remaining slices, wiping out the skillet and adding a fresh tablespoon of butter between batches.
Step 4
Bake the toasts just until puffed, 6–8 minutes. Transfer to a serving platter or individual dessert plates, dust with powdered sugar, and serve immediately, with ice cream, berries, jam, and maple syrup on the side, if desired.