Recipes
Canned Tomato Panzanella
The hearty Italian salad isn't just for summer.
Serves

serves 4-6

Cook

30 minutes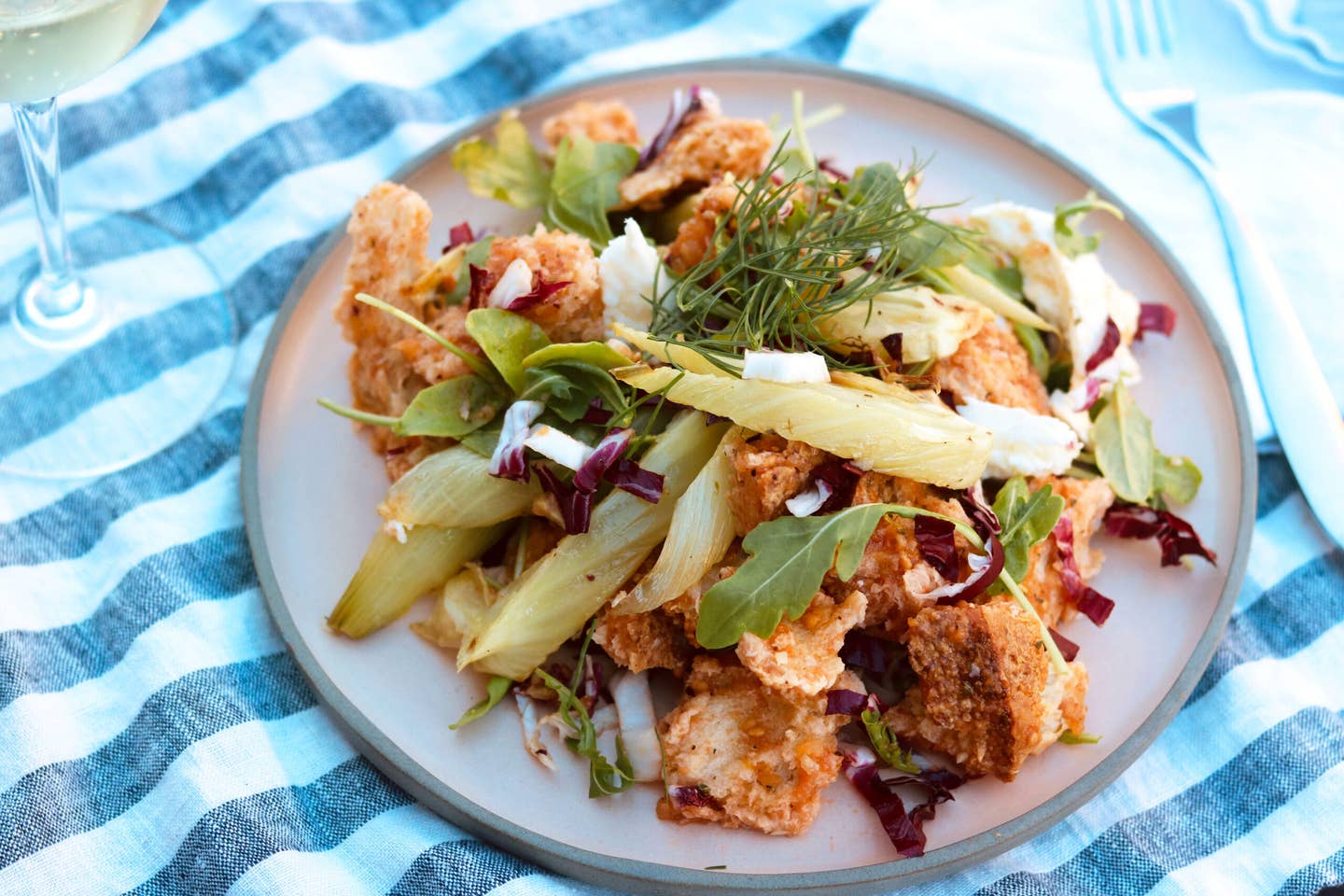 Panzanella is a salad of ripe tomatoes tossed with stale bread that soaks up the sweet juices. It's a staple of the Italian summer table, but those who can tomatoes at home (or have access to canned tomatoes of similar quality) can enjoy a nearly-as-good version year round. The addition of arugula, mozzarella, radicchio and roasted fennel in this recipe from master preserver Camilla Wynne turns the salad into a full meal, but feel free to experiment with other ingredients as well such as cooked squash, mushrooms, shredded kale, or burrata.
Ingredients
1 lb. country bread, torn into 1-inch pieces (about 6 cups)
1 large fennel bulb, coarsely chopped, fronds reserved
¼ cups plus 1 Tbsp. extra-virgin olive oil, divided
1 lb. canned tomato halves, preferably homemade, drained (about 2 cups)
1 tbsp. red wine vinegar
1 tsp. dried oregano
1 garlic clove, finely chopped
Kosher salt and freshly ground black pepper
8 oz. fresh mozzarella, torn into 2-in. pieces
3 cups lightly packed arugula
2 cups shredded radicchio leaves
Instructions
Step 1
On a wire rack, spread the bread in an even layer and let it stand until dry, about 8 hours. (Alternatively, transfer the bread to a baking sheet and bake in a 350°F oven until dry but not brown, about 15 minutes.)
Step 2
Position a rack in the center of the oven and preheat to 425°F. On a rimmed baking sheet, toss the fennel with 1 tablespoon of the oil and salt and black pepper to taste. Bake until tender and beginning to brown, about 22 minutes.
Step 3
Meanwhile, in a blender or food processor, combine the tomatoes, vinegar, oregano, garlic, salt and black pepper to taste, and remaining olive oil and pulse until smooth, about 8 one-second pulses.
Step 4
Transfer the tomato purée to a salad bowl, then add the bread and toss to coat. Let sit for 5 minutes to soften. Add the mozzarella, arugula, radicchio, and reserved fennel and toss to combine. Garnish with the fennel fronds.