Recipes
Chicken Tikka Skewers
The Burmese street food—adapted from Ojai, CA chef Saw Naing—is a fragrant addition to any cookout.
Serves

serves 6

Cook

8 hours 45 minutes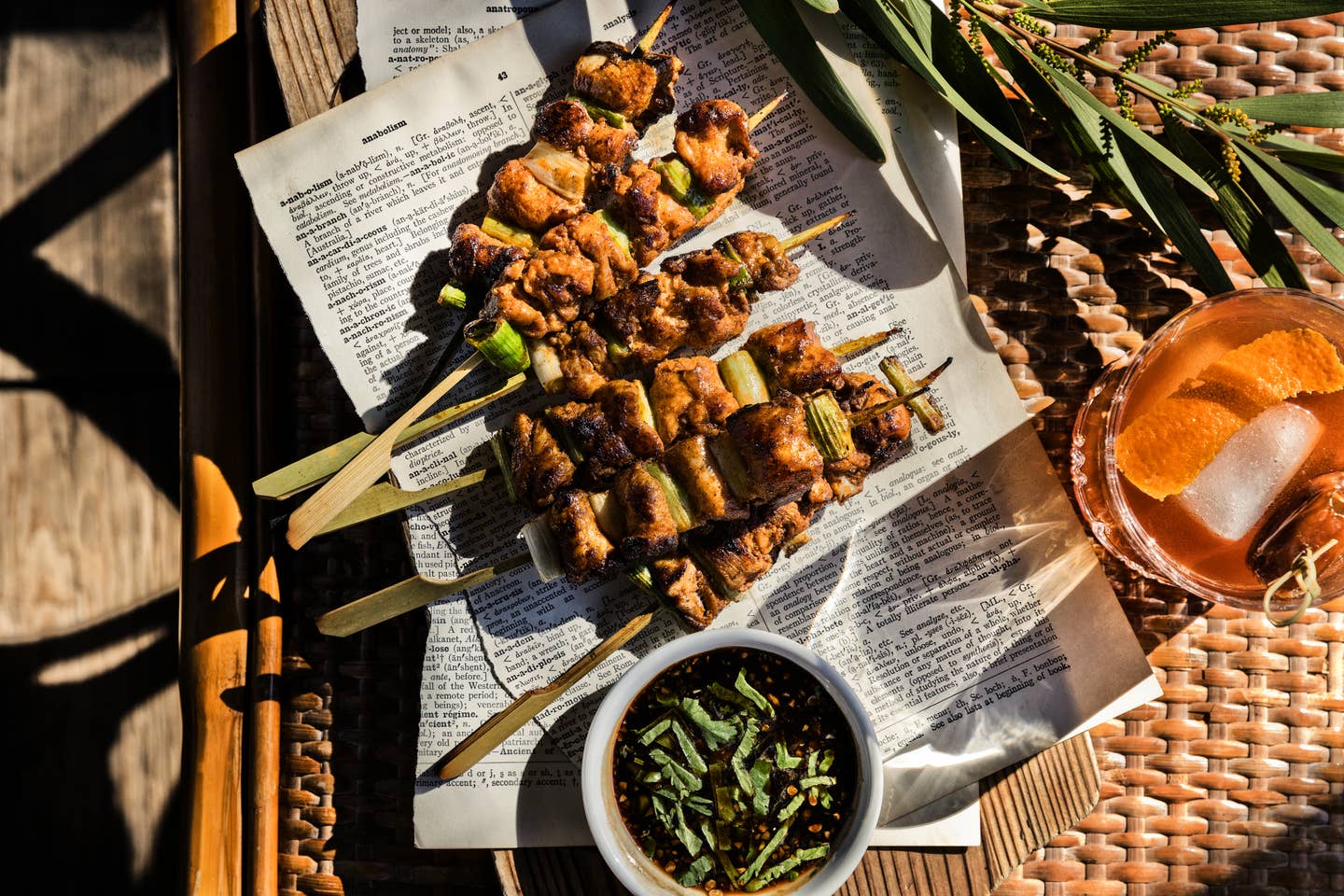 These chicken tikka skewers are a nod to the street food Chef Naing of The Dutchess grew up eating in Rangoon. Tender strips of chicken are marinated overnight in a mixture of spices, lemon juice, garlic, ginger, and yogurt, then skewered and grilled until charred at the edges. Tart and tangy tamarind dipping sauce brightens and complements the smoky flavors of the skewers. Enjoy this dish on its own as an appetizer, or with a side of tea leaf salad for a complete meal.
Ingredients
For the chicken:
2 lb. boneless, skinless chicken thighs
1 cup plain yogurt
¼ cups plus 1 Tbsp. paprika
4 medium garlic cloves, finely chopped
3 tbsp. garam masala
1 1-in. piece fresh ginger, finely chopped (2 Tbsp.)
2 tbsp. fresh lemon juice
1 tbsp. extra-virgin olive oil, plus more for greasing
1 tbsp. Burmese chile powder (or substitute cayenne pepper)
1 tsp. kosher salt
1 tsp. ground coriander
1 tsp. ground cumin
1 tsp. ground turmeric
½ cups (5 oz.) tamarind paste
½ cups sugar
2 tbsp. palm sugar (or substitute light brown sugar)
1 tbsp. distilled white vinegar
2 bird's eye chiles, stemmed and finely chopped
2 medium garlic cloves, finely chopped
Instructions
Step 1
To a wide baking dish, add six 8-inch bamboo skewers and enough hot water to cover; set aside to soak for at least one and up to 24 hours.
Step 2
Place the chicken thighs between two sheets of plastic wrap and, using a mallet or rolling pin, lightly pound to flatten the thighs to an even ¼-inch thickness. Cut the thighs into 1-inch strips and transfer to a large bowl or a container with a lid. Add the yogurt, paprika, garlic, garam masala, ginger, lemon juice, olive oil, chile powder, salt, coriander, cumin, and turmeric; toss to coat. Cover tightly and refrigerate for at least 8 and up to 24 hours.
Step 3
Meanwhile, make the tamarind sauce: In a small pot set over medium heat, combine the tamarind paste with 1½ cups of water; bring to a simmer and cook, stirring frequently, until the tamarind paste is softened, 3–4 minutes. Remove from the heat and set aside until cool enough to handle.
Step 4
Set a fine mesh strainer over a medium bowl and, using a silicone spatula or the back of a spoon, force the tamarind paste along with its cooking liquid, through, discarding any seeds or fibrous solids that remain. Return the resulting tamarind purée to the pot and set over medium heat. Add the sugar, vinegar, chiles, and garlic, then bring to a boil, stirring continuously. Lower the heat to simmer and cook for 1 minute. Transfer the sauce to a heatproof bowl and set aside to cool to room temperature.
Step 5
Preheat a grill, grill pan, or broiler to cook over high heat; lightly oil the grill grates.
Step 6
Drain the skewers. Remove the chicken from the marinade and thread the strips onto the skewers. When the grill is hot, cook the skewers, turning occasionally, until the chicken is golden brown and lightly charred, about 6 minutes per side, 12–15 minutes total. Transfer to a platter and serve with the tamarind sauce, for dipping.