Recipes
Nam Khao (Crispy Rice Salad)
This bold Lao dish brings the heat with tons of Thai dried chiles.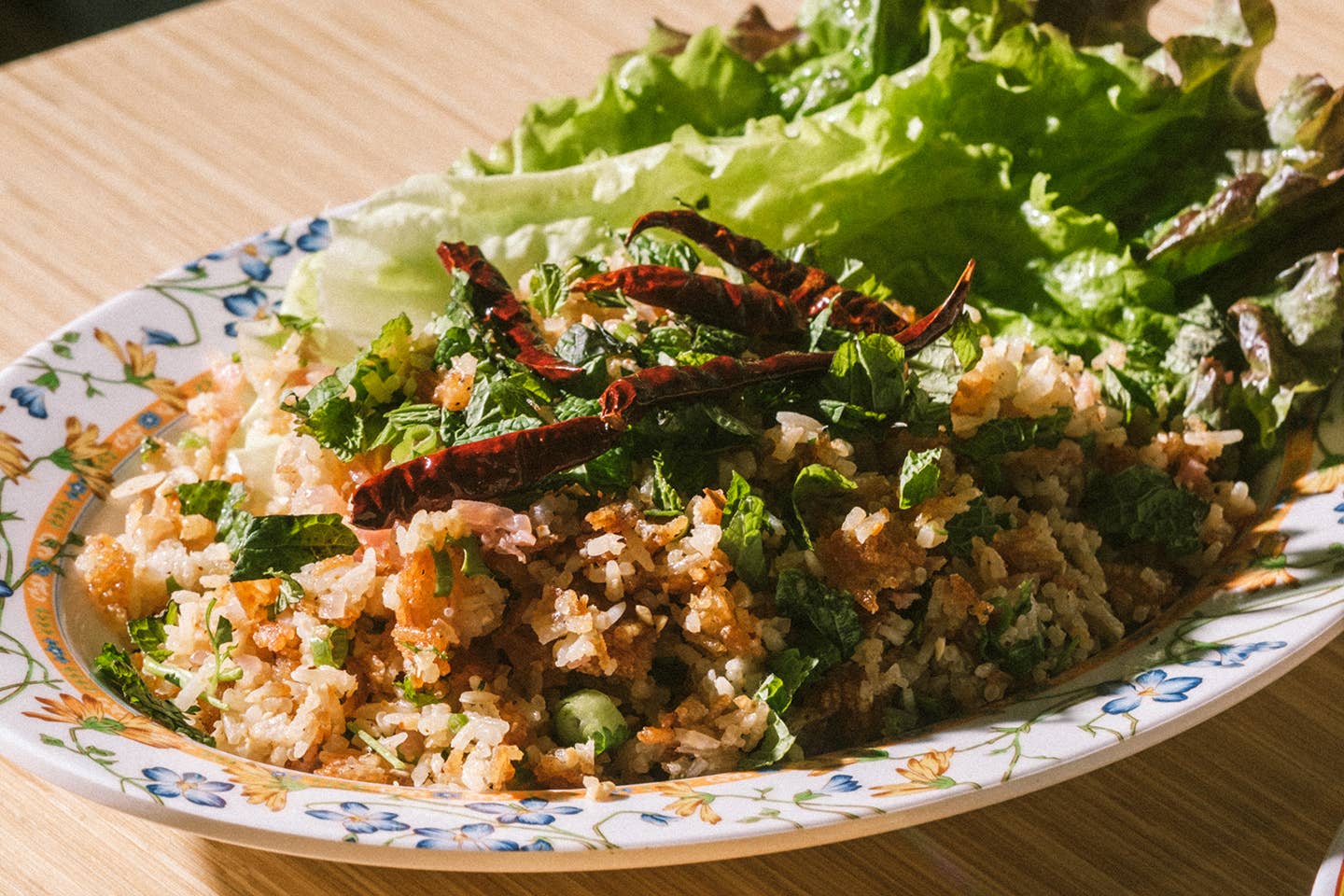 This vibrant and zesty salad, starring rice that's been fried to a golden-brown crisp, is the best-selling dish at Ma Der Lao Kitchen, an Oklahoma City Lao restaurant that chef Jeff Chanchaleune opened with his sister Jeslyn to pay homage to their family's heritage. Nam khao can be made with leftover rice; simply skip step 1 and use 4½ cups of cooked rice. As in many Lao dishes, the fish sauce adds a lovely funkiness, while the curry paste and combination of whole and ground chiles amp up the heat. For the ground chiles, Chanchaleune recommends buying these, or crushing the whole dried chiles using a mortar and pestle. For the latter approach, simply roast the chiles at 375°F for 8–10 minutes, or until fragrant and lightly charred, before grinding. (Adjust the amount of chiles to taste.)
Ingredients
For the rice cakes:
1½ cups jasmine rice (see note)
½ cups coconut milk
2 tbsp. fish sauce
2 tbsp. oyster sauce
1 tsp. freshly ground black pepper
1 tsp. Thai red curry paste, such as Mae Ploy
1 large egg
Vegetable oil, for frying
For the salad:
5 whole dried Thai chiles (see note), or other medium-hot chiles such as árbol
¼ cups fresh lime juice
2 tbsp. fish sauce
2 tsp. kosher salt
2 tsp. sugar
1 tsp. ground Thai chiles, or crushed red chile flakes (see note)
10 oz. cup naem (Thai pork sausage), coarsely chopped (1 cup)
1 cup roasted unsalted peanuts, coarsely chopped
½ cups coarsely chopped cilantro
½ cups coarsely chopped mint leaves
3 medium scallions, dark green tops discarded, coarsely chopped (½ cup)
1 small head red leaf lettuce, cleaned, leaves torn off
Instructions
Step 1
Make the rice cakes: In a fine-mesh strainer, rinse the rice until the water runs clear, then set aside for 5 minutes to drain. Transfer the rice to a pot, pour in 2 cups of water, and turn the heat to high. When the water boils, stir once, then turn the heat to low, cover, and cook for 15 minutes. Without opening the lid, remove from the heat and let sit for 10 minutes to steam. (Alternatively, cook the rice in a rice cooker according to the manufacturer's instructions.) Use a fork to fluff the rice, then set aside uncovered until cooled to room temperature, about 30 minutes.
Step 2
In a large bowl, whisk together the coconut milk, fish sauce, oyster sauce, black pepper, curry paste, and egg. Add the rice and use your hands to combine. Using wet hands, form ½ cup of the rice mixture into a puck-shaped cake measuring about 3 inches in diameter and 1 inch thick. Transfer to a plate and repeat with the remaining rice.
Step 3
Into a large pot set over medium-high heat, pour the oil to a depth of 2 inches and attach a deep-fry thermometer. When the temperature reads 350°F, add enough rice cakes to fill the pan without overcrowding and fry, turning once, until crisp and golden, about 8 minutes. Transfer to a paper-towel-lined plate and repeat with the remaining rice cakes. Do not remove from the heat.
Step 4
Make the salad: To the pot, add the whole chiles and fry until beginning to brown, about 30 seconds. Transfer to the plate with the rice cakes and turn off the heat.
Step 5
In a large bowl, stir together the lime juice, fish sauce, salt, sugar, and ground chiles. Tear the rice pucks into bite-size pieces and add to the lime juice mixture, then add the naem, peanuts, cilantro, mint, and scallions and toss to combine.
Step 6
To serve, cover half of a platter with the lettuce leaves, then scrape the nam khao onto the other half. Sprinkle with the fried chiles and serve.