Recipes
Curried Green Mangoes
Tired of waiting? Underripe fruit gets its moment to shine in this fragrant vegan stew.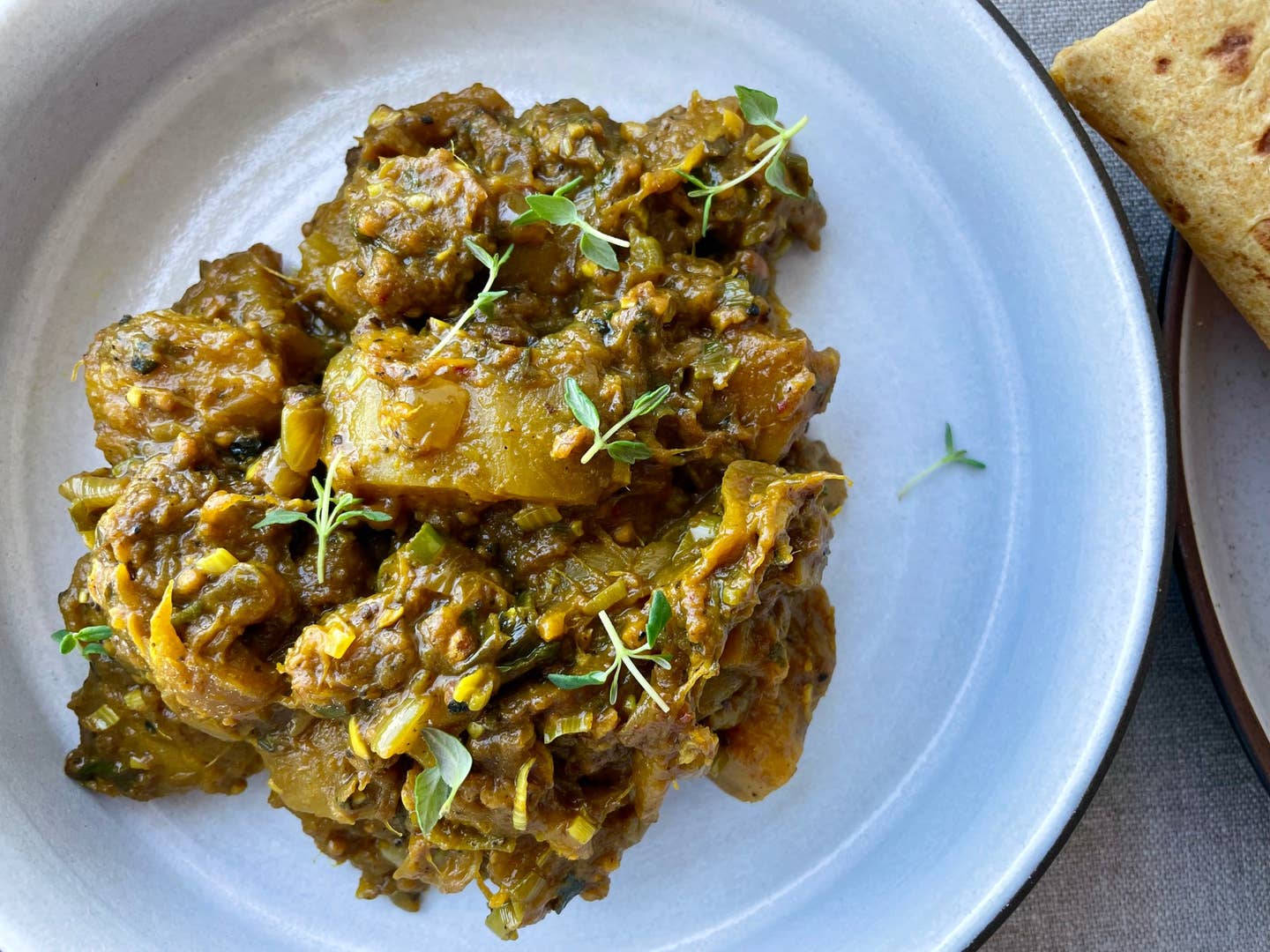 Curries made with unripe or underripe mangoes are popular in South Asia and parts of the Caribbean. This vegan and gluten-free version comes to us from Jamaican writer Vaughn Stafford Gray, who serves the dish as a condiment, side, or even the main event, alongside fluffy basmati rice or warm roti. Meaty mangoes, such as the widely available Tommy Atkins variety work best in this fragrant and slow-simmered recipe.
Ingredients
1⁄3 coconut oil or olive oil
3 tbsp. Caribbean or Madras curry powder
1 tbsp. black peppercorns, coarsely cracked
2 tsp. paprika
1 tsp. yellow mustard seeds
1 tsp. kosher salt
1⁄2 tsp. ground allspice
1⁄2 tsp. ground cumin
2 whole cloves
1 cinnamon stick
1 bay leaf
One 1-inch piece fresh ginger, peeled and finely chopped
1⁄2 green Scotch bonnet or green habanero chile or 1 red bird's eye chile, stemmed, seeded and finely chopped
4 "green" (unripe) mangoes (about 2 lb.), peeled and cut into approximately ½-in. cubes
1 large white onion, coarsely chopped (1 cup)
4 medium garlic cloves, finely chopped (3 Tbsp.)
2 sprigs fresh thyme
1⁄4 cup finely chopped cilantro
3 medium scallions, finely chopped (⅓ cup)
White rice or fresh roti, to serve
Instructions
Step 1
To a large, heavy-bottomed pot over medium heat, add the oil. When hot, add the curry powder, black peppercorns, paprika, mustard seeds, salt, allspice, cumin, cloves, cinnamon, bay leaf, ginger, and fresh chile. Cook, stirring frequently, until the spices are toasted and fragrant, around a minute. Add the mangoes, onion, garlic, and thyme and stir, ensuring that the mangoes are evenly coated with the curry oil. Turn the heat to low heat, cover, and cook, stirring frequently, until the onions and mangoes are very soft, around 40 minutes.
Step 2
Uncover the pot, add the cilantro and green onions, and continue cooking at a low simmer for five minutes more. Remove from heat and serve with fresh rice or roti.
What to do with Unripe Mangoes Beyond Curry