Paradise is a Place on Earth and it's Filled with Mangoes
17 recipes to bring the tropics into your kitchen.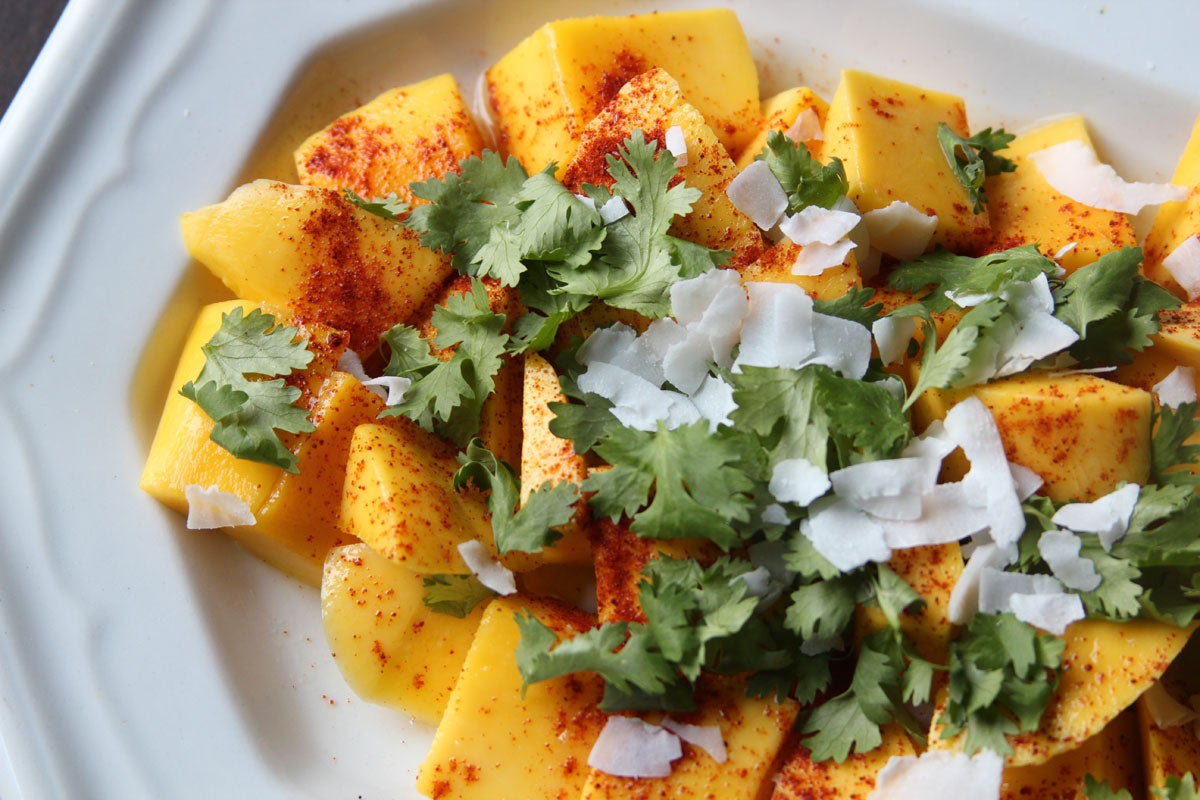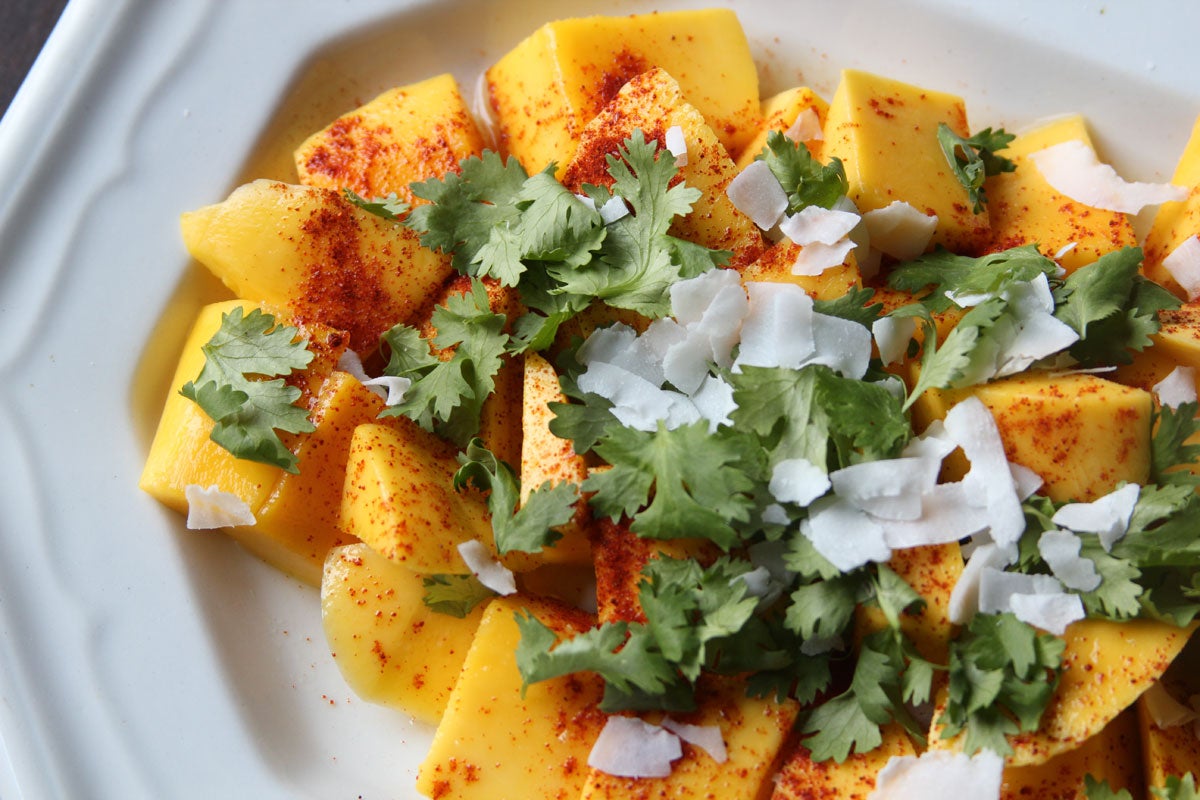 Golden sands, azure waters, and sunsets. Few foods can transport you to the tropics like a ripe and juicy mango. The popular fruit comes in all shapes and sizes: from rich, complex Ataulfos, to honey-sweet Hadens, to meaty, tart Tommy Atkins. Mangoes, which likely originated in India, are now widely grown throughout Asia, Africa, Central and South America, and the myriad islands dotting our equator. The ingredient's uses are as varied as the species itself.
Blazing curries and tacos are tempered by the addition of mangoes' tropical sweetness. Similarly, the stone fruit's gentle acidity brightens both cocktails and soft drinks, including the South Asian classic, mango lassi. Tart or underripe varieties shine in chutneys and relishes, while the sweetest, ripest specimens need little adornment: Eat them on those own, or add slices of the fresh juicy fruit to salads or desserts.
To pick the perfect mango for your dish, spend some time at your local Asian or Latin American grocery store. Lightly press on the fruit. Supple skin and a little give means the mango is ripe and ready to eat. But if what you find tends toward the harder side, don't worry. Underripe, sour mangoes are commonly featured in achars and pickles throughout India, where the sheer density of mangoes has resulted in a rich culture of preserving the fruit.
Here are our go-to mango recipes to make the most of this sweet summer fruit.
The combination of salmon and avocado, which Peruvians call palta, is still more common as a maki roll in Lima's sushi bars than it is in the city's cevicherías, but it's growing in popularity. Ravenna adds firm-ripe mango for its sweetness and acidity to harmonize with the rich, fatty avocado. Get the recipe for Salmon Ceviche with Avocado and Mango »
Curries made with unripe or underripe mangoes are popular in South Asia and parts of the Caribbean. This vegan and gluten-free version comes to us from Jamaican writer Vaughn Stafford Gray, who serves the dish as a condiment, side, or even the main event, alongside fluffy basmati rice or warm roti. Get the recipe for Curried Green Mangoes »
Ma Ya's rice dishes, curries, and treats show coconut's sweet and savory versatility. Get the recipe for Southern Thai Rice Salad »
In this two-ingredient sorbet, ripe champagne mangoes, also known as ataulfo mangoes, need only a bit of sugar to shine. Get the recipe for Mango Sorbet »
Look for ripe mangoes that yield easily to the touch, because they will have the most vibrant flavor to play off the warming spices in this refreshing sorbet from cookbook author Suzanne Zeidy. Get the recipe for Spiced Mango Sorbet with Pistachio Tuiles »
Fresh lobster mixes with sweet mango, refreshing cucumber, and creamy avocado with a hint of lime, topped with bright cilantro for the ultimate summer taco. Get the recipe for Summer Lobster Taco »
Inspired by Mexican street vendors who artfully carve and serve mangoes on sticks, this recipe ups the ante with cilantro leaves and shaved coconut for a refreshing fruit salad. Get the recipe for Mango with Cilantro, Coconut, and Chile Powder »
Any firm fish, including snapper, trout, or salmon, will work in this green mango-infused south Indian curry, named for the Keralan coastal city of Thalassery and flavored with coconut, ginger, curry leaves, and turmeric. Get the recipe for Thalassery Meen Curry (Thalassery-Style Fish Curry) »
A unique blend of mango, lemon juice, and ancho chile powder makes up one of our favorite Mexican treats. Get the recipe for Mango-Chile Ice Pops (Paletas de Mango con Chile) »
Green mango and aromatic mint combine to delicious effect for this tart, refreshing Indian purée. Green Thai chiles lend a spicy note, while cumin and the garlic-like powder asafoetida give an earthy backbone to the condiment. Get the recipe for Mint and Green Mango Chutney »
Throughout India, creamy, chilled lassis are the go-to beverage for cooling off during the warmer months. To make them, milk or water-thinned yogurt is blended with ingredients such as strawberries or—as in this recipe—ripe mangoes, resulting in a refreshing drink that's as thick as a milkshake. Get the recipe for Mango Lassi »
In early spring, green, unripe mangoes are a featured ingredient in the daily menu at Raja Sulaiman Khan's home in Lucknow, India. Here, amchoor—dried green mango—adds sour pungency to creamy lentils. Get the recipe for Red Lentils with Green Mango (Malika Masoor Dal) »
A bright salsa made from ripe mangoes, cilantro, red onion, and lime is the perfect foil for thick swordfish steaks. Get the recipe for Grilled Swordfish with Mango Salsa »
Whether it's juicing grilled limes into margaritas, charring tomatoes for bloody marys, or making this reimagined sangria with caramelized fruits, grilling your drinks will add smoky depth to every sip. Get the recipe for Grilled Sangria »
This dish is a refreshing adaptation of a more widely known version made with papaya. Get the recipe for Thai Green Mango Salad (Som Tum Mamuang) »
This tequila cocktail gets spicy sweetness from ginger liqueur and fruit-forward body from mango purée. Get the recipe for Le Mexique »
Green, unripe mangos are simmered with cardamom and clove to yield this tangy, spicy condiment. Smita Chandra, who wrote about her mother's homemade pickles in Preserving Culture, slathers it atop flaky paratha flatbreads. See the recipe for Aamba Khatta (Sweet and Sour Mango Pickle) »