Recipes
Tian Tian Chao Mian (Everyday Fried Noodles)
Master this technique for a layered, salty-sweet, northern Chinese staple.
Serves

serves 2-4

Cook

15 minutes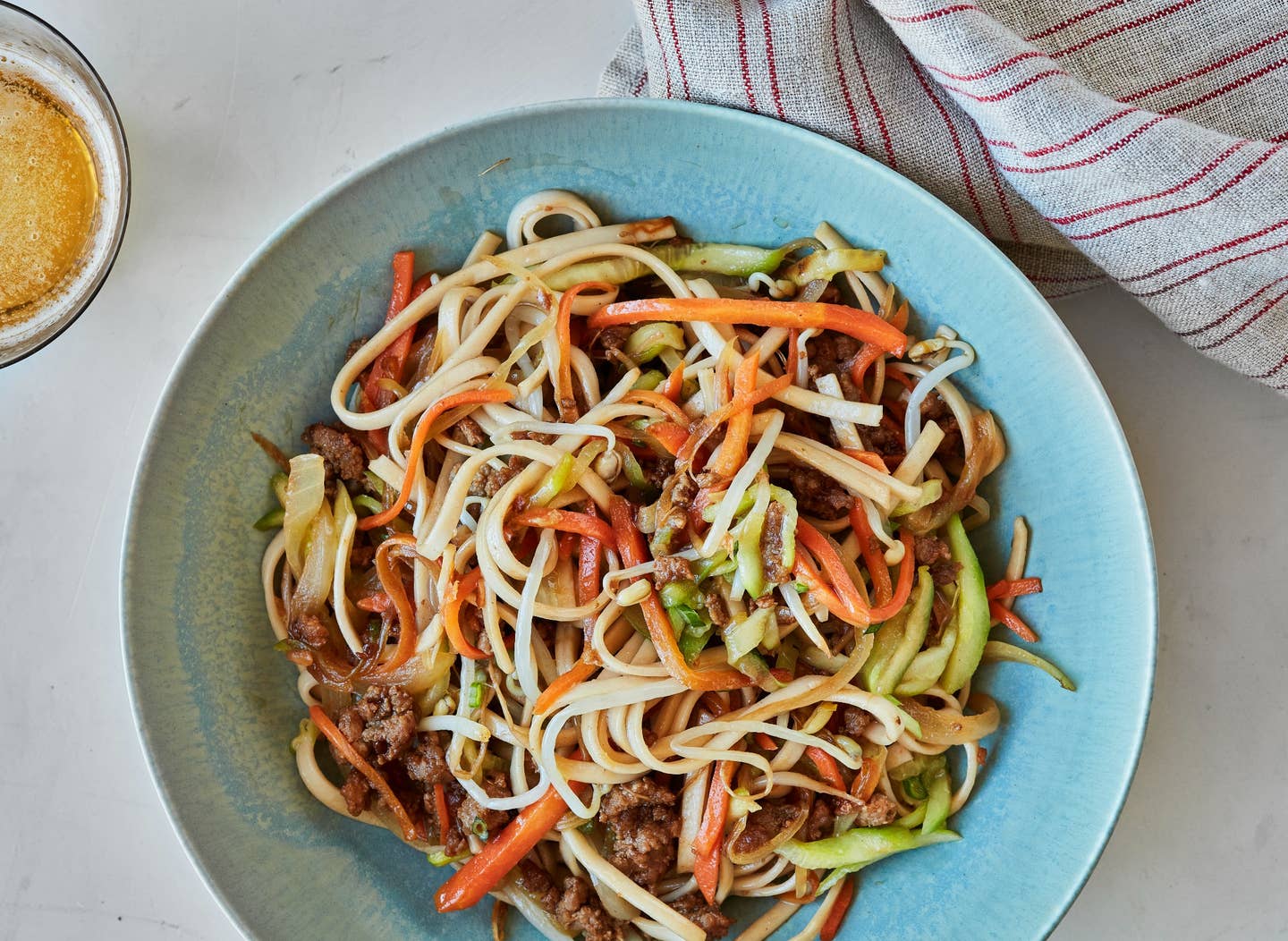 Food writer Lillian Chou shared this carefully layered salty-sweet stir-fry from her friend Sun Guoying, who introduces dry and wet ingredients to the wok in a strictly prescribed order. Dark soy sauce and rice cooking wine—two staples of Chinese stir-frying—are added and boiled along with sugar to create the noodles' concentrated sauce, which beautifully clings to the rice noodles and fresh, salted cucumber.
Ingredients
½ small seedless cucumber, peeled and julienned
Kosher salt
3 tbsp. canola oil
1 medium carrot, cut into matchsticks
1 onion, thinly sliced
¼ lb. ground pork
4 cloves garlic, finely chopped
One 1-in. piece fresh ginger, finely chopped
6 scallions, finely chopped
1½ tbsp. dark soy sauce
1½ tbsp. rice cooking wine
1½ tsp. sugar
2 cups bean sprouts
6 oz. dried flat noodles, boiled and rinsed under cold water
1 tbsp. Asian sesame oil
Instructions
Step 1
In a small bowl, toss the cucumbers and a pinch of salt together; let sit for 5 minutes.
Step 2
Heat a large wok or stainless-steel skillet over high heat until it begins to smoke. Add 1 tablespoon of oil to the pan and swirl to coat the bottom and sides. Add the carrots and onions and cook, stirring continuously, until softened, about 1 minute. Transfer the vegetables to a plate and set aside.
Step 3
Return the wok to high heat and add the remaining oil. Add the pork, garlic, ginger, and half of the scallions; cook, using a spatula to break the pork into small pieces, until the meat is browned, 3-4 minutes.
Step 4
Add the soy sauce, rice wine, sugar, bean sprouts, and cooked vegetables to the wok. Cook, stirring, until heated through, about 30 seconds.
Step 5
Add the salted cucumbers, remaining scallions, noodles, and sesame oil to the wok; cook, tossing, until hot, about 1 minute. Season to taste with salt, transfer to a wide bowl, and serve warm.