Recipes
Fried Cornichons with Hot Mustard
These lightly battered pickles are the star snack at chef Greg Baxtrom's buzzy new New York City bistro.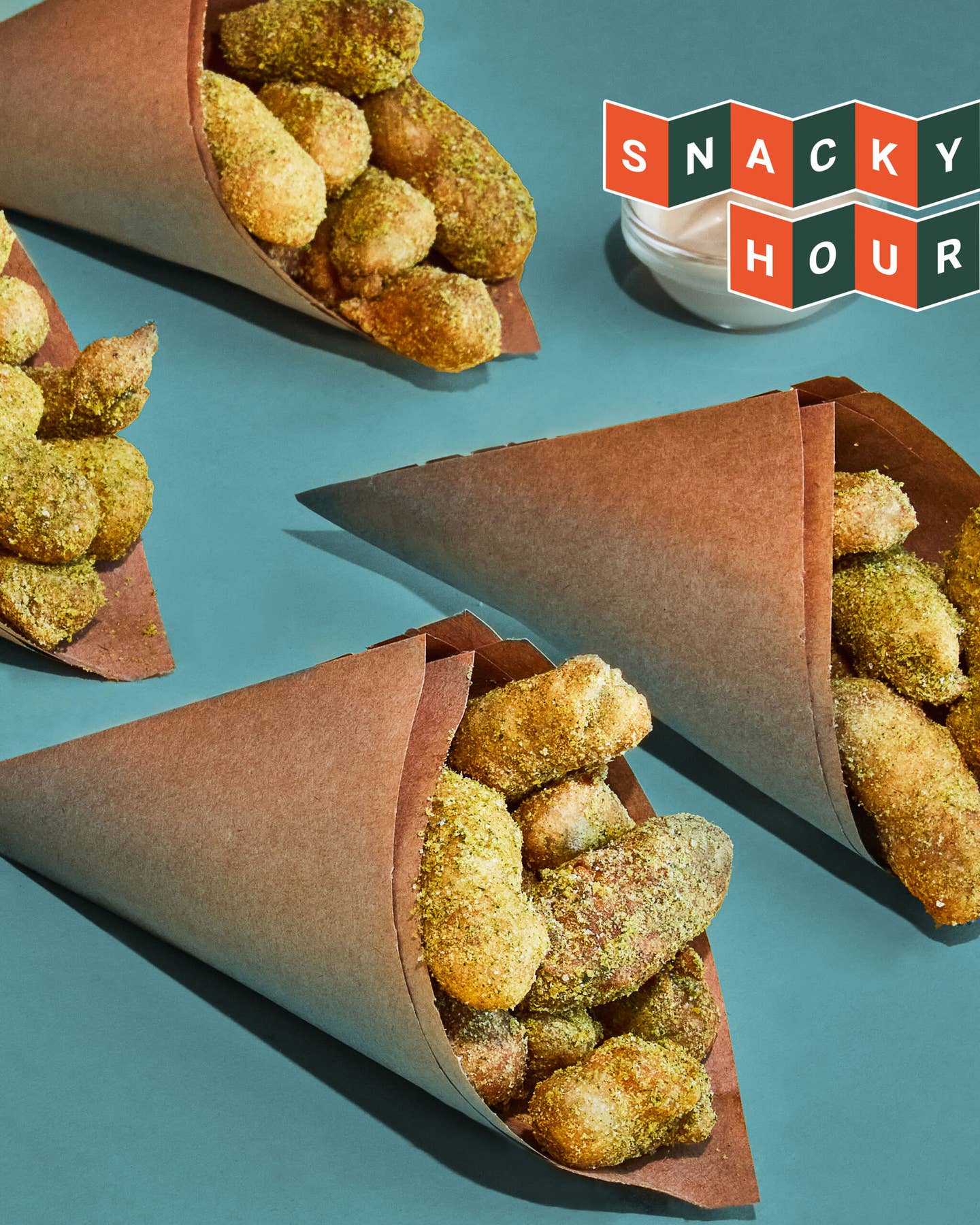 It's always Snacky Hour somewhere, at least according to snack-obsessed SAVEUR senior editor Ellen Fort. Follow along as she discovers the best bites that fall outside the confines of breakfast, lunch, or dinner. Savory, salty, spicy, sweet, sour: everything's fair game during Snacky Hour.
From chef Greg Baxtrom, also of Olmsted and Five Acres, the newly opened Petite Patate is a take on the French bistro, serving up classics like steak frites, and new classics like these tantalizing, crispy cornichons that are tossed in a light tempura batter and fried a dusting in herby green seasoning.
Note: The seasoning mix should be fine in order to properly coat cornichons. If unable to find parsley powder, pulverize dried parsley flakes in a mortar and pestle; the same applies to large flakes of nutritional yeast.
Ingredients
For the tempura:
Canola oil
2 cups all purpose flour
¼ cup corn starch, plus more for dusting
2 Tbsp. baking soda
2 cups chilled sparkling water
32 each drained cornichons, patted dry
For the seasoning mix:
¼ cup nutritional yeast
2 tsp. kosher salt
1½ tsp. garlic powder
1 tsp. onion powder
1 tsp. parsley powder
For the hot mustard:
⅓ cup dijon mustard
¼ cup mayonnaise
Kosher salt and freshly ground black pepper
Instructions
Step 1
Make the hot mustard: In a small bowl, stir together dijon mustard and mayonnaise. Season to taste with salt and black pepper.
Step 2
To a medium pot fitted with a deep-fry thermometer, add canola oil to a depth of 2 inches. Turn the heat to medium-high until the temperature reads 350°F.
Step 3
Meanwhile, make the batter. Whisk together all purpose flour, corn starch, and baking soda. Slowly pour in chilled sparkling water, whisking until incorporated. Do not overmix; a few small lumps are fine.
Step 4
After patting the cornichons dry,  lightly toss in remaining cornstarch. Submerge dusted cornichons in tempura batter. Transfer each cornichon to hot oil with a fork; use a spider or slotted metal spoon to fully submerge fried cornichons to brown evenly on all sides. Fry until golden brown, around 3-4 minutes. Remove from oil and drain on paper towel. Transfer cornichons to bowl of seasoning mix and toss generously. Serve with hot mustard.