Recipes
Double-Rye Ginger Cookies
With a boozy glaze and a sparkle of winter spice.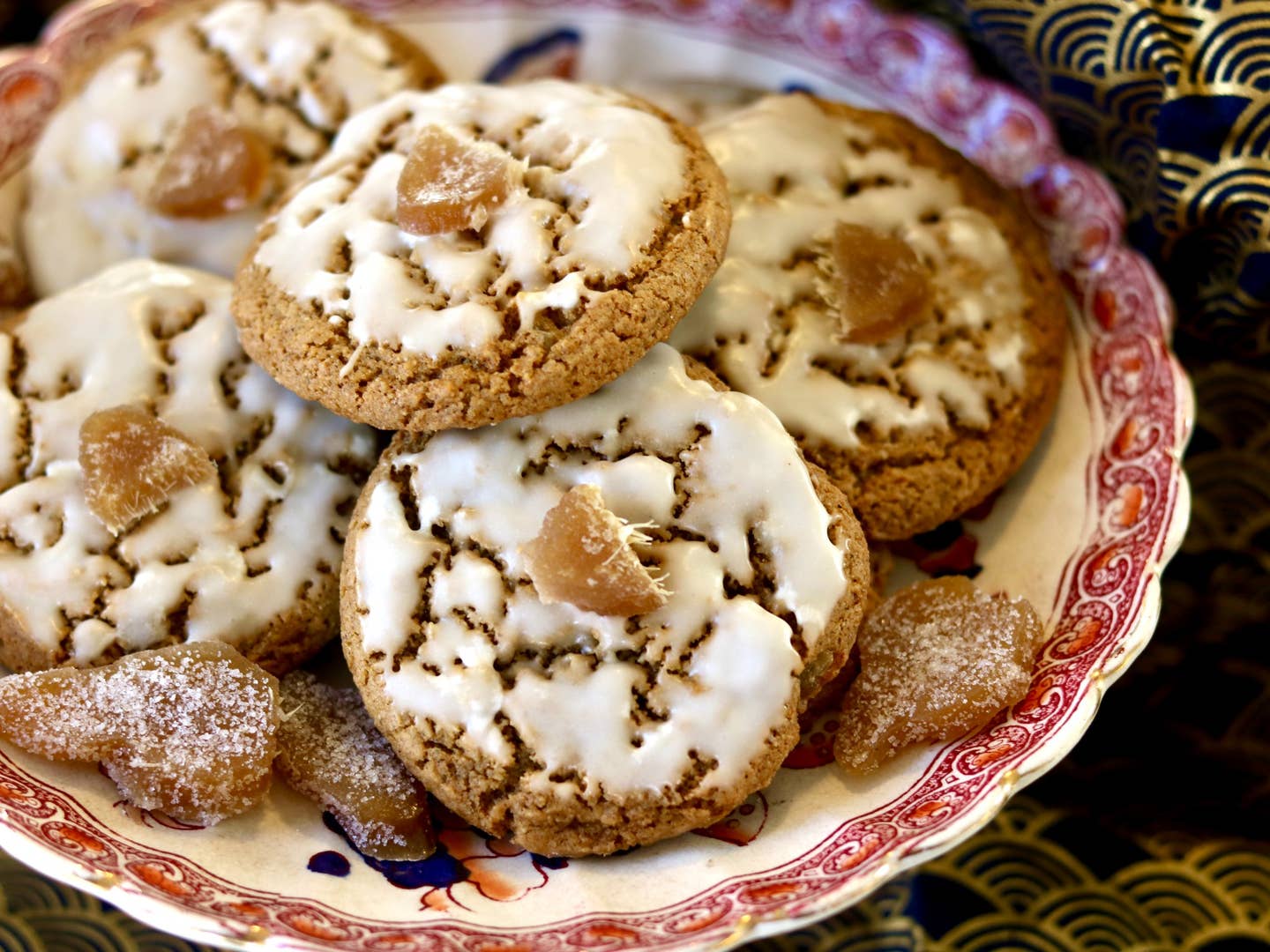 These gorgeous holiday cookies from baker and master preserver Camilla Wynne temper spicy candied ginger with earthy rye flour and deep, dark molasses. A rye whisky glaze accentuates the crackled tops, and a dainty piece of ginger adorns each one. If you're feeling fancy, get creative by cutting the ginger into festive shapes. Avoiding alcohol? Swap out the whisky for milk, lemon juice, ginger syrup, or even water.
Ingredients
For the cookies:
1¼ cups all-purpose flour
1¼ cups rye flour
2 tsp. baking soda
2 tsp. ground ginger
½ tsp. ground cinnamon
½ tsp. ground cloves
½ tsp. kosher salt
5 oz. melted, unsalted butter (⅔ cup)
1 cup packed light brown sugar
1 large egg
1 large egg yolk
¼ cups molasses
½ cups finely chopped candied ginger, plus 25 small pieces for garnish
For the glaze:
1½ cups confectioners' sugar
¼ cups plus 1½ tsp. rye whisky
Pinch kosher salt
Instructions
Step 1
Preheat the oven to 350°F. Line 2 large rimmed baking sheets with parchment paper.
Step 2
In a small bowl, whisk together the all-purpose and rye flours, baking soda, dried ginger, cinnamon, cloves, and salt. In a medium bowl, whisk together the melted butter and brown sugar. Whisk in the egg, followed by egg yolk, then whisk in the molasses. Using a silicone spatula, fold the flour mixture into the egg mixture until nearly combined (a few dry streaks should remain). Add the candied ginger and continue folding until fully combined.
Step 3
Using a 1-ounce cookie scoop or a large spoon, divide the dough into 25 portions. Roll the portions gently into balls, then transfer to the prepared baking sheets, spaced at least 2 inches apart.
Step 4
Transfer to the oven and bake until the tops are cracked and cookies are golden around the edges, 12–14 minutes. Cool slightly, then transfer the cookies to a wire rack to cool to room temperature.
Step 5
Meanwhile, make the glaze: In a small bowl, whisk together the confectioner' sugar, whisky, and salt until smooth. Dip the tops of the cookies into the glaze, shaking off any excess. Place a piece of candied ginger in the center of each cookie, using a little more glaze to adhere it if necessary. Set aside at room temperature until the glaze has set, about 30 minutes, before serving. Cookies will keep in an airtight container at room temperature for at least 5 days.