Recipes
Pepián de Res (Guatemalan Beef Stew)
A rich, smoky sauce of tomatoes, tomatillos, chiles, and seeds coats tender short ribs in this traditional Mayan dish.
Serves

6

Cook

4 hours 30 minutes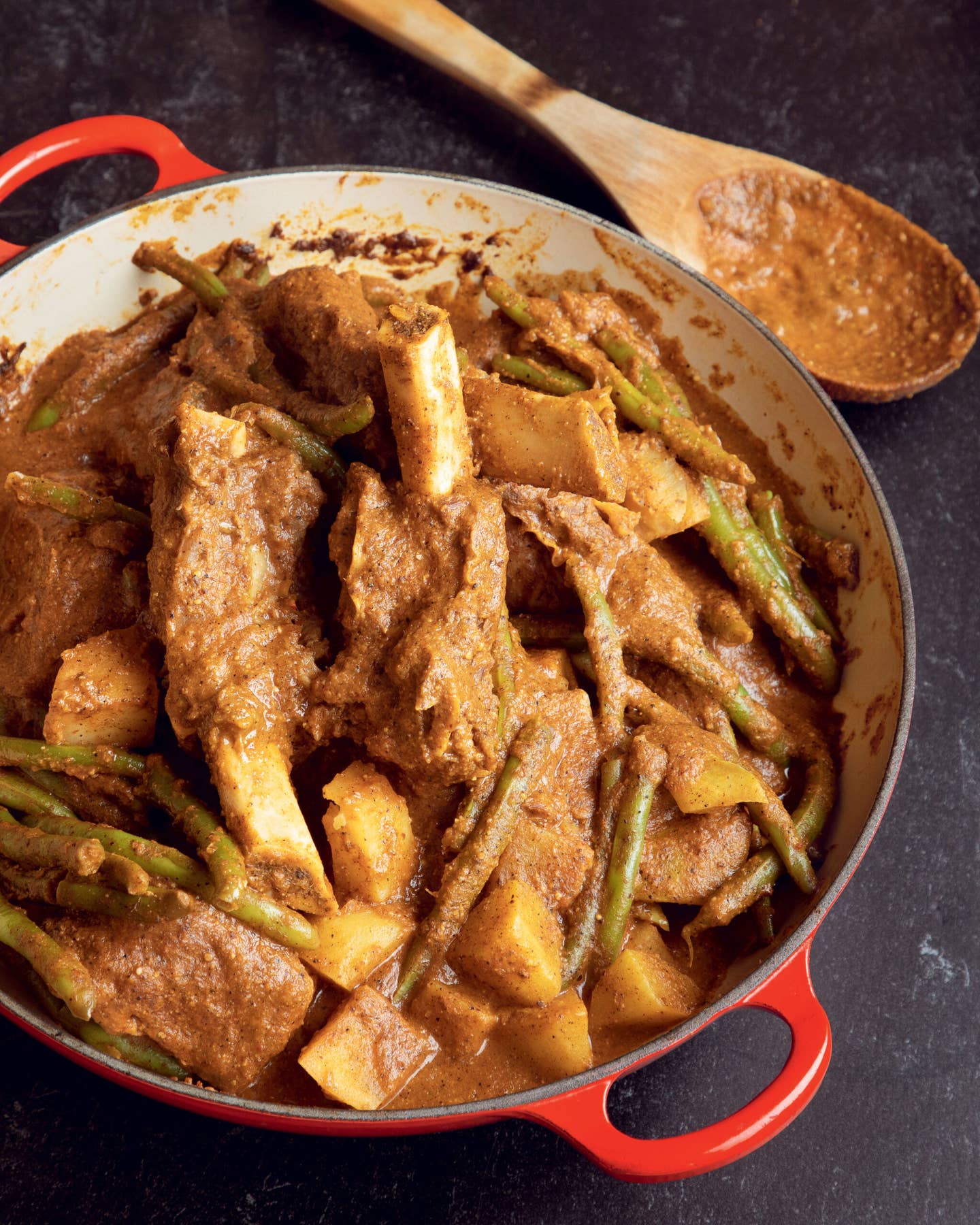 This recipe is brought to you by SAVEUR Cookbook Club, our passionate community of food-loving readers from around the globe celebrating our favorite authors and recipes. Join us as we cook through a new book every month, and share your food pics and vids on social media with the hashtags #SAVEURCookbookClub and #EatTheWorld.
This hearty beef stew, adapted from Sandra A. Gutierrez's new book Latinísimo: Home Recipes From the Twenty-One Countries of Latin America is part of the Guatemalan culinary canon, shaped by both colonial and Mayan traditions. The stewed short ribs are bathed in a pepián, the Guatemalan equivalent of a mole sauce, which is thickened with charred bread, tomatillos, tomatoes, dried chiles, and spices. (As the sauce is processed in a blender, make sure to use Mexican or Ceylon cinnamon, as harder cassia cinnamon might damage its motor.) Serve the finished dish over steamed rice or tamales, and freeze any leftovers for up to three months.
Though many Mesoamerican homes use a comal, a flat pan made of steel or heat-resistant clay, to char vegetables, Gutierrez uses a cast-iron skillet to get the job done. (You can also char the bread and vegetables in the broiler as a shortcut, though the result won't be exactly the same. Working in batches, broil the bread and vegetables at high heat on a baking sheet lined with aluminum foil, turning occasionally, until charred on all sides, about 30 minutes. Remove to a cutting board, peel the onions and garlic, and cut into bite-sized pieces.) Though it takes some time, the vegetables should be as charred as possible, in order to deepen the smoky umami intensity of the stew.
Ingredients
3 lb. short ribs (preferably a combination of boneless and bone-in)
2 white bread slices (1½ oz.)
2 lb. plum tomatoes (about 6 large)
1 lb. tomatillos (about 16 medium), husked and washed
1 unpeeled medium white onion, halved
4 unpeeled garlic cloves
One 2-in. cinnamon stick (see headnote), or 1 tsp. ground cinnamon
3 Tbsp. raw hulled pumpkin seeds (1 oz.)
3 Tbsp. raw sesame seeds (1 oz.)
½ tsp. coriander seeds
1 guajillo chile, seeded
1 pasilla chile, seeded
2 Tbsp. vegetable oil
2 lb. white potatoes (3–4 large), peeled and cut into ½-in. pieces
1¼ lb. chayotes (2 medium), peeled, cored, and cut into ½-in. pieces
1 lb. green beans (3 cups), trimmed and coarsely chopped
1 Tbsp. plus 1½ tsp. fine salt, plus more to taste
1 tsp. freshly ground black pepper
Instructions
Step 1
In a large pot set over high heat, cover the short ribs with 1 inch of water; bring to a boil. Cook, using a spider skimmer to remove any foam that rises to the surface, for 10 minutes. Turn the heat to low, cover, and simmer until the meat is tender, 1½–2 hours. Remove from heat. Set a fine sieve over a large bowl and strain; set aside. Wipe out the pot and return it to the stove. 
Step 2
Meanwhile, in a large skillet set over medium-high heat, toast the bread, turning frequently, until lightly charred on both sides, about 5 minutes. Crumble into a bowl and set aside. Working in batches, char the tomatoes, tomatillos, onion, and garlic well on all sides, about 1 hour total, transferring the charred vegetables to a cutting board. Peel the onions and garlic and coarsely chop the vegetables. Remove the skillet from the heat. Add the cinnamon stick, pumpkin seeds, sesame seeds, and coriander seeds and cook, swirling the pan, until fragrant and lightly browned, about 2 minutes. Transfer to a blender.
Step 3
In the blender with the spices, working in batches if necessary, purée the charred vegetables, bread,and guajillo and pasilla chiles, adding water a few tablespoons at a time as needed to make a thick sauce. (Refrigerated, the pepián will keep for up to 1 week.)
Step 4
To the empty pot, add the oil and turn the heat to medium-high. When it is hot and shimmering, while stirring, carefully add the pepián all at once. Turn the heat to medium, then stir in the reserved beef and cook, stirring occasionally, until the sauce has thickened, 10–15 minutes.
Step 5
Stir in the potatoes, chayotes, beans, salt, black pepper, and 2 cups of the reserved broth (save the remainder for other recipes). Bring to a boil, then turn the heat to medium-low and cover. Simmer until the vegetables are fork-tender, about 30 minutes. Ladle into bowls and serve.