Recipes
Honduran Encurtido
This ubiquitous spicy pickle adds freshness and crunch to rich Honduran dishes.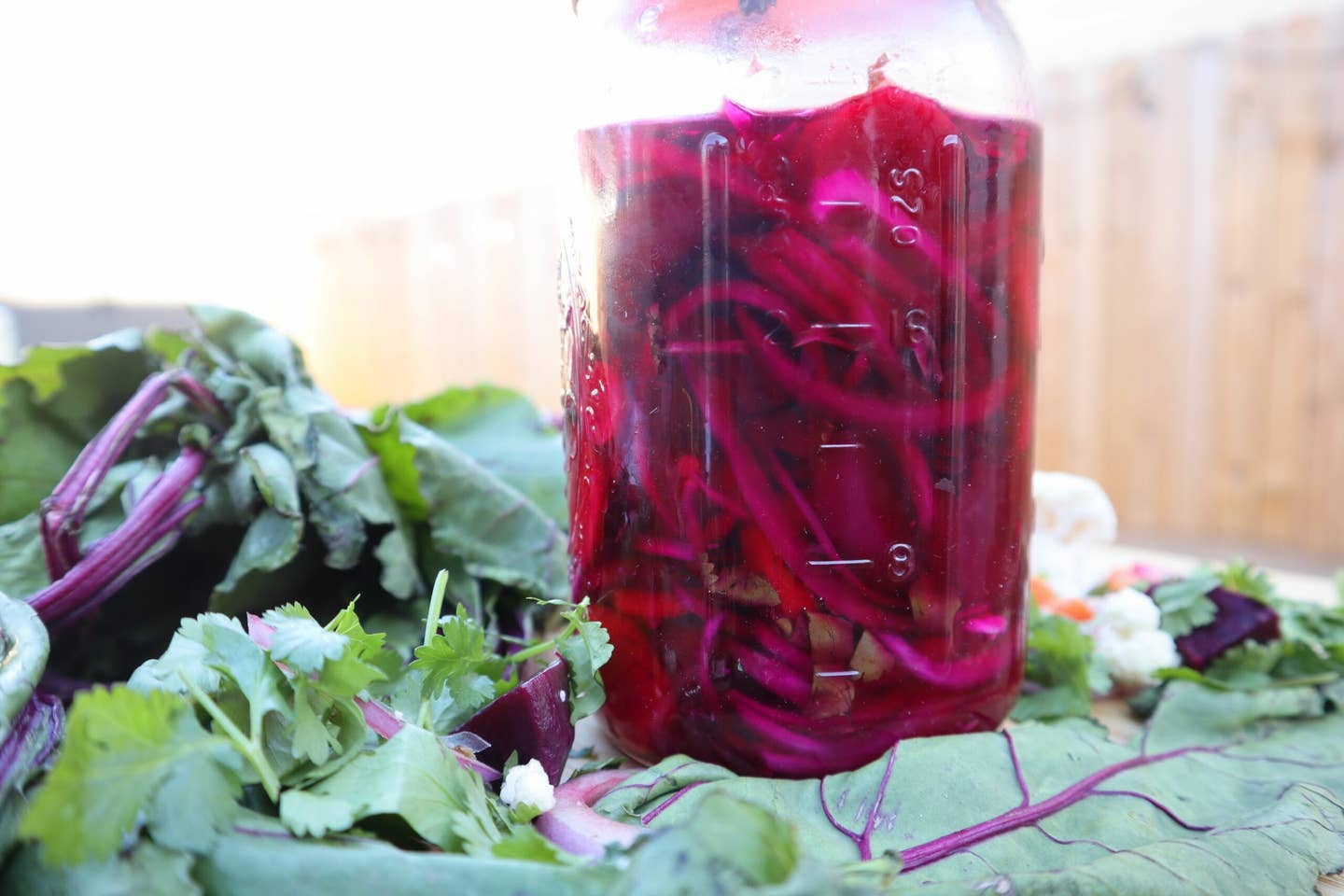 Whether in San Pedro Sula, the Bronx, or New Orleans, any local Honduran baleada spot will have a version of this pungent, Latin American condiment. Used to add bright crunch to all sorts of dishes from breakfast to dinner, the thinly sliced vegetable medley may be either quick-pickled in vinegar (as in this recipe from writer Bryan Ford) or lactofermented over a longer period of time. Encurtido is not just a celebration of sweet and spicy flavor; it's also a triumph of visually appealing shapes, textures, and colors. This combination heightens the senses, complementing each bite and serving as a reminder of the beauty of Honduran cuisine.
Ingredients
8 small beets (14 oz.), peeled and cut in 1-inch chunks
1 cup distilled white vinegar
½ cups sugar
¼ cups Kosher salt
2 medium carrots (5 oz.), peeled and thinly sliced
½ medium red onion (3 oz.), thinly sliced
½ medium white onion (3 oz.), thinly sliced
½ cups small cauliflower florets (2 oz.)
1 medium jalapeño (1½ oz.), thinly sliced
¾ cups cilantro, leaves and stems, finely chopped
1 tsp. freshly ground black pepper
1 tsp. dried oregano
Instructions
Step 1
To a medium pot, add the beets and enough cold water to submerge by 2 inches. Cover, bring to a boil, and cook until the beets are crisp-tender, 15–20 minutes. Use a spider skimmer or slotted spoon to transfer the beets to a large bowl, reserving the cooking liquid, and set aside to cool to room temperature.
Step 2
Meanwhile, to a small pot over medium heat, add the vinegar, sugar, and salt. Bring to a simmer, stirring occasionally, just until the solids have dissolved, 1–2 minutes; remove from heat and set aside.
Step 3
To the bowl of reserved beets, add the carrots, onions, cauliflower, jalepeño, cilantro, black pepper, and oregano, then toss to combine. Divide the vegetable mixture between two 1-quart jars, then divide the vinegar solution evenly between them. Add enough of the reserved beet-cooking liquid to completely submerge the vegetables. (If you do not have enough beet water, add additional water as needed.) Set aside to cool to room temperature, then cover tightly and transfer to the fridge to chill for at least 24 hours and up to 30 days before serving.