Recipes
Txikito's 'Hot Jilda'
Chef Alex Raij's new take on a classic Spanish pintxo hits every note with salt, smoke, and tangy pickled onions.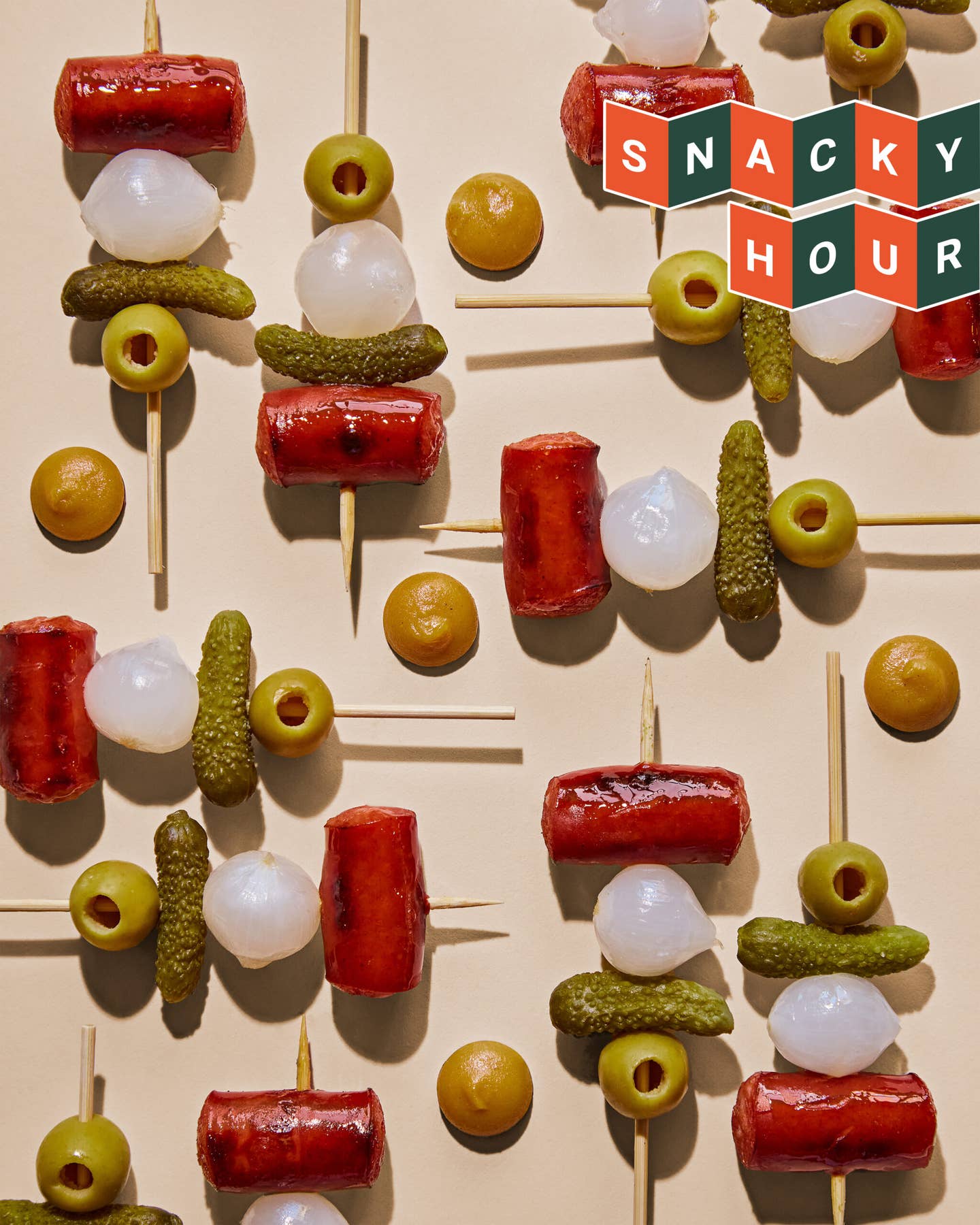 It's always Snacky Hour somewhere, at least according to snack-obsessed SAVEUR senior editor Ellen Fort. Follow along as she discovers the best bites that fall outside the confines of breakfast, lunch, or dinner. Savory, salty, spicy, sweet, sour: everything's fair game during Snacky Hour.
The Gilda has been a staple in the Basque canon of pintxos for decades, putting together an olive, anchovy, and pickled Guindilla pepper on a skewer for the ultimate savory bite. Alex Raij, chef of NYC's Txikito, has added her own version to the menu, known as a Hot Jilda. "It's a banderilla, a little savory skewer of pierced salty things that are more than the sum of their parts," says Raij. Her version skewers a Manzanilla olive, house-pickled onion, cornichon, and a lightly crisped Japanese sausage ("like kielbasa but juicier"), served with a dollop of spicy mustard (the chef recommends S&B Hot Mustard).
"This is [Gilda's] imaginary Japanese exchange student brother, staying with a Basque family," says Raij. At Txikito, diners are recommended to pair these with a glass of vermut, a cold beer, or a Martini.
Ingredients
4 Japanese Berkshire sausages, halved crosswise
8 Manzanilla olives
8 pickled cocktail onions
8 cornichons
8 Guindilla peppers, optional
Spicy S&B Hot Mustard, for dipping
Instructions
Step 1
Crisp the sausages. Heat a small skillet on medium-high heat, then add the sausages and cook, turning occasionally, until the casings are crisp and golden brown, about 3 minutes. Remove from heat and set aside to cool slightly.
Step 2
Assemble one Hot Jilda at a time: Onto a small bamboo skewer or toothpick, slide one olive, followed by a cornichon, an onion, and one piece of sausage. Repeat with the remaining ingredients. Serve warm, with hot mustard for dipping.