Recipes
Mitarashi Dango (Japanese Rice Dumplings with Sweet Soy Glaze)
A mochi mochi texture makes for a delightfully chewy, silky snack.
Serves

makes 4 to 5 skewers

Cook

40 minutes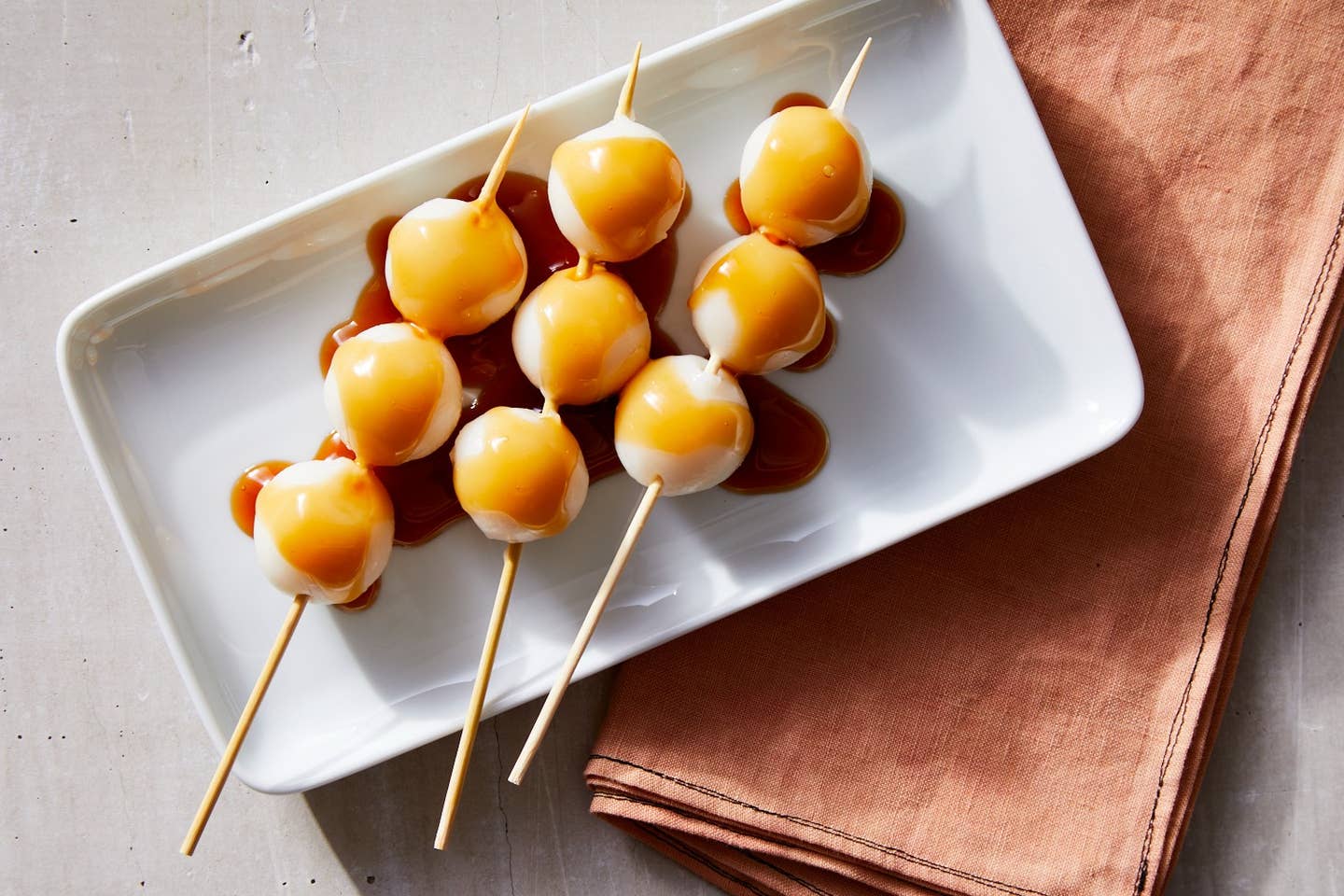 I've been in love with dango since my very first trip to Japan at the age of four. The mochi mochi chewiness and natural sweetness of sticky rice still takes me back to my childhood every single time I have a bite. Mitarashi dango—soft glutinous rice balls with a sweet soy glaze—is a very traditional dish often served at festivals as a snack. It is also one of the first Japanese dishes I ever learned to cook. Once I learned how easy it is to make, mitarashi dango became my favorite dessert. This recipe calls for two types of flour: joshinko, a fine-textured Japanese rice flour that becomes stretchy when mixed with water, and shiratamako flour, which is made from glutinous rice and produces a silky and chewy dough. Find both at your local Japanese market, or order them online.
Ingredients
For the dango:
½ cups plus 3 Tbsp. joshinko flour
½ cups plus 1 Tbsp shiratamako flour
½ tsp. sugar
4 to 5 skewers
For the glaze:
¼ cups sugar
3 tbsp. mirin
3 tbsp. soy sauce
1 tbsp. potato starch or cornstarch
¼ cups plus 2 Tbsp. water
Instructions
Step 1
Fill a medium pot with water and bring to a boil over high heat. Fill a medium bowl with ice water and set it by the stove.
Step 2
In a large bowl, stir together the joshinko flour, shiratamako flour, and sugar. While stirring with your hand or a wooden spoon, slowly drizzle in ½ cup cool water until a dough begins to form. Use your hand to knead the dough until smooth, then, using a small cookie scoop or measuring spoon, scoop the dough into fifteen 1-tablespoon-sized portions, then, using the palms of your hands, roll each portion into a smooth ball.
Step 3
Into the boiling water, drop the dango balls; stir gently to keep them from sticking to the bottom of the pot and to each other. Cook until the dumplings float to the surface, about 10 minutes, then continue cooking 1 minute more.
Step 4
Using a spider skimmer or slotted spoon, transfer the dango balls to the ice water and set aside to cool for 3 minutes. Drain the dango balls again then thread onto five 6–7-inch skewers (3 balls per skewer). Place the skewers on a small plate and set aside.
Step 5
Make the glaze: In a small pot, whisk together the sugar, mirin, soy sauce, potato starch, and ¼ cup plus 2 tablespoons of cool water. Set over medium heat and cook, stirring continuously, until the mixture thickens to a sticky glaze, about 5 minutes. Remove from the heat, immediately pour the glaze over the dango balls, and serve immediately.