Recipes
Mochi Muffins
These buttery, vanilla-scented treats are a toothsome—and gluten-free—twist on your regular morning muffin.
Serves

12 muffins

Cook

1 hour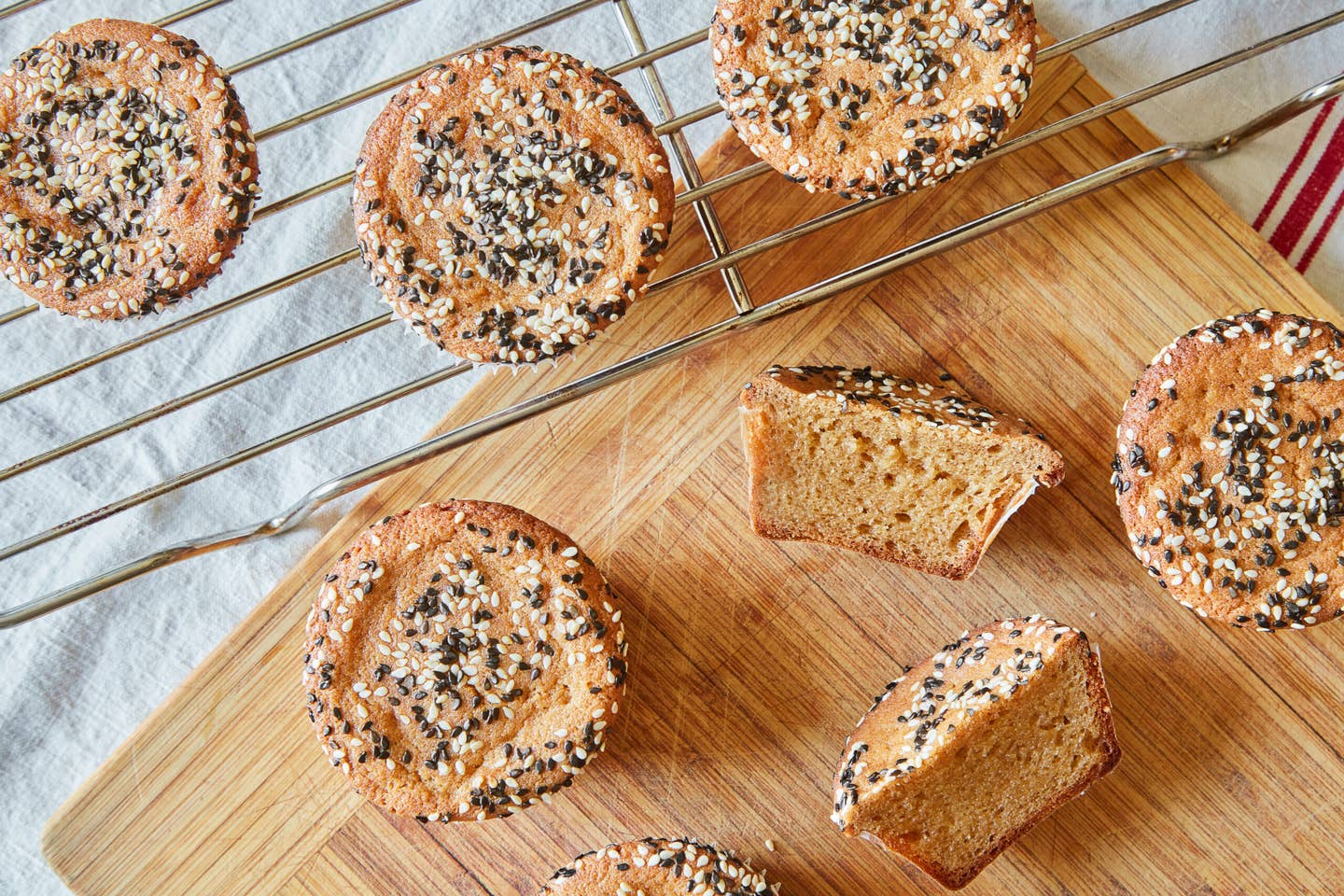 The mochi muffin—a cross between the American breakfast staple and the Japanese-style rice cake—was, for the longest time, a Bay Area specialty. San Francisco bakeries like CA Bakehouse and The Mochi Oven offered the chewy, crispy-on-the-outside treats to locals, but the mochi muffin rarely made its way outside the state. (This is possibly due to the outsized influence Third Culture Bakery had over the industry with its trademark of the term, which the owners have since announced they're abandoning after a recent social media firestorm.)
As the local specialty grew in popularity (and the spat over trademarks on the wane), Jenn Leung and Gabe Grazier G'Sell launched their mochi muffin pop-up, The Garden Bakehouse out of their Brooklyn apartment. "It became very obvious very quickly that nobody in New York City was familiar with the [desserts]," Grazier G'Sell said in a phone interview.
This recipe, inspired by Leung and Grazier G'Sell's version, makes a buttery, chewy, not-too-sweet mochi muffin, tinged with a hint of vanilla and topped with a sprinkling of sesame.
Ingredients
2 cups glutinous rice flour (such as Mochiko brand)
1 cup dark brown sugar
2 tsp. baking powder
1 tsp. kosher salt
1½ cups coconut milk
2 large eggs
4 Tbsp. melted butter, cooled to room temperature
2 tsp. honey
2 tsp. lemon juice
2 tsp. vanilla extract
1 Tbsp. toasted sesame seeds
Instructions
Step 1
Preheat the oven to 350°F. Line a standard-sized muffin tin with paper liners and set aside.
Step 2
Into a large bowl, sift the rice flour, brown sugar, and baking powder. Whisk in the salt and set aside. In a medium bowl, whisk together the coconut milk, eggs, melted butter, honey, lemon juice, and vanilla. Whisk the wet ingredients into the rice flour mixture until the batter is smooth. Divide the batter evenly among the prepared muffin cups. Sprinkle the surface of each muffin evenly with sesame seeds, then bake until the tops are lightly browned and a cake tester inserted into the center of one of the muffins comes out clean, 45–50 minutes.
Step 3
Cool the muffins for at least 20 minutes in their tin, then remove and serve warm or at room temperature. Leftovers keep well in an airtight container for up to three days.