Recipes
Cinnamon-Orange Blossom Almond Cake
You won't miss the flour in this rich, gluten-free genoise.
Serves

10–12

Cook

2 hours 30 minutes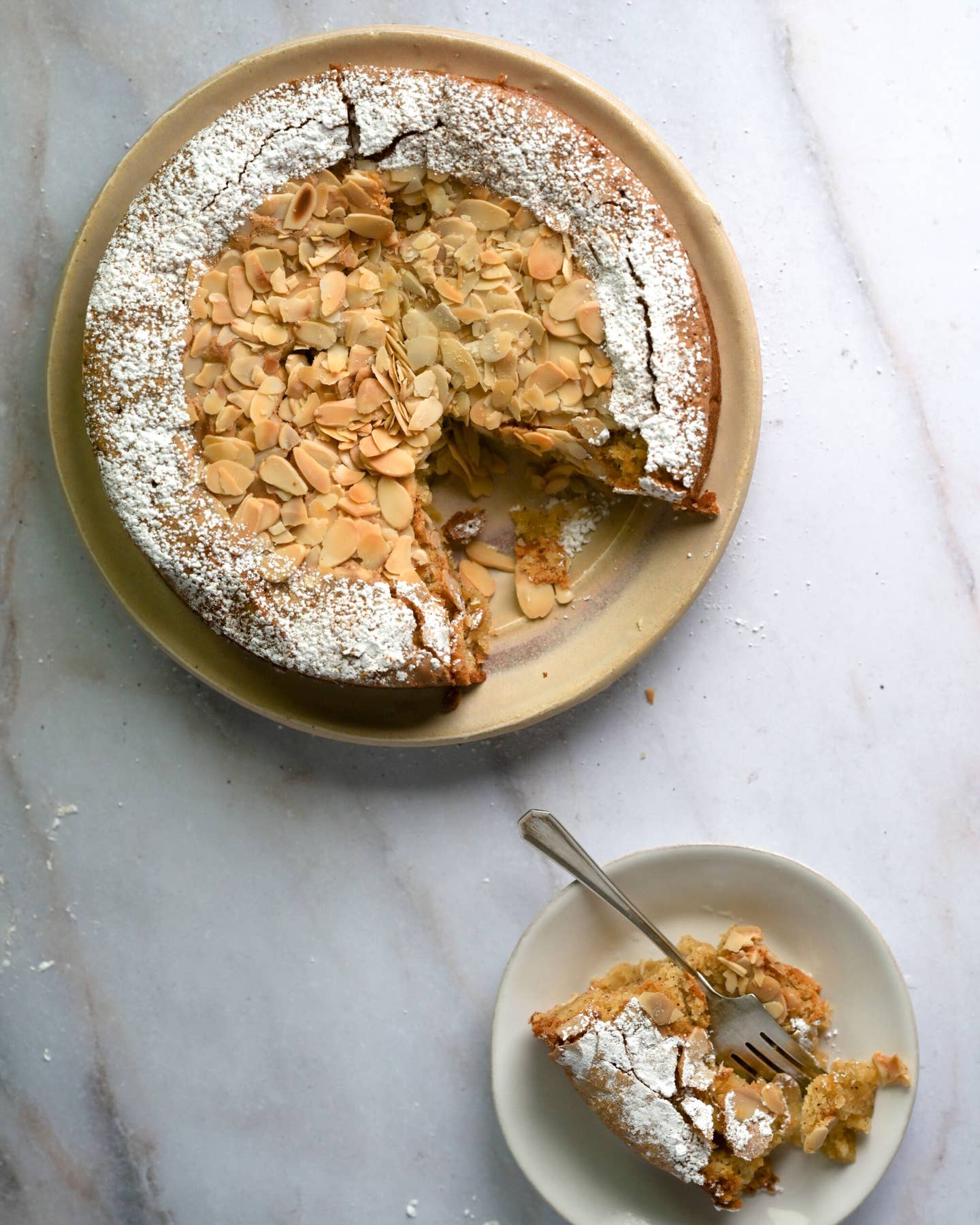 Since I started baking ten years ago, I've always worked with different types of flour. Wheat flour in particular is the main ingredient in most baked goods, and until recently, I hadn't explored many gluten-free recipes. That is, until I learned that my sister-in-law, Mariam, had developed celiac disease, a condition which causes the body's immune system to attack its own tissue after consuming gluten. Sweets are celebratory foods which I believe everyone should be able to enjoy, regardless of their intolerances, so since then, I've been experimenting with gluten-free dessert recipes like this cinnamon-orange blossom almond cake.
When I served it at a recent family gathering, I looked over at Mariam and announced that our dessert that evening would be gluten-free. I smiled with pride as she inhaled a whole slice—then asked me to save her another for later. (I sent her home with plenty of leftovers to enjoy with her afternoon coffee the next day.)
Each type of flour—be it wheat flour or a gluten-free alternative—has its own unique characteristics, and rarely can one be swapped for another without adapting a recipe accordingly. You may notice that this cake uses a lot of eggs. This is by design, as their protein makes up for wheat gluten's binding quality. I also used a modified genoise method, in which egg yolks are added to the batter and then the whites are beaten, and folded in separately. This technique gives the cake a bit of extra lightness and structure.
I really love the warm earthiness of cinnamon with almonds, and find that a splash of orange blossom water brightens the rich flavor combination beautifully. Note that the strength of flower waters varies widely by brand, so feel free to use a bit more or less to your own taste. (And if you're not fond of orange blossom water, you can substitute it with rose water or omit it entirely.)
Leftovers are best served warm: To heat, cut the cake into slices and microwave for 20–30 seconds.
Ingredients
For the cake:
7 Tbsp. unsalted softened butter, plus more for greasing
3 cup almond flour
⅓ cup unsweetened shredded coconut
1 tsp. cinnamon
½ tsp. kosher salt
1½ cup sugar
1 tsp. finely grated lemon zest
6 large eggs, separated
1 tsp. almond extract
1–2 tsp. orange blossom water
¼ cup sliced almonds
For serving
2 Tbsp. confectioners sugar
½ tsp. cinnamon
Whipped cream (optional)
Instructions
Step 1
Make the cake: Preheat the oven to 350°F. Butter a 9-inch springform pan, line the bottom with a circle of parchment paper, and set aside.
Step 2
In a large bowl, stir together the almond flour, shredded coconut, cinnamon, and salt.
Step 3
In the bowl of a stand mixer fitted with the paddle attachment, beat together the sugar and lemon zest on medium-low until fragrant, about 1 minute. Add the softened butter and keep beating, pausing to scrape down the bottom and sides of the bowl and the paddle as needed, until the mixture is pale and fluffy, 4–5 minutes. Add the egg yolks and continue beating until velvety and smooth, 3–4 minutes. Add the almond extract and orange blossom water, then turn the mixer down to low and add the reserved almond flour mixture gradually, pausing to scrape down the bottom and sides of the bowl as needed, until fully incorporated. Remove the bowl from the mixer and set aside.
Step 4
In a clean medium bowl, whisk the egg whites to glossy soft peaks, about 3 minutes.
Using a spatula, gently fold the whites into the cake batter in 3 batches until fully incorporated.
Pour the batter into the prepared springform pan, sprinkle evenly with sliced almonds, and bake until a cake tester inserted in the center comes out mostly clean, with a few crumbs, 60–70 minutes. Let cool in the pan for 30 minutes, then remove, slide onto a wire rack, and continue cooling at least 30 minutes more.
Step 5
In a small bowl, stir together the confectioners sugar and cinnamon. When the cake has fully cooled, dust the top surface with cinnamon sugar. Cut into slices and serve at room temperature. Leftover almond cake can be stored at room temperature in an airtight container for up to three days.