Drinks
Rose Hip Syrup
A forager's dream, The Burren in County Clare is a wild and rocky landscape where three-quarters of Ireland's edible plant species grow. You just have to hunt for them.
Serves

makes 3 1/2 cups

Cook

30 minutes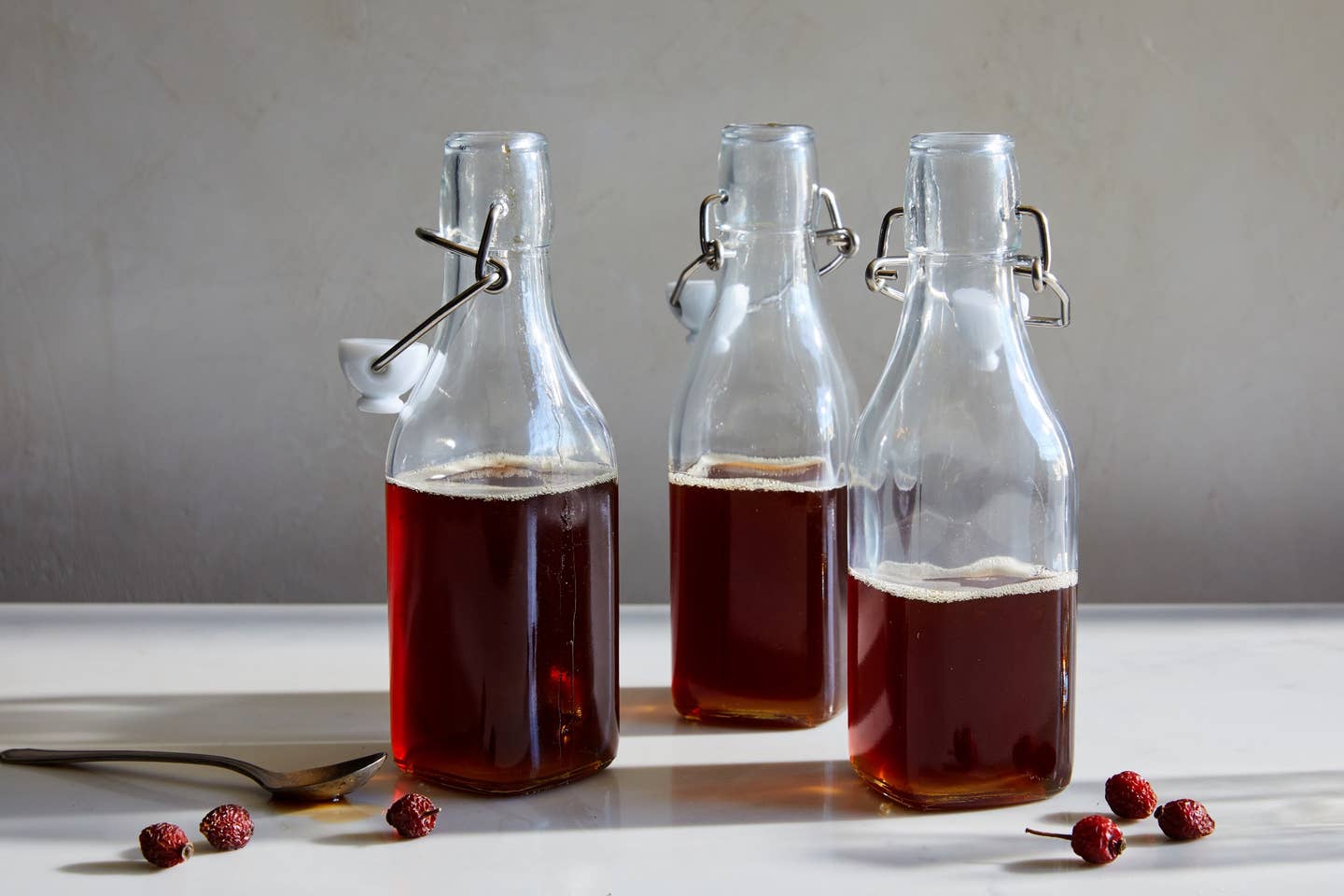 Forager Oonagh O'Dwyer of Wild Kitchen hunts for the tiny rose hips that grow in hedgerows blanketing The Burren in County Clare. Once O'Dwyer has enough fruit of the dog rose (Rosa canina), she simmers them in a syrup that can be poured over ice cream, drizzled onto tea cakes, or added to cocktails. O'Dwyer says that raw unfiltered honey works well with old recipes like this, resulting in an earthy finished taste, similar to cranberry, and not too sweet. Dried rose hips can be substituted if you're making this before fresh ones are available, just use half the total weight.
Ingredients
2¼ lb. fresh rose hips or substitute 1¾ lb. dried rose hips
2¼ cups sugar
Instructions
Step 1
Clean the fresh rose hips of any debris, then add them to a medium pot. Cover with 6½ cups of cold water, set over medium heat, bring to a simmer, and cook, stirring occasionally, until the fruit is soft and the water is a dark rose color, about 20 minutes (or about 30 minutes for dried rose hips).
Step 2
Set a fine mesh sieve over a large bowl; line the sieve with cheesecloth, then strain the rose hip water, squeezing the solids in the cloth to extract as much liquid as possible. Transfer the liquid back to the pot, line the sieve with fresh cheesecloth, and strain once again. Rinse out the pot, then return the rose hip liquid back to it and stir in the sugar to dissolve. Return to medium heat and bring the liquid to a boil. Cook, stirring occasionally, until the liquid has reduced to a syrupy consistency, about 20 minutes. Remove from the heat, then carefully pour the syrup into sterilized bottles. To serve, add a few tablespoons of rose hip syrup to hot or cold water for a refreshing drink. Syrup keeps well in the fridge for up to 6 months.