Recipes
Cake d'Alsace (Bacon, Gruyère, and Caramelized Onion Loaf)
This savory French cake is perfect for picnics, lunches, and meals on the go.
Serves

Makes 1 loaf

Cook

1 hour 35 minutes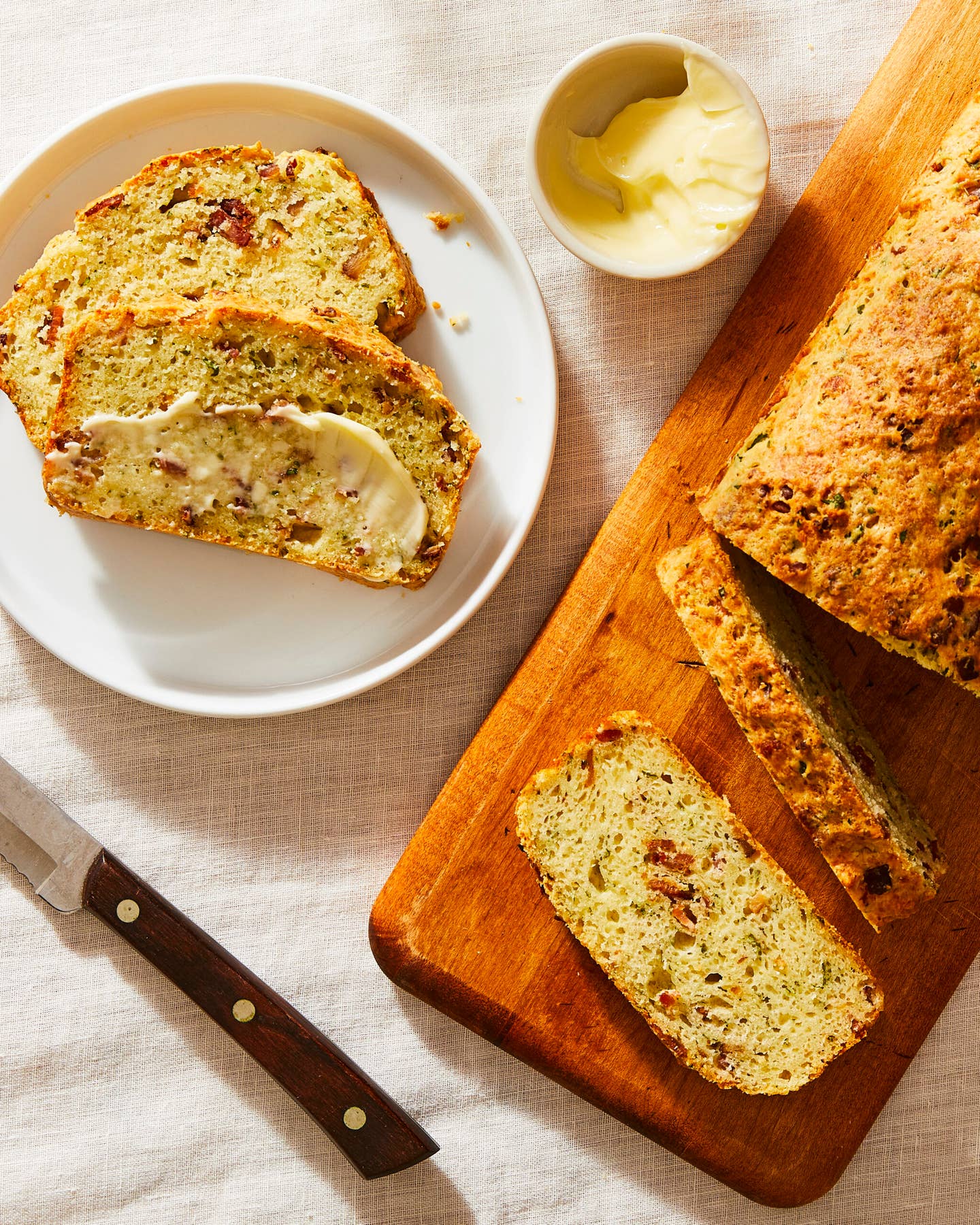 "Cake salé" is a catch-all term for the humble savory loaves popular among French home cooks. This Alsace-inspired variation, studded with bacon, Gruyère, and caramelized onion, tastes great straight from the oven, but it's even better reheated (cooling it completely tenderizes the crumb). Store any leftovers in the refrigerator.
Ingredients
5 Tbsp. unsalted butter, melted and cooled slightly, plus more as needed
8 oz. bacon, cut crosswise into ¼-in. lardons
1 medium yellow onion, thinly sliced
1 cup full-fat (whole) buttermilk
1 Tbsp. extra-virgin olive oil, plus more if needed
2 large eggs, preferably at room temperature
2½ cups all-purpose flour (10½ oz.)
1½ tsp. baking powder
¾ tsp. fine salt
½ tsp. baking soda
½ tsp. freshly ground black pepper
8 oz. grated Comté, Gruyère, or aged cheddar (2 cups)
3 Tbsp. finely chopped parsley leaves
Instructions
Step 1
Position a rack in the center of the oven and preheat to 350°F. Butter and flour a metal 9-by-5-inch loaf pan, tapping out any excess flour. 
Step 2
In a large skillet set over low heat, cook the lardons until golden brown and their fat has rendered, about 15 minutes. Using a slotted spoon, transfer to a small bowl. 
Step 3
To the pan with the rendered fat, add the onion and turn the heat to medium. (If the pan looks dry, add a tablespoon of butter.) Cook, stirring occasionally, until soft and golden brown, about 10 minutes. 
Step 4
Meanwhile, in a medium bowl, whisk together the buttermilk, oil, and eggs, then whisk in the melted butter. 
Step 5
In a large bowl, whisk together the flour, baking powder, salt, baking soda, and black pepper. Stir in the cheese, parsley, and reserved bacon and onions. Add the buttermilk mixture, then use a silicone spatula to fold together the wet and dry ingredients until no streaks of flour remain. 
Step 6
Scrape the dough into the prepared pan and bake until a toothpick inserted into the center of the loaf comes out clean or with a few crumbs attached, 45–50 minutes. Allow to cool for 10 minutes before unmolding, then serve warm or at room temperature.