Recipes
Sesame-Cheddar Wafers
These bites of crispy, toasted cheese are the ideal salty snack to serve with cocktails.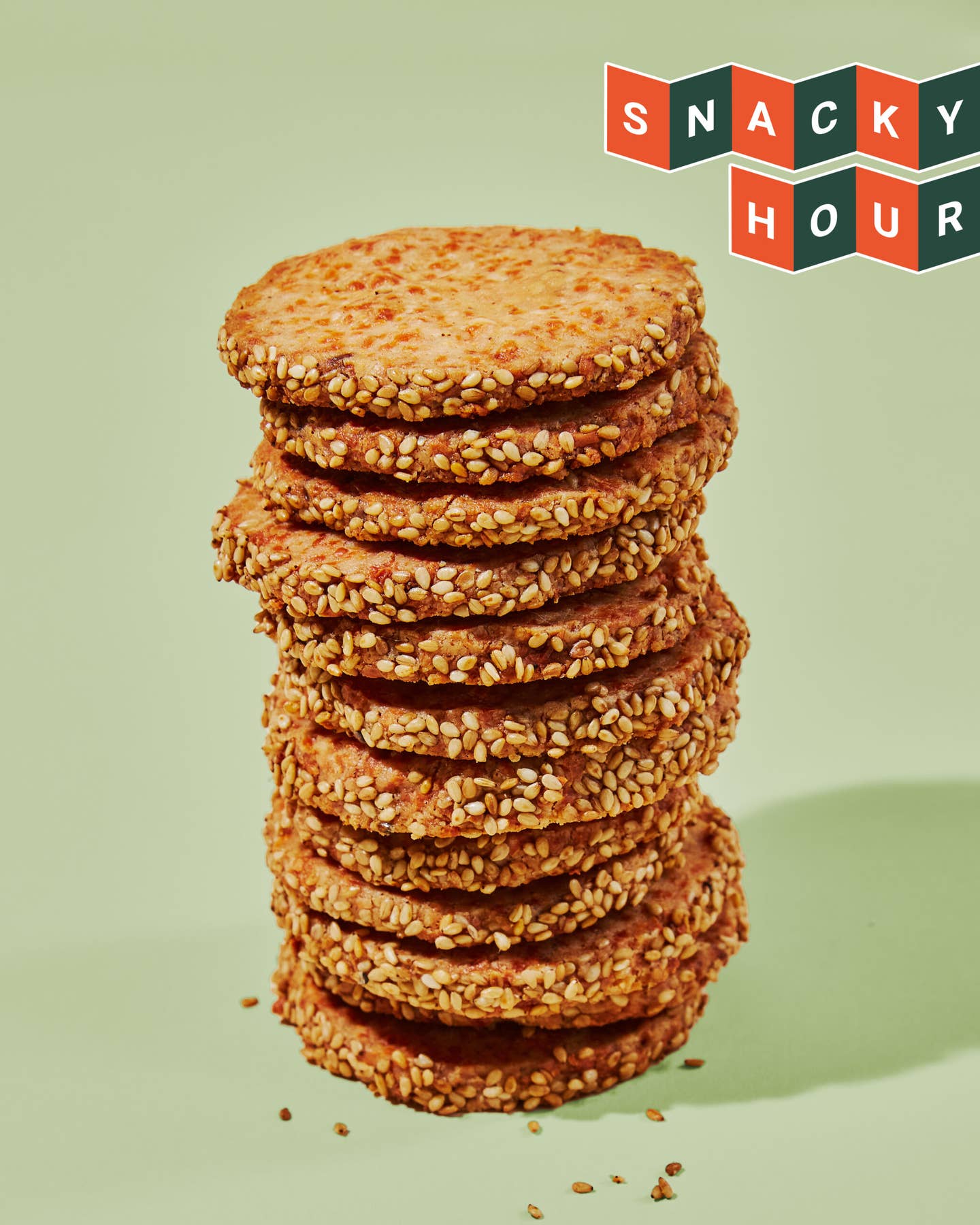 It's always Snacky Hour somewhere, at least according to snack-obsessed SAVEUR senior editor Ellen Fort. Follow along as she discovers the best bites that fall outside the confines of breakfast, lunch, or dinner. Savory, salty, spicy, sweet, sour: everything's fair game during Snacky Hour.
For me, the best part of anything cheesy—grilled cheese, pizza, nachos—is the little bits of toasted, golden cheese baked onto the sheet pan or skillet. Those little niblets that have escaped the main event and are just lingering in their cheese grease, waiting for the right person to come along and collect their treasure. Sometimes I just skip straight to the good part and throw a handful of shredded cheese right onto a hot skillet, letting it bubble and harden just long enough for a crispy, chewy bite to form. In Italy, it's known as frico, a simple crisp made from cheese (and sometimes a dusting of flour) that's a craveable salty snack. These sesame-cheddar wafers are a cousin to frico, but with a little more heft and flavor. They're also an updated take on the cheese straws often set out alongside cocktails in the South; a toasty bite with the nuttiness of sesame and a little kick of cayenne. I recommend doubling this batch and keeping a log of dough in the freezer at all times, in case company comes calling unannounced. 
Ingredients
½ cup white sesame seeds
2 cups shredded sharp cheddar cheese
1 cup all-purpose flour, plus more for dusting
½ tsp. cayenne pepper
½ tsp. garlic powder
½ tsp. kosher salt
½ tsp. mustard powder
½ cup unsalted butter, softened
½ tsp. Worcestershire sauce
Instructions
Step 1
In a small skillet, toast the sesame seeds over medium-high heat until golden, stirring occasionally, about 5 minutes. Transfer to a bowl and set aside.
Step 2
 In a medium bowl, whisk together the cheese, flour, cayenne pepper, garlic powder, salt, and mustard powder. Add the butter and Worcestershire and use a pastry blender, two forks, or your fingers to incorporate the butter into the flour mixture until pea-sized crumbles form.
Step 3
Transfer the dough to a lightly floured work surface and knead until a stiff dough forms, then roll it into a 2-inch-wide log. Sprinkle sesame seeds onto the work surface and roll the log in the seeds, pressing them into the dough, until completely coated. Wrap the dough in cling wrap and place in the fridge for at least 2 hours, up to 12 hours.
Step 4
Preheat the oven to 350°F. Unwrap the dough and, using a sharp knife, slice it into thin rounds, about ¼-inch thick. Transfer the rounds to a parchment-lined baking sheet, spacing them about 2 inches apart. Bake until the edges are golden, 15-20 minutes. Let the wafers cool completely on the baking sheet and serve. (The wafers will keep in an airtight container for up to five days at room temperature, or up to six months
in the freezer.)