Montasio Cheese Crisps (Frico)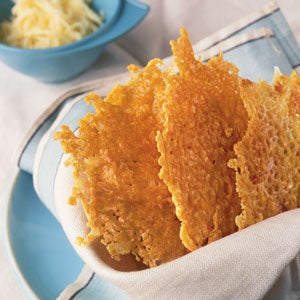 Lidia Bastianich, who owns New York's Felidia and operates a restaurant called Frico with her son, grew up eating frico, the irresistible fried-cheese snack, in her hometown of Pula, Croatia (once part of Italy). Frico may be stuffed with a variety of fillings. When making this simple version, we added a little flour to help it hold its shape.
Yield: makes 10 crisps
Ingredients
1⁄2 lb. (about 2 cups) coarsely shredded montasio (or asiago) cheese
1 tbsp. flour
Extra-virgin olive oil
Instructions
Combine cheese with flour in a medium bowl. Mix thoroughly.
Lightly grease a large cast-iron skillet with extra-virgin olive oil, then place over medium-low heat. Spoon 2 tbsp. of cheese onto heated skillet for each 2"-3" round. Allow cheese to melt and edges to turn golden brown. Cook, without touching, for about 3 minutes, then turn with a spatula (when ready, frico should come away easily from pan) and continue cooking for 2 minutes.
Drain on paper towels. Repeat with remaining cheese. Serve at room temperature.