Recipes
Making Ponza's Famous Mussel Pasta Is Easier Than You Think
The Italian island is renowned for its restaurants serving spaghetti con le cozze. Here's how to replicate the light, briny dish in your home kitchen.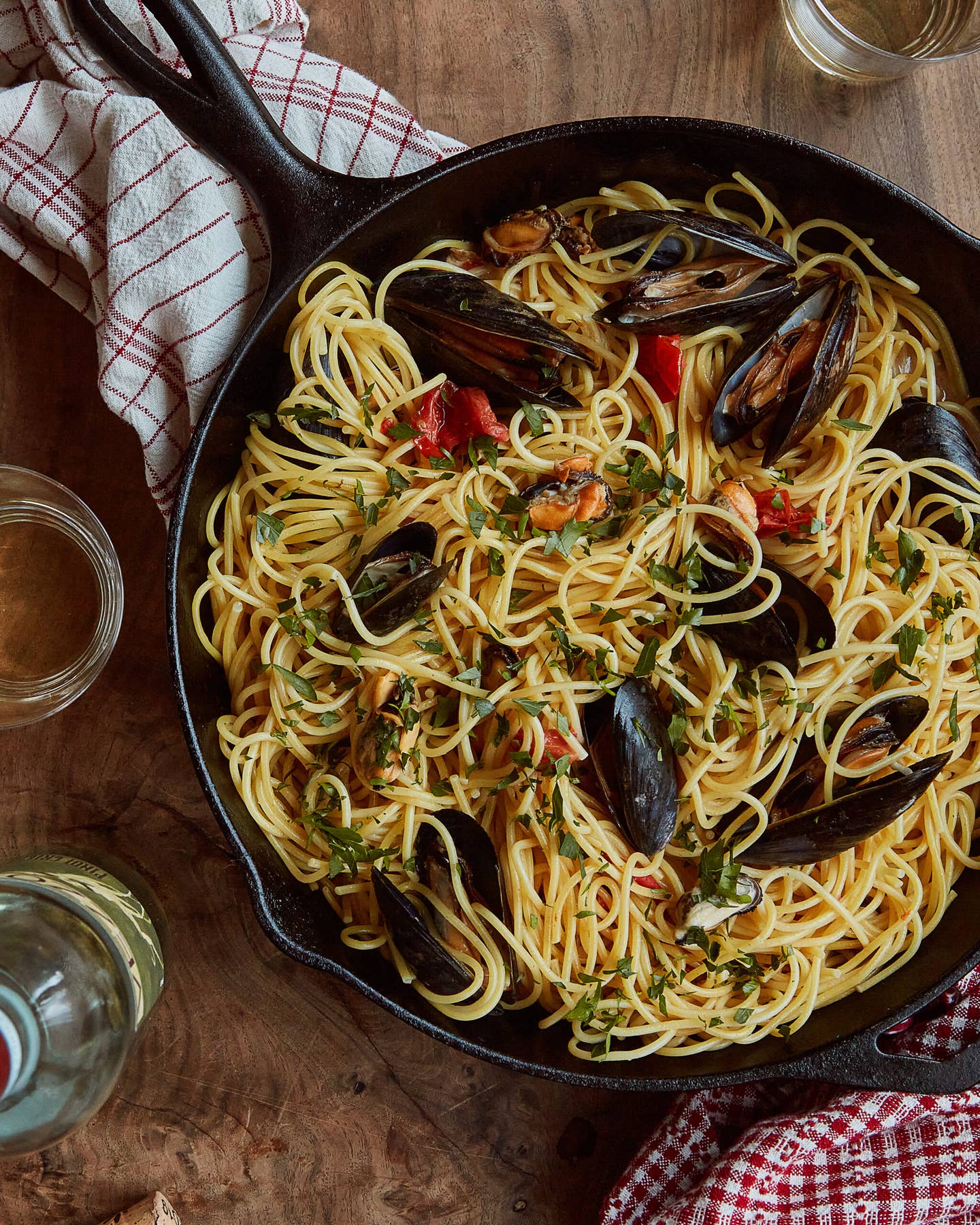 Welcome to Parla's Pastas, a bi-weekly column by the Rome-based, New York Times best-selling cookbook author Katie Parla. Here you'll find traditional and inspired recipes from Italy's 20 regions. Get ready for a carb-driven journey through the trattorias of Rome, the kitchens of Sicily (her ancestral homeland), rural Campania, and beyond. Fire up a pot of water, and andiamo!
The tomatoes are not the main event in this sauce; however, they add a wonderful burst of color and sweetness. If you don't own a very large (at least 12-inch) skillet, make this dish in a pot or Dutch oven to minimize mess.
Ingredients
2 lb. fresh mussels
Fine sea salt
1 lb. dry spaghetti or spaghettoni
¼ cup extra-virgin olive oil
1 garlic clove, peeled and smashed with the side of a knife
8 cherry tomatoes, halved (½ cup)
1 cup dry white wine
2 tsp. finely chopped fresh parsley leaves, plus more for garnish
Instructions
Step 1
In a colander, scrub the mussels well under cool water, discarding any with broken shells. Remove any beards from the mussels by pulling toward the tapered end of the shell until it comes free.
Step 2
Bring a large pot of generously salted water to a boil, then add the spaghetti and cook until barely al dente (5–7 minutes, about half the recommended cooking time on the package). Reserve 1 cup of the pasta cooking water, then drain.
Step 3
Meanwhile, make the sauce: To a large, deep skillet set over medium-low heat, add the olive oil and garlic and cook, stirring occasionally, until beginning to brown, 4–6 minutes. Add the tomatoes, season with salt, and turn the heat to medium. Cook, stirring occasionally, until the tomatoes begin to break down and release their juices, 3–4 minutes more. Turn the heat to medium-high and add the mussels and white wine. Cook, shaking the skillet occasionally, until the mussels open, 3–4 minutes, using tongs to transfer the mussels as they open to a medium bowl. (Discard any that remain closed.) Set aside until cool enough to handle, then pull the meat from all but one fourth of the cooked mussels, transfer to a small bowl.
Step 4
Return the skillet to medium-high heat, then add the pasta and cook, swirling the pan, until the pasta is al dente and coated in sauce, about 4 minutes. (If the pasta seems dry, gradually add enough of the reserved pasta water to make the sauce smooth and silky.) Add the shelled and unshelled mussels and their accumulated juices to the pot and cook until heated through, about 1 minute more. Remove from the heat, sprinkle with parsley, and serve hot.