Recipes
Stilton, Pear, and Walnut Salad
Tangy mustard vinaigrette brightens buttery blue cheese in this classic English starter.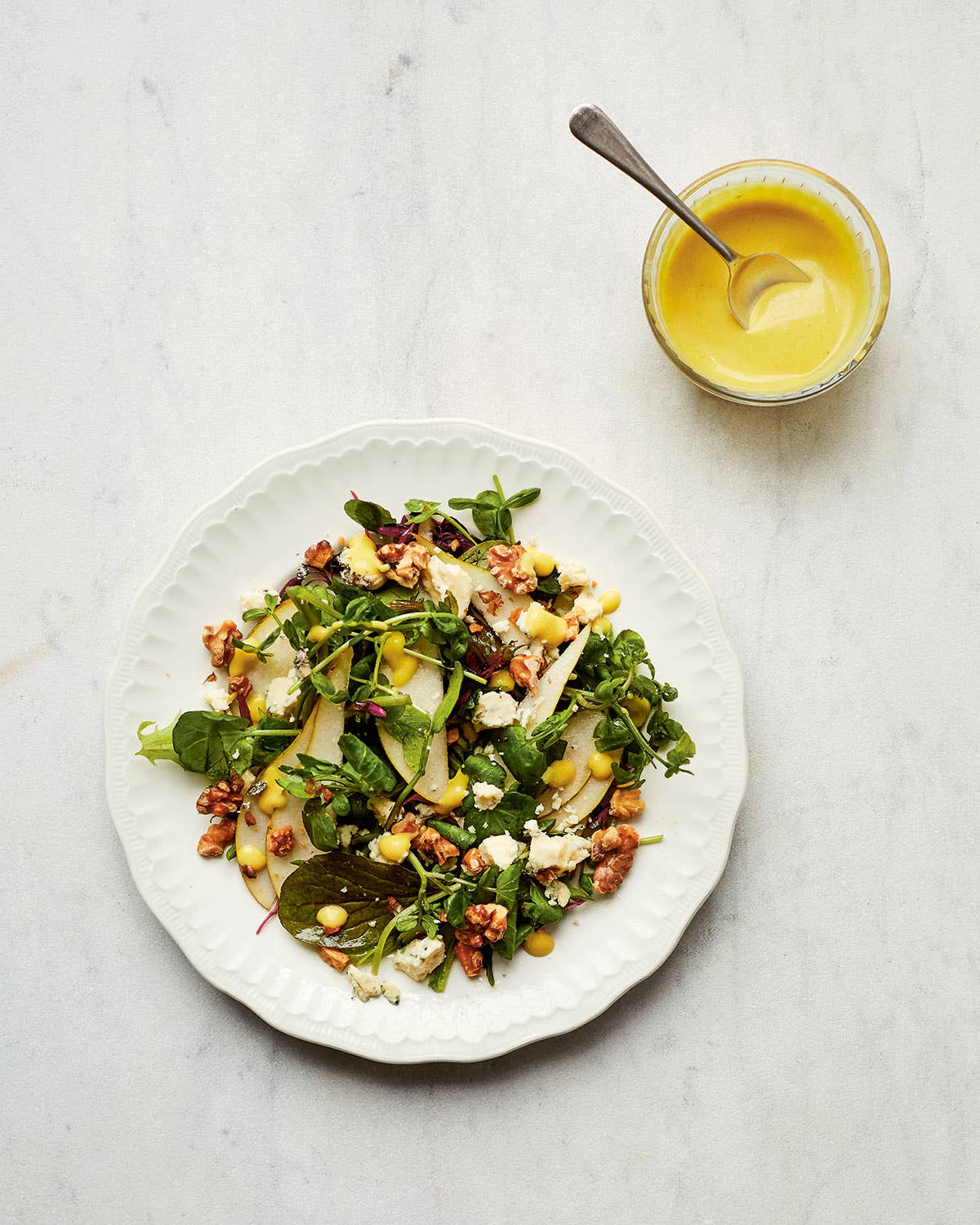 Stilton cheese, paired with ripe pears, crunchy walnuts, and delicate bitter greens, is a beloved English combination, and for good reason. Dressed with a gentle mustard vinaigrette, the ingredients create a pleasing medley of flavors and textures. The dressing recipe makes more than you need for one salad, but it keeps well for up to a month in the fridge and works nicely with any simple leafy greens. If you can find it, seek out Colton-Bassett Stilton, which is widely available from fine cheese shops, or online from Murray's Cheese. If unavailable, another crumbly blue cheese (such as Roquefort or Danish blue) is a suitable substitute.
Ingredients
For the mustard dressing:
1 Tbsp. plus 1 tsp. white wine vinegar or cider vinegar
1–2 tsp. Dijon mustard
Kosher salt
3 Tbsp. vegetable oil
For the salad:
¾ cup (3½ oz.) walnuts
1–2 ripe pears
3½ oz. mixed salad leaves
5 oz. Stilton cheese
Mustard dressing (from above)
Instructions
Step 1
Make the mustard dressing: To a small food processor, add the vinegar, mustard, and a big pinch of salt and blend to combine. With the motor running, slowly drizzle in the oil until the dressing is creamy, smooth, and thick. (If necessary, add a few drops of very cold water to help the ingredients emulsify.) Set aside.
Step 2
Preheat the oven to 325°F.
Step 3
Line a large baking sheet with parchment paper and spread the walnuts out onto it. Bake, stirring occasionally, until the nuts are very lightly toasted, 8–10 minutes. Set aside to cool to room temperature.
Step 4
Meanwhile, very thinly slice the pears, then add them to a large salad bowl. Add the greens, and crumble in the Stilton. Lightly crush the cooled toasted walnuts by hand, then add them to the bowl. Drizzle in 2–3 tablespoons of the dressing and toss the salad gently, adding more dressing as needed to lightly coat the ingredients. Serve immediately, with more dressing on the side for drizzling.