Recipes
Strawberry-Brown Butter Snacking Cake
Use up forgotten fruit in this soft, lemon-scented sponge you can eat anytime.
Serves

serves 6

Cook

1 hour 20 minutes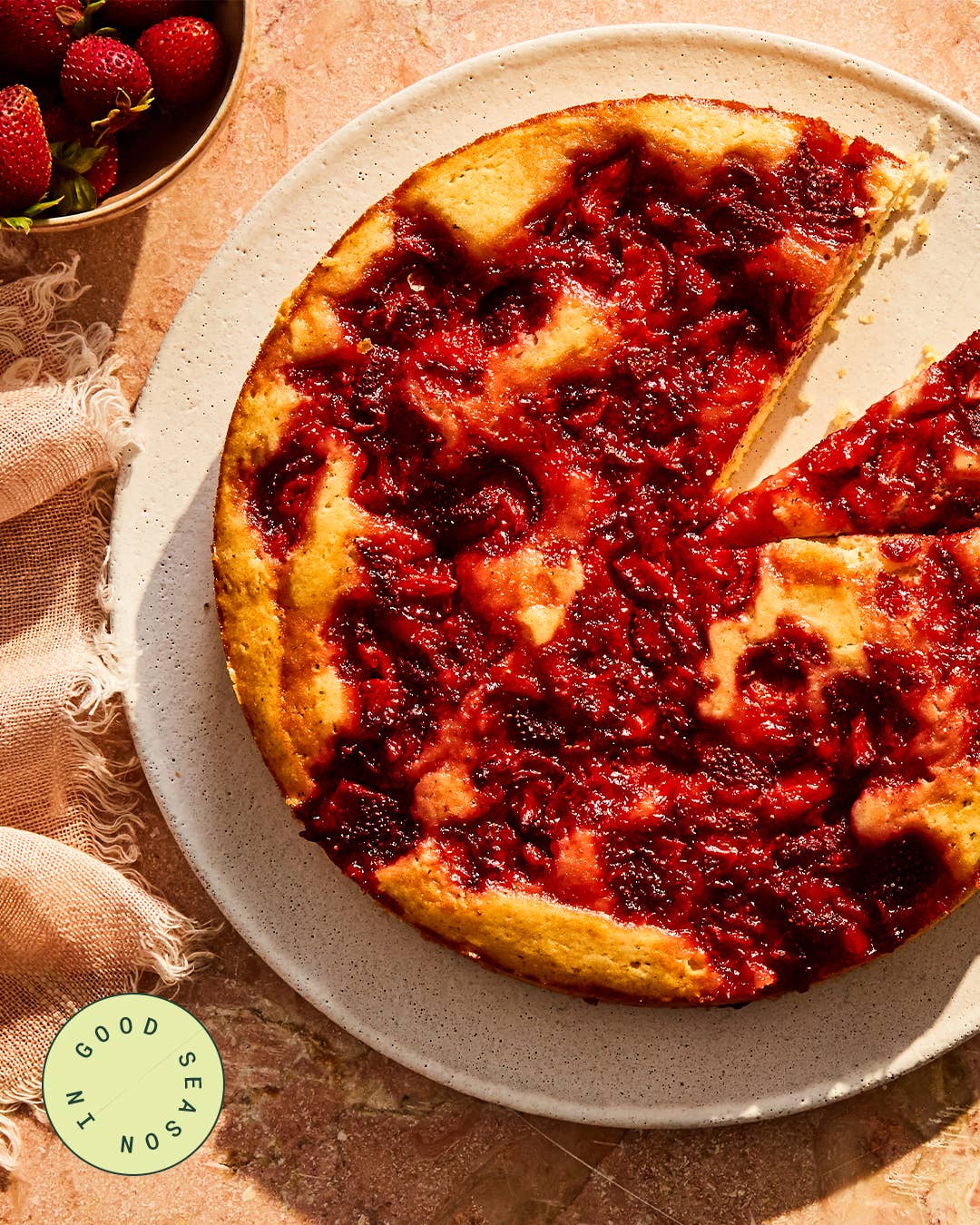 Welcome to SAVEUR's column on how to cook local produce according to our test kitchen manager, Fatima Khawaja. This is where you'll find creative, unfussy meal ideas plus plenty of cooking advice—like what to do with that bumper crop of zucchini or how to store delicate heirloom tomatoes. Every other week, Fatima hits the farmers market and chooses a peak-season ingredient to explore in depth. Follow along, and you'll learn how to turn the season's bounty into easy plant-based meals that'll be on the table in under an hour.
How do you feel about supermarket strawberries? Because they consistently let me down. Strawberry season is in full swing, yet the packaged ones at my neighborhood grocery are somehow bitter, mealy, and white inside. Those aren't the bright red jewels I've been buying by the truckload at the farmers market. I always grab an extra pint at my favorite stall to share with my daughter on the way home, the berries' crimson juices dripping down her arms and shirt.
Make this cake with those market-fresh berries, or—as I like to do—with the mushy ones forgotten in the back of the fridge, so they don't go to waste. You can use stone fruit instead of strawberries, or a mix of both. Revived with a quick maceration, the berries bake into a simple but delicate cake fragrant with brown butter, lemon, and vanilla.
When shopping for berries of any type, give the container a light shake to make sure the fruit on the bottom moves (that way you know it's firm and not crushed). And enjoy them quickly: Farmers market berries last only a day or two before they start to turn. For longer-term storage, I destem and freeze berries in a freezer bag or turn them into preserves and jam.
By the way, if it's too darn hot to turn on the oven, bookmark this cake for cooler weather—it's equally delectable made with frozen berries—and check out our collection of strawberry recipes for additional ideas.
Ingredients
¼ cups plus 2 Tbsp. unsalted butter, plus extra for greasing
8 oz. strawberries, hulled and cut into ½-in. pieces (1 cup)
1 cup sugar plus 2 Tbsp., divided
½ cups milk
3 tbsp. fresh lemon juice
1 large egg
1 tbsp. finely grated lemon zest
1 tsp. baking powder
½ tsp. kosher salt
½ tsp. vanilla extract
1½ cups all-purpose flour
Instructions
Step 1
Position a rack in the center of the oven and preheat to 350ºF. Butter a 9-inch round cake pan and line the bottom with parchment.
Step 2
In a small pot set over medium heat, melt the butter until it smells nutty and is light brown, about 6–8 minutes. Remove from the heat and cool slightly, about 10 minutes.
Step 3
Meanwhile, in a small bowl, combine the strawberries and 2 tablespoons of sugar and coarsely mash with a fork. Set aside.
Step 4
In a large bowl, whisk together the milk, and lemon juice. Once combined add the cooled butter, egg, lemon zest, baking powder, salt, vanilla, and remaining sugar. Using a silicone spatula, fold in the flour until no white streaks remain.
Step 5
Scrape the batter into the prepared pan, then top evenly with the strawberries and their juices and bake for 10 minutes. Turn the heat to 325ºF and continue baking until golden brown and the edges begin to pull away from the pan, about 45 minutes more. Cool completely before inverting onto a serving plate.