Recipes
Swedish-Style Strawberry Cheesecake
Ground almonds lend their nutty richness to this delicate summer dessert.
Serves

serves 8

Cook

2 hours 30 minutes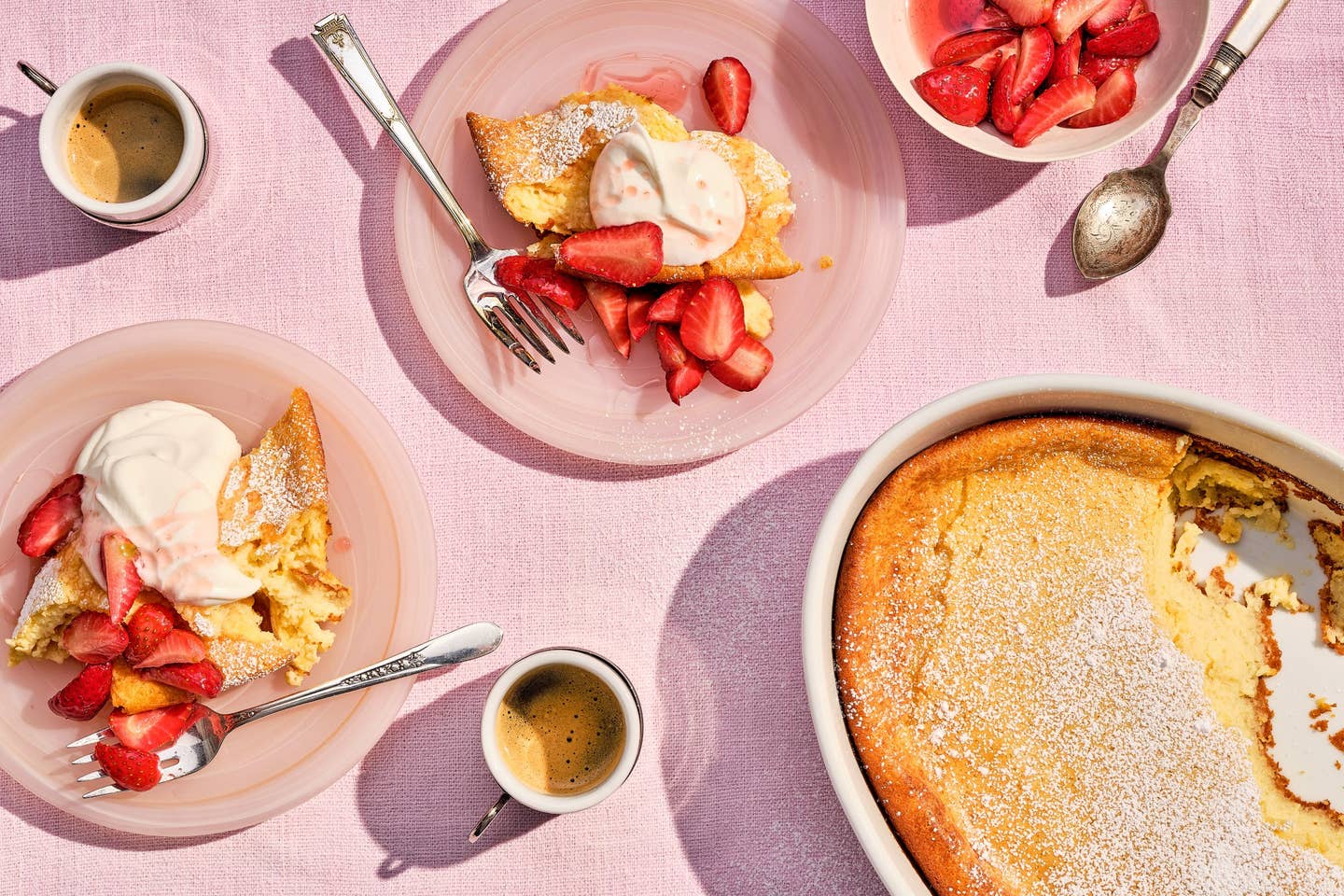 Ground almonds and full-fat cottage cheese lend body and flavor to this delicate and creamy strawberry cheesecake from Asa Johansson, a gardener and writer who lived on the Swedish island of Oland. For the Midsummer holiday, she served the cake with clouds of whipped cream and ripe berries.
Ingredients
¾ cups sugar, divided
6 cups quartered strawberries
½ cups finely chopped fresh mint
Unsalted butter, for greasing
¾ cups blanched almonds
2¼ cups cottage cheese, drained overnight
¾ cups heavy cream
¾ cups whole milk
¼ all-purpose flour
3 large eggs
Confectioners' sugar, for garnish
Whipped cream, for serving
Instructions
Step 1
In a large bowl, stir 1⁄3 cup sugar, the strawberries, and the mint; set aside to macerate at room temperature for 1 hour.
Step 2
Preheat the oven to 350°F. Grease a 3-quart oval baking dish with butter and set it aside.
Step 3
Pulse the remaining sugar and the almonds in a food processor until finely ground. Add the cottage cheese, cream, milk, flour, and eggs and puree until smooth, scraping down the sides of the bowl with a silicone spatula as needed to combine. Pour the batter into the prepared baking dish, then transfer to the oven and bake until browned and slightly puffed, 45–60 minutes.
Step 4
Cool the cake slightly, then dust with confectioners' sugar and serve with the reserved strawberries and whipped cream.