Recipes
Burmese Tea Leaf Salad
Soft, crunchy, bright, and hot: The classic Southeast Asian mainstay is a medley of compelling textures and flavors.
Serves

serves 6

Cook

50 minutes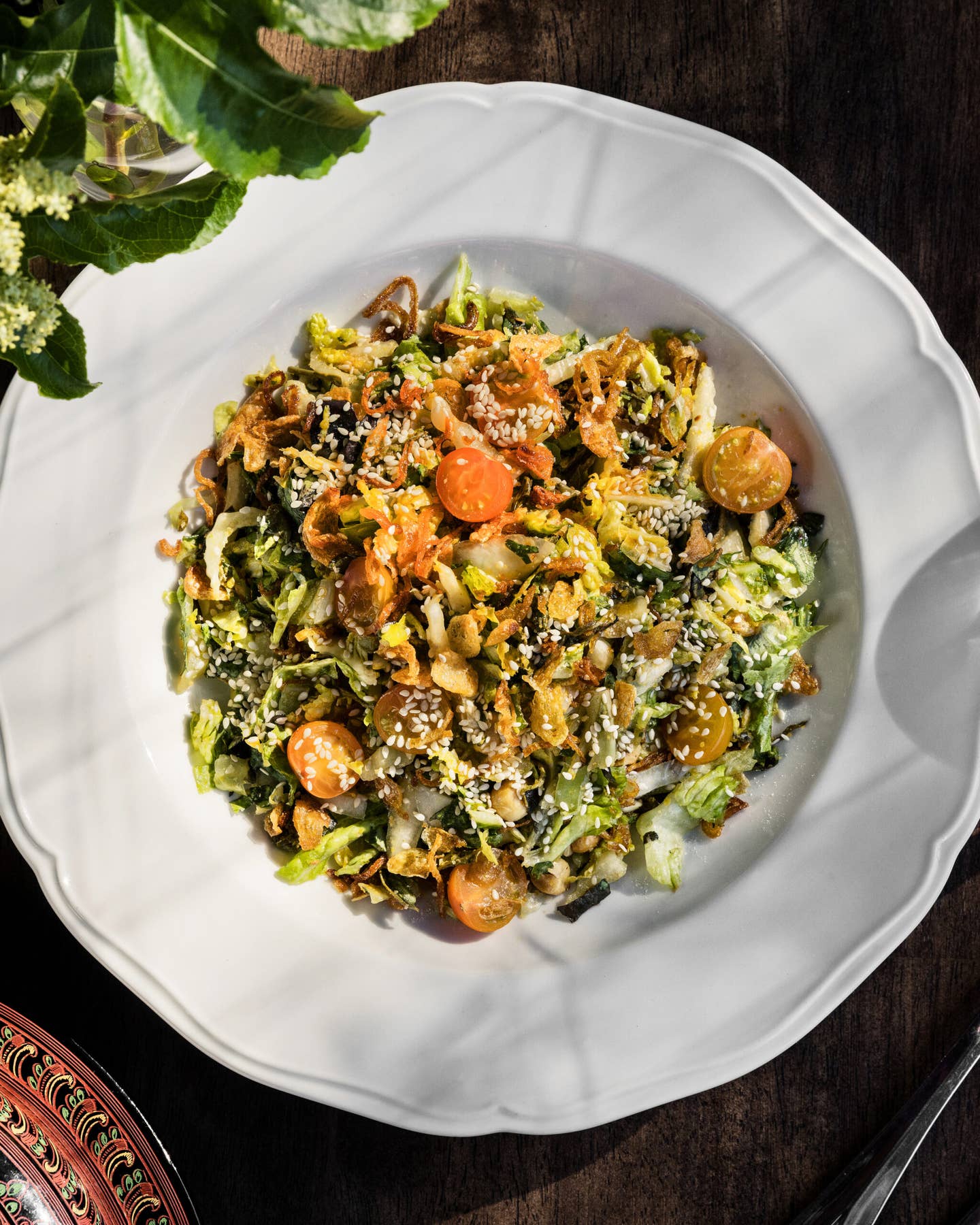 The distinct earthy flavors of this classic Burmese tea leaf salad come from the fermented tea leaves, which are prepared in-house at the Dutchess in Ojai, California. You can find them pre-made at specialty markets such as Kalustyan's. A medley of shaved cabbage, seasonal lettuces, and variety of crunchy toppings give the salad its satisfying layers of texture. Chef Saw uses locally sourced Salanova lettuce; if you can't find it, hydroponically grown butterhead lettuce is a suitable substitute. Naing fries off the crispy shallots and garlic in-house, but if pressed for time, packaged versions of both can be found at your local Asian grocery.
Ingredients
6 small shallots (6 oz.), thinly sliced
12 garlic cloves, thinly sliced
Vegetable oil, for frying
Kosher salt
4 cups thinly sliced Napa cabbage
1 cup chopped Salanova lettuce (or substitute butterhead lettuce)
1 cup cherry tomatoes, halved
½ cups roasted peanuts
¼ cups fresh lemon juice
2 tbsp. fermented tea leaves
2 tbsp. toasted sesame seeds
1 tsp. bird's eye chile or serrano chile, finely chopped
¼ cups chickpea flour
Cilantro sprigs, for garnish
Instructions
Step 1
Line a plate with paper towels and set it by the stove. Set a fine mesh strainer over a heatproof bowl and also set that by the stove as well. To a medium pot set over medium-low heat, add the shallots and enough oil to cover, about 2 cups. Cook, stirring frequently, until the shallots are golden brown, 20–25 minutes. Strain the shallots, then transfer them to the plate. Return the oil to the pot and return to medium-low heat. Add the garlic and cook, stirring frequently, until the garlic is golden brown, 5–6 minutes. Strain the garlic, then transfer it to the plate along with the shallots; season both lightly with salt, and set aside to cool to room temperature. Reserve the cooking oil.
Step 2
Assemble the salad: To a large bowl add the cabbage, lettuce, tomatoes, peanuts, lemon juice, tea leaves, sesame seeds, chile, and 2 tablespoons of the reserved frying oil. Toss until the greens are coated and the ingredients are evenly distributed. Toss in the chickpea powder and the reserved crispy shallots and garlic, then divide the salad among 6 large salad bowls. Garnish with cilantro sprigs and serve at room temperature.