Recipes
Tororo Soba
These chilled Japanese noodles get their slippery, neba neba texture from grated mountain yam.
Serves

serves 2

Cook

20 minutes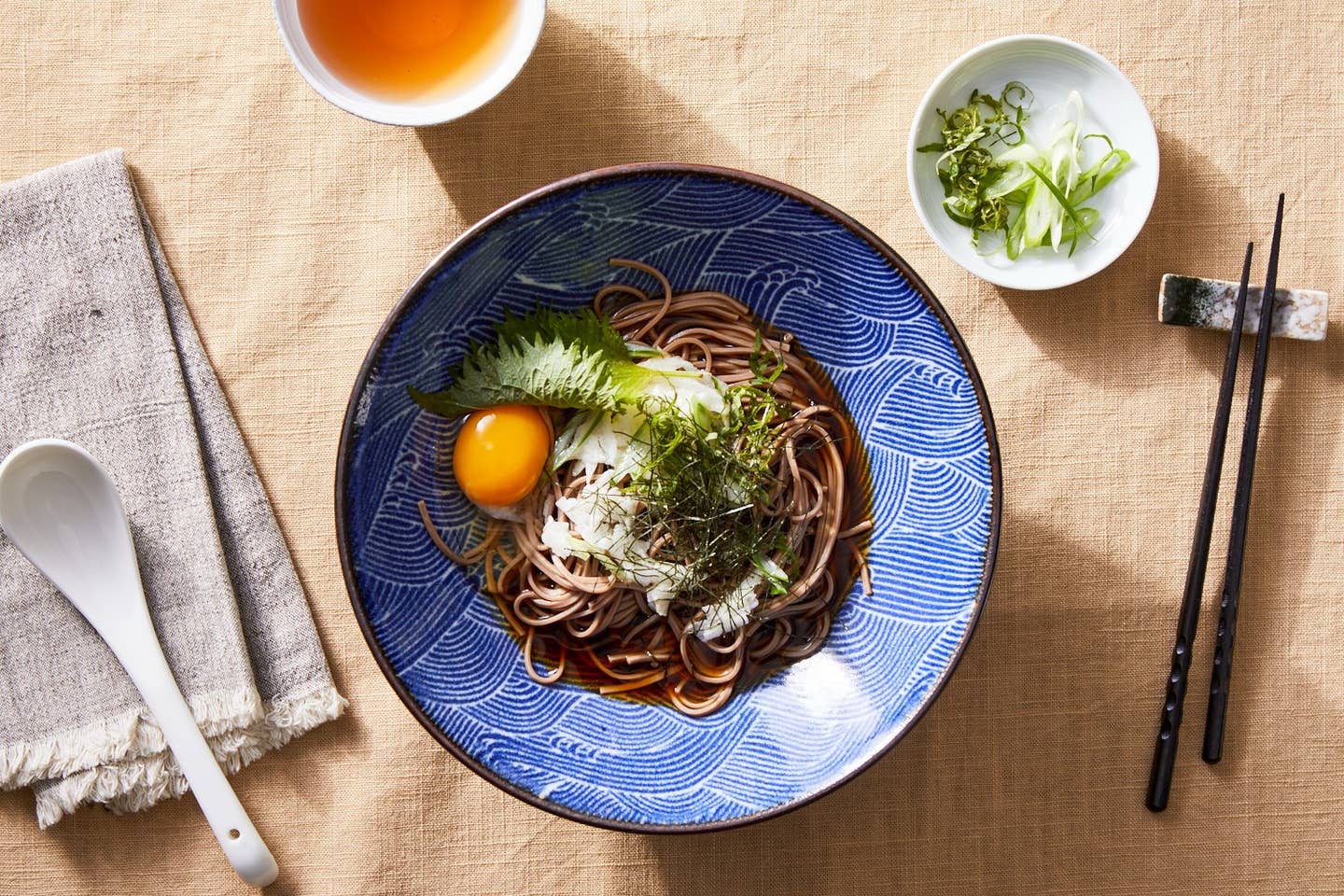 Whenever writer and recipe developer Caroline Caron-Phelps visits her family in Japan, tororo soba is always the first meal that she eats. It's the same routine each time: Her mother and a friend pick her up at Fukuoka airport, and on the way home, the three stop at 7-ELEVEN for the convenience store's takeaway version of the comforting cold noodle dish. Caron-Phelps loves the neba neba, or slimy, texture of Chinese yam, so when she's back home in the States, she often makes this easy and nutritious herself. Find nagaimo at your local Asian grocery store or the farmers market.
Ingredients
For the tsuyu:
3 tbsp. mirin
2 tbsp. soy sauce
¼ tsp. dashi powder
¼ tsp. kombu dashi powder
Pinch of kosher salt
Ice cubes
For the soba:
2 bundles dry soba (about 3 oz. each)
¼ cups (1½ oz.) peeled and grated nagaimo (Chinese yam)
Chopped scallions, shredded nori, and green shiso leaves, for garnish
2 large raw eggs (optional)
Instructions
Step 1
Make the tsuyu: In a small pot, stir together ⅓ cup cool water, the mirin, soy sauce, dashi powders, and the salt. Set over medium heat to bring to simmer, then turn the heat down to low and cook for 5 minutes. Remove from heat and set aside to cool to room temperature.
Step 2
Stir in a few ice cubes to chill the tsuyu, then taste and add more ice cubes if you prefer the sauce to be less strong.
Step 3
Bring a medium pot of water to a boil over medium-high heat. Add the soba noodles and cook according to the package instructions. Drain, then rinse well under cold water to chill. Drain well, then divide the noodles between two deep bowls. Divide the tsuyu between the bowls, top each with nagaimo, and garnish with scallions, nori, shiso, and a raw egg (if desired). Serve immediately.