Recipes
Varenyky
These sweet Ukrainian dumplings—known as pierogi in Poland—are a staple of many Slavic cuisines.
Serves

serves 4

Cook

1 hour 30 minutes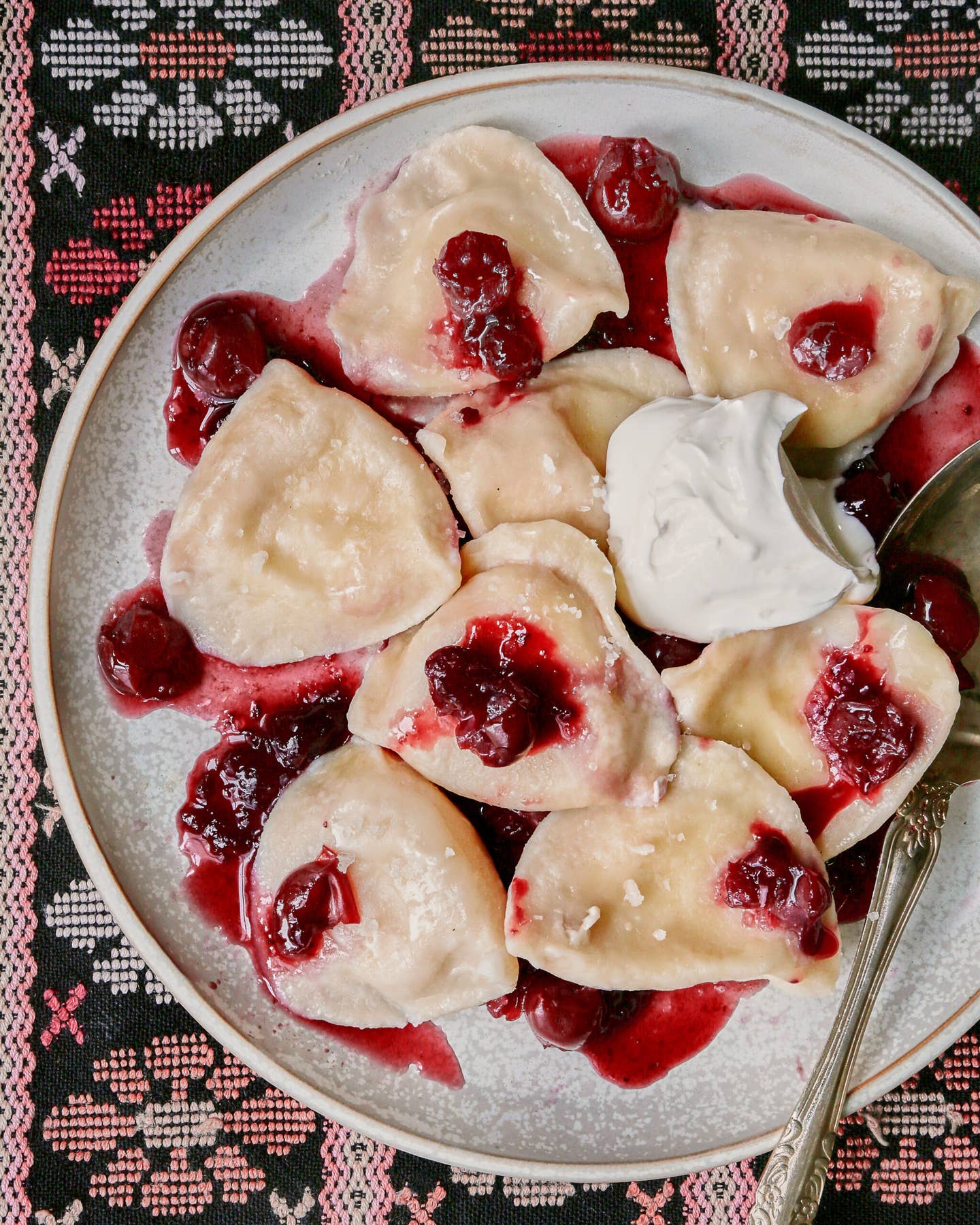 Born during the Stalinist era in the Black Sea port of Odessa, Larisa Frumkin grew up eating her mother's varenyky, a staple dumpling of Ukrainian and Russian cooking. However, as an outspoken critic of the repressive Soviet regime, she was exiled with her young daughter Anya von Bremzen in 1974. The two arrived in the United States with two suitcases and no chance of return. (Von Bremzen would eventually document their story in her cookbooks Please to the Table and Mastering the Art of Soviet Cooking.) Frumkin currently lives in Jackson Heights, New York and teaches how to prepare dishes like these dumplings at multinational cooking school The League of Kitchens. She recommends a traditional filling of fresh farmer's cheese, a tangy pressed cottage cheese known as tvorog or syr in most Slavic countries. Frumkin teaches that the easiest way to roll out the dough is using a pasta sheeter, but a rolling pin also works fine. You can make sweet or savory varenykys by either adding sugar to the cheese or salt. This sweet version is traditionally served with preserved sour cherries and sour cream.
Ingredients
For the dough:
2 cups all-purpose flour, plus more for dusting
1 tsp. kosher salt
2 large eggs, separated
1 tbsp. vegetable oil
For filling and serving:
2 cups (1 lb.) farmer's cheese
1 large egg yolk
3 tbsp. sugar (or substitute salt to taste for a savory version)
4 tbsp. softened unsalted butter
Sour cherry preserves, sour cream, or crème fraîche, to serve
Instructions
Step 1
Make the dough: To a food processor, add the flour and the salt. With the motor running, add the 2 egg yolks, one-by-one, then drizzle in the oil through the feeder tube. With the motor still running, drizzle in 8–10 tablespoons of cool water, just until the dough begins to form a ball around the blade. Lightly flour a clean work surface, then transfer the dough out onto it and knead just until smooth, about 2 minutes. Cover with a clean kitchen towel and set aside to rest for 30 minutes.
Step 2
Meanwhile, make the filling: In a medium bowl, mix together the farmer's cheese, egg yolk, and sugar. Set aside.
Step 3
Lightly flour a large rimmed baking sheet and set it by your work surface.
Step 4
Begin shaping the varenyky. Dust your work surface lightly with flour; divide the dough in half and shape into 2 balls. Keep one ball covered with the kitchen towel and, using a lightly floured rolling pin or a hand-crank pasta roller, roll the other ball into a thin sheet, about 1⁄16 -inch thick. Using a 3-inch round cookie cutter, punch out circles of the dough. Place a heaping teaspoon of filling in the center of each circle. Brush the edges of the circles lightly with egg white, then fold into a half moons, pressing the edges firmly together with either your fingers or with the tines of a fork to seal. Place the varenyky on the baking sheet about ½-inch apart and cover with a damp cloth. Roll out the second ball of dough, and repeat, then combine all of the leftover dough scraps to make a third batch.
Step 5
Fill a large pot two thirds of the way with water and salt generously. Set over medium high heat and bring to a boil. Carefully lower half the varenyky into the pot. Boil, stirring occasionally to prevent sticking, until the dumplings rise to the surface and the dough is cooked through, 6–7 minutes. Using a slotted spoon, transfer the varenyky to a deep bowl and add the butter, tossing gently with the spoon to melt. Keep warm while you cook the remaining dumplings. Divide the varenyky among 4 deep plates, top with sour cherry preserves and sour cream, and serve warm.