Recipes
Asturian-Style Veal Fillets with Cabrales Sauce, Fruit, and Chestnuts
Crumbly blue cheese and cider flavor this traditional Spanish dish.
Serves

serves 6

Cook

45 minutes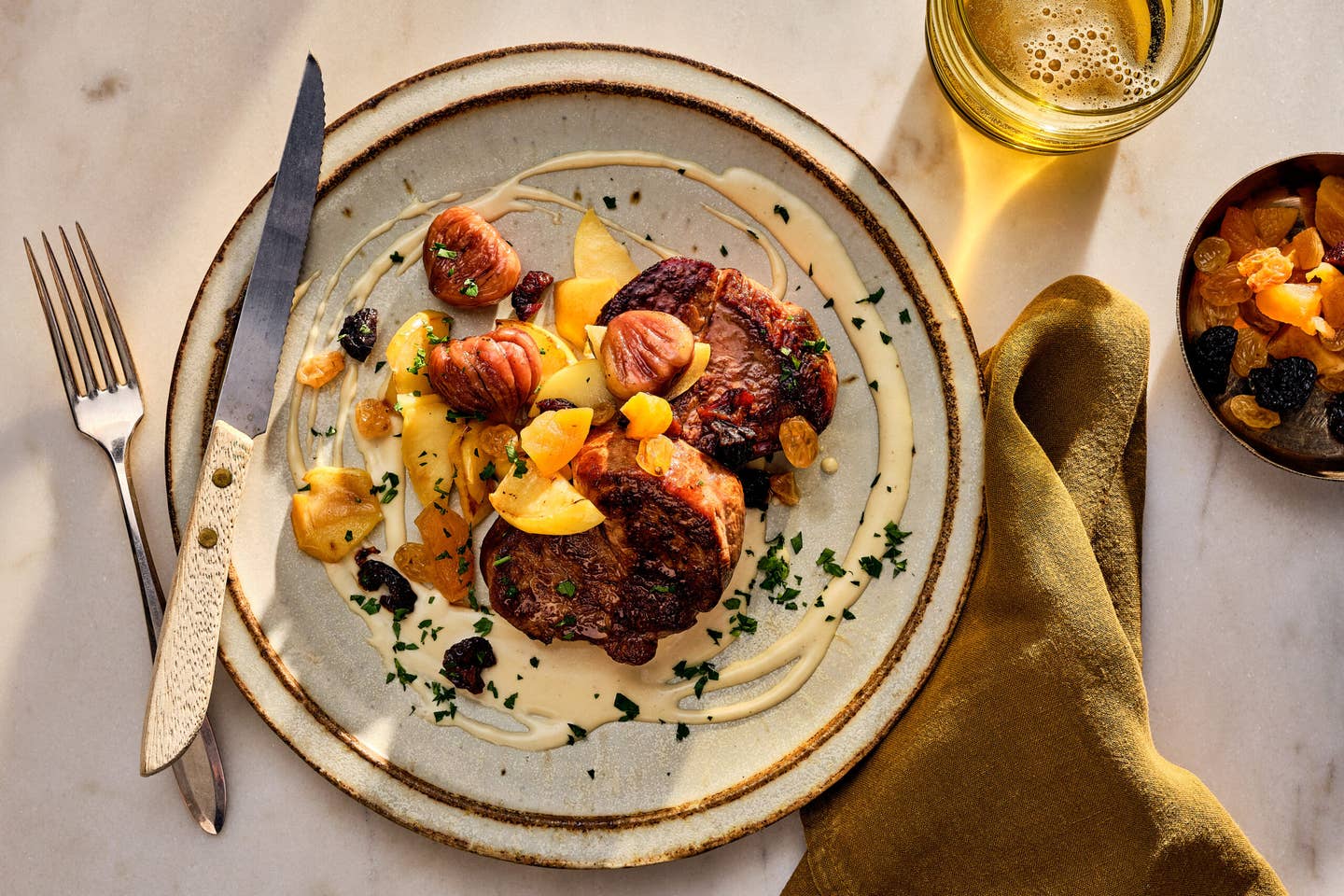 There are many subtle variations of this classic Spanish dish; this version, which is adapted from the regulatory body that certifies authentic Cabrales cheese, incorporates several star ingredients of the Asturian larder. The area is one of Spain's major corn-producing regions and one of the few areas of the country where corn is consumed by humans (as opposed to being solely used as animal feed), so it's not surprising to see cornmeal make an appearance as a thickener. The region's hard cider is another defining element, but if you have a hard time finding Asturian sidra natural tradicional, such as the Trabanco brand, substitute it with the driest cider you can find. Its tartness will serve as a welcome counterpoint to the richness of the creamy Cabrales sauce.
Cabrales is a dry, crumbly, and intense blue cheese made from sheep, cow, and goat milk (or any mixture of the three). Look for it in your local specialty market, or order it online from St. Kilian's Cheese Shop. The sauce also works well with beef and pork dishes.
Ingredients
1 lb. 10 oz. boneless veal tenderloin, sliced into 1 in. thick medallions
7 oz. Cabrales cheese
1 cup brandy
1 1⁄4 cups heavy cream
Kosher salt
Freshly ground white pepper
1 tbsp. finely ground cornmeal
1 cup dry hard cider
1⁄4 cup plus 1 Tbsp. olive oil, divided
2 tbsp. unsalted butter
2 medium golden delicious apples, cored and coarsely chopped
1 cup (5 oz.) mixed dried fruit (such as apricots and raisins) coarsely chopped
1 cup (7 oz.) cooked, peeled, small chestnuts
Coarsely chopped parsley, for garnish
Instructions
Step 1
Season the veal all over with salt and pepper.
Step 2
To a medium skillet set over medium-high heat, add the Cabrales, and cook, stirring occasionally, until melted, 5–6 minutes. Add the brandy and cook until the alcohol cooks off completely, about 10 minutes. Stir in the heavy cream, season to taste with salt and white pepper, and lower the heat to maintain simmer. In a small bowl, stir together the cornmeal and cider to make a coarse slurry, then add the mixture to the skillet and cook, stirring frequently, until the liquid thickens to coat the back of a spoon, about 10 minutes. Set a fine-mesh strainer over a bowl and strain the sauce, discarding any solids. Cover and set by the stove to keep warm while you cook the veal.
Step 3
Wash and return the skillet to the stove and set over medium heat; add 2 tablespoons of the olive oil and all of the butter. Once hot, add the apples and cook, until just beginning to soften, 3–4 minutes. Stir in the dried fruit and the chestnuts, then remove from the heat and set aside to keep warm.
Step 4
Set a large skillet over medium-high heat and add the remaining olive oil. Once hot and shimmering, add the veal, and cook until dark brown all over, about 2 minutes per side for medium rare. Divide the veal among 6 large plates and top with the reserved fruit mixture. Spoon the Cabrales sauce around the meat, garnish with parsley, and serve warm.