Recipes
Roast Chicken Pan Bagnat with Olive Tapenade and Goat Cheese
Serves

serves 4 to 6

Cook

40 minutes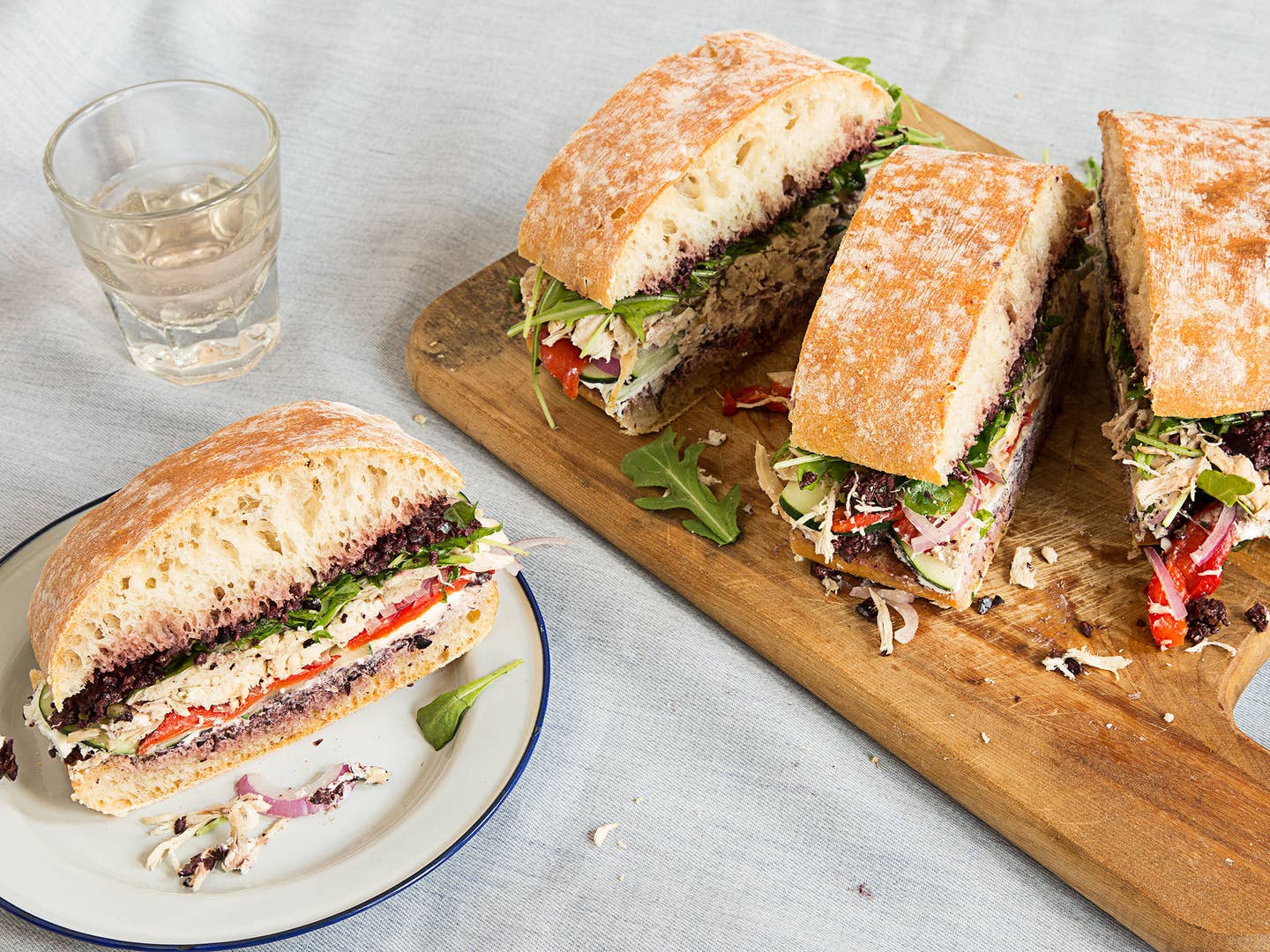 This hearty twist on the classic Provençal pressed sandwich pan bagnat combines black olive tapenade, goat cheese, roasted chicken, and thinly sliced vegetables. Make it at least two to three hours before you plan to serve it to really let the flavors marry.
Ingredients
3 tbsp. olive oil
2 anchovy fillets in oil
1 garlic clove, mashed to a paste
8 oz. pitted kalamata olives, drained
2 tbsp. capers, rinsed
1 tbsp. fresh lemon juice
1 tbsp. thyme leaves
Kosher salt and freshly ground black pepper
1 (12-inch) ciabatta loaf, halved lengthwise
4 oz. goat cheese, softened
1⁄2 cucumber, thinly sliced
1⁄2 cup jarred roasted red peppers, cut into 1/4-inch strips
1⁄2 small red onion, thinly sliced lengthwise
1 1⁄2 cups shredded rotisserie chicken
1 cup loosely packed arugula
Instructions
Step 1
In a small skillet, heat the olive oil over medium. Add the anchovies, and cook, stirring to break them up, for 2 minutes. Add the garlic, and cook, stirring until tender, about 2 minutes. Scrape the oil into a food processor along with the olives, capers, lemon juice, and thyme, and purée until chunky. Scrape the tapenade into a bowl and season with salt and pepper.
Step 2
To assemble the sandwich, spread the tapenade over the inside of both halves of bread. Spread the goat cheese over the bottom half, followed by the cucumber slices, pepper strips, onion slices, chicken, and arugula. Cover with the top half of bread, and wrap the sandwich in plastic wrap.
Step 3
Place a large cast iron skillet on top of the sandwich to weigh it down. Let the sandwich stand for at least 20 minutes to marry flavors before serving, or refrigerate overnight.