Recipes
Roasted Sunchokes with Potatoes & Mushrooms
Serves

serves 6-8

Cook

1 hour 20 minutes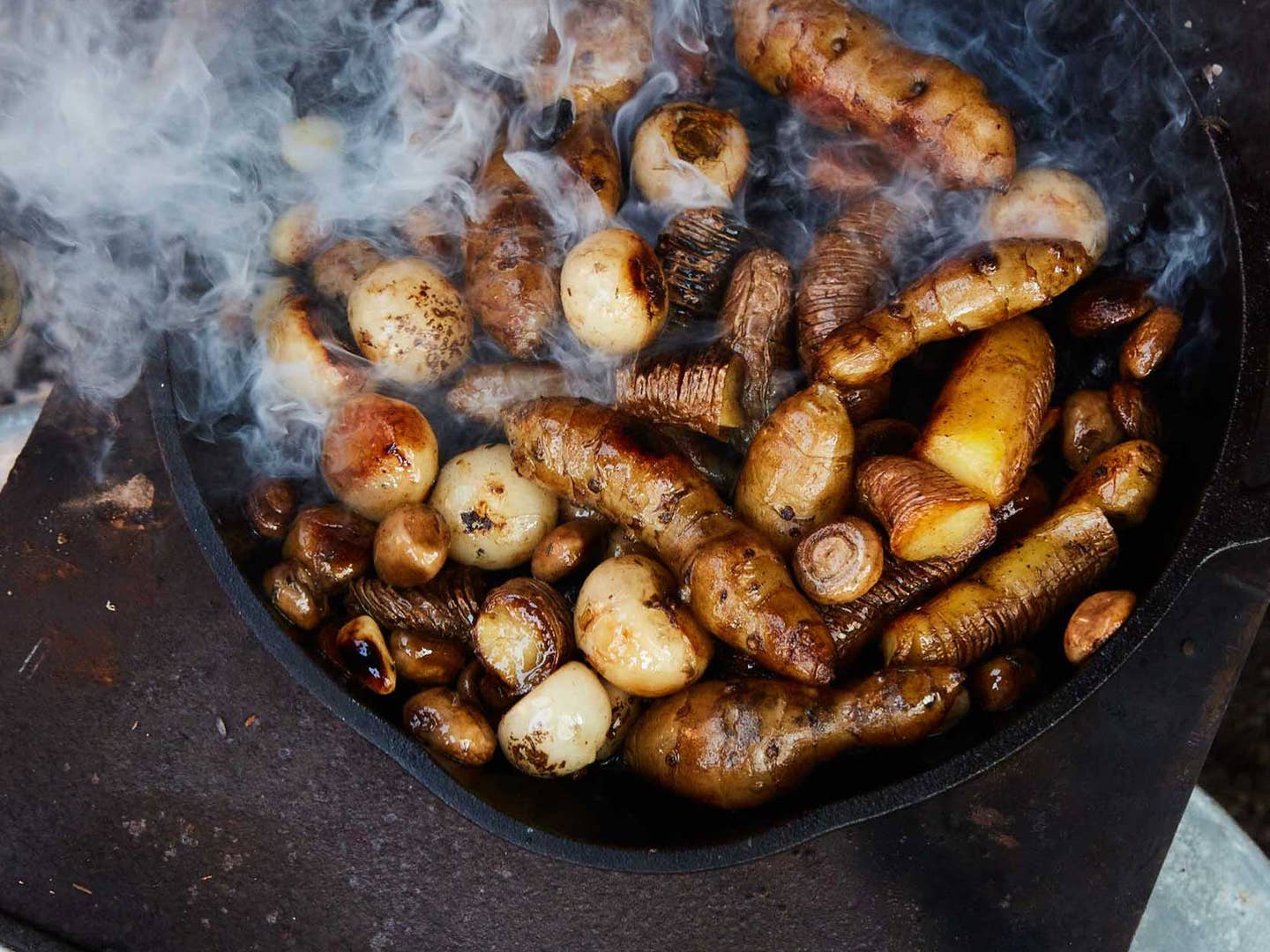 Catching the drippings trickling down from cooking birds—a trick Joe Beef's Red Morin and Dave McMillan recommend especially midway through roasting, when the fat begins to render and run more rapidly from the skin—adds lustiness to a simple dish of roasted sunchokes and mushrooms. Store-bought duck fat or lard is an easy cheat.
Ingredients
1 1⁄2 lb. sunchokes (Jerusalem artichokes), scrubbed, large ones halved or quartered
1 1⁄2 lb. fingerling potatoes, scrubbed, large ones halved or quartered
1 lb. crimini mushrooms, trimmed
4 garlic cloves
1 tbsp. kosher salt
1⁄2 cup rendered duck fat
Instructions
Step 1
Preheat a woodburning or indoor oven to 475°. Run all of the vegetables quickly under water and do not dry them.
Step 2
In a large bowl, add the sunchokes, fingerlings, mushrooms, and garlic; season with the salt and toss to distribute.
Step 3
In an extra-large (16-inch) cast-iron skillet or in a roasting pan, heat the duck fat over high heat until just beginning to smoke. Turn out the vegetables into the pan and spread them out into an even layer without stirring (the pan will sizzle and steam dramatically). Cook until the vegetables have just begun to brown on the bottom, 5–7 minutes, then stir to dislodge them from the pan. Cook, without stirring, until browned on another side, 3–5 minutes more. Stir again to dislodge, then transfer the pan to the oven.
Step 4
Roast the vegetables, stirring once halfway through, for 20 minutes. Lower the temperature to 350° and cook until the sunchokes are very tender when pierced with a fork, about 40 minutes more.