Recipes
Roasted Sweet Potatoes With Sage and Browned Butter
Serves

serves 4 people

Cook

35 minutes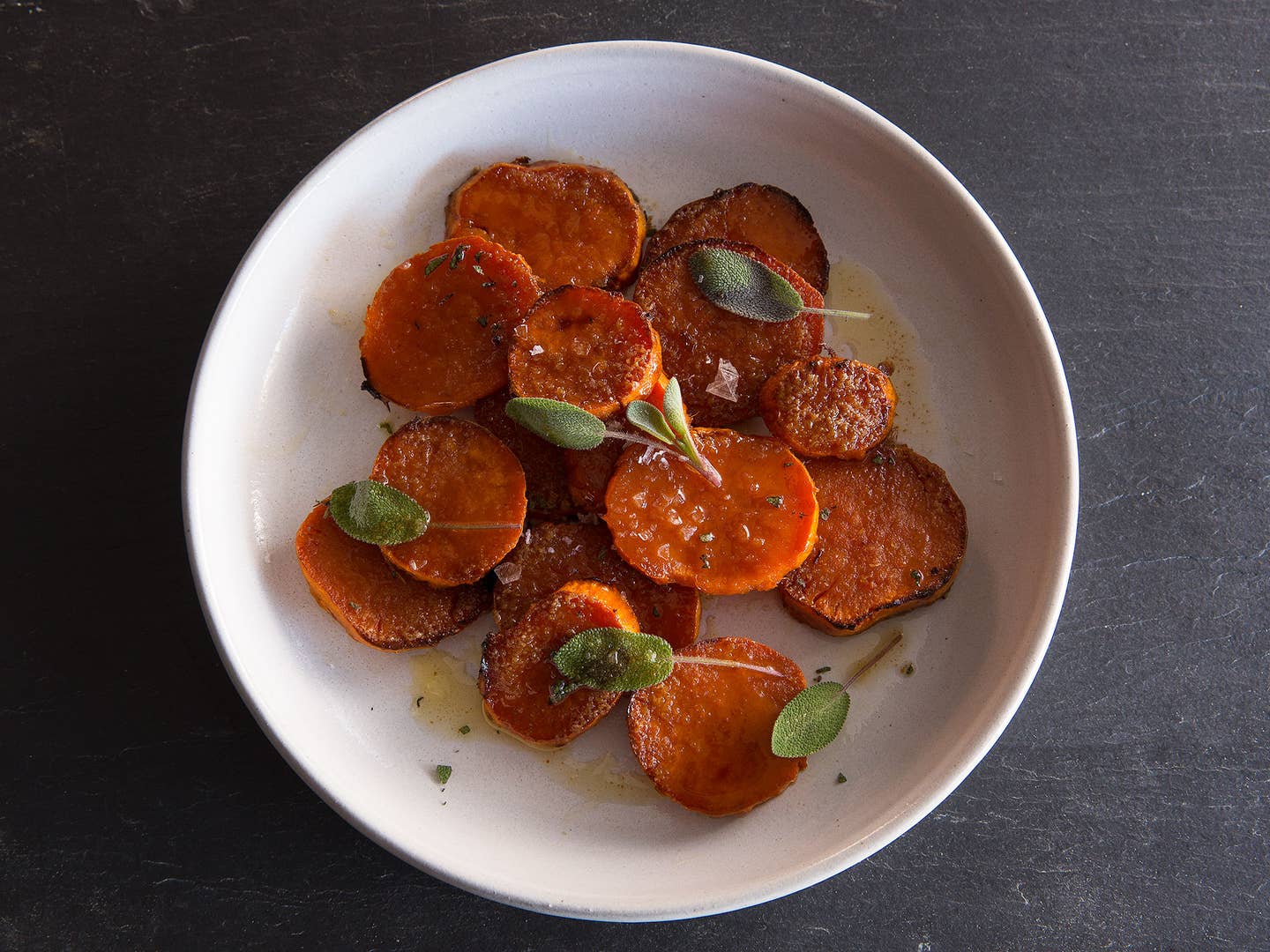 For a more flavorful, less sickly-sweet Thanksgiving side, skip the marshmallows and give simply roasted sweet potatoes a dose of nutty browned butter.
Ingredients
2 large sweet potatoes
4 tbsp. LAND O LAKES® European Style Butter
2 tbsp. brown sugar
5 fresh sage leaves
Instructions
Step 1
Preheat the oven to 425°. Pierce the potatoes sparingly with the tines of a fork, and place on a foil-lined baking sheet. Bake, rotating once, until tender but not mushy, 40 to 45 minutes.
Step 2
Remove the potatoes (reserve the foil-lined sheet) and set aside until cool enough to handle. Using fingers, carefully pull away the skin and discard. Cut the potatoes into thin rounds (between 1⁄8 and ¼ inch), then transfer to the prepared baking sheet in a single layer.
Step 3
Meanwhile, raise the oven temperature to broil. In a small saucepan, add the butter. Cook, swirling the pan occasionally, until golden brown and nutty smelling, 6 to 8 minutes. Quickly remove from the heat. Brush the potatoes generously with the browned butter, and divide the brown sugar among the tops of the potatoes, using fingers to distribute.
Step 4
Broil until the sugar is melted and caramelized, 4 to 6 minutes. Remove and, using a spatula, transfer the potato pieces to a platter. Drizzle with the remaining melted butter to taste, top with the sage and serve.